Hunting Cape buffalo with an Aimpoint sight
Consider the Cape buffalo. Humped with muscle at the shoulder and neck, black like a pirate, stump-legged and bellicose, he stands immobile sniffing the air. His upper lip curls back to reveal a toothless sneer, only pink gum showing, his wet nose jutted forward to catch any scent that might betray whatever it is that disturbs him–a peculiar lump in the grass.
I am the lump. I'm still right now, sipping tepid warm water from my CamelBak after crawling on my hands and knees some 80 yards across a wide open Zambezi flood plain, the only way to approach the herd of 300-plus buffalo without a stick of cover between us. Mercifully, my knees are protected from the craggy ground of the dry-season plain by a set of Arc'teryx knee pads. My hands squish into fresh buffalo dung as I crawl, but a pair of black leather gloves keeps the tan muck from oozing between my fingers.
I gingerly raise a Leica 7×42 binocular, pressing the rubber eyecups to my eyebrows. A hard-bossed bull is mingled with cows and calves, a typically frustrating situation when trying to pick a particular bull in a herd of over 300 buffalo. Now you see him, now you don't.
The herd is calm. Many are still lying down in the mid-day heat, chewing cuds and swishing flies away with tuft-tipped tails. The bull is old, his curvaceous horn tips worn down from years of rubbing. Like most buffalo here in Coutada 10, which borders the famous Marremou Game Reserve, once home to Africa's largest herds of buffalo of some 100,000 strong, he is narrow of spread.

Hammered during Mozambique's long civil war but bouncing back through sound game management, the buffalo herd today in the Marremou Reserve numbers perhaps 30,000 buffalo of which about 12,000 range across Coutada 10. "Coutada" is the old Portuguese term for "hunting area." There are no fences at all, only swamps and papyrus beds, miles and miles worth.
Mozambique buffalo, at least here in the coastal region of the Zambezi River delta, are genetically predisposed to narrow spreads, making for unimpressive trophies. I hear that the odd 40-incher is taken every season, but I'm a skeptic. I always check the skinning shed when I arrive in a safari camp to get an idea of an area's possibilities, and in this camp's shed I measure four buffalo: 33, 33, 35 and 37 inches.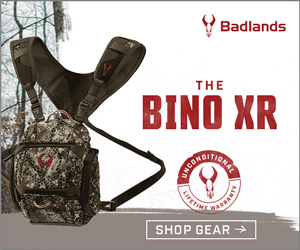 My professional hunter, Jacques Kellermann, an Afrikaaner from Pretoria, said he expects clients to shoot a solid-bossed buffalo of around 36 inches, on average. The buffalo in the shed average 34.5 inches, below the norm.
But I don't care. I'm not here for a Gold Medal. I'd have to go much further upstream, into the lower Zambezi Valley of Zimbabwe, to have a reasonable expectation of a good buffalo. Here I settle for a hard-bossed, mature, old bull, never mind his dinky spread.
I inch closer, head bowed so not to show my face to the curious buffalo looking at the oddly shaped lump wobbling toward them in the grass. My rifle is a new-production Winchester Model 70 Safari Express chambered in .458 Win. Mag. It's essentially the same Model 70 that "Winchester" made before its New Haven plant closed down, but now one with the "Winchester" name stamped in FN's North Carolina plant. I'm delighted to find that the trigger on "the rifleman's rifle" is greatly improved, thanks to new a three-point leverage system. It feels like a 2-pound match trigger. It's not, of course, but the compound leverage of the FN-improved trigger gives it a much lighter feel.
I wear a Kifaru day pack with a CamelBak and other "essentials" like spare ammo, a SureFire flashlight, first aid kit, knee pads, gloves, and other stuff. I slide the rifle sideways in between my back and the pack, a comfortable and convenient way to carry a rifle while on hands and knees crawling. I make sure not to point the barrel at anyone on my left, not that anyone else is on the flood plain beside Jacques, who's in front.
Jacques and I are now 40 yards from the herd and we dare not go closer. A dozen cows are looking at us with the Motorola dog's quizzical stare. A calf bleats. Cattle egrets mill about. Tick birds prance across a sea of black backs, orange and red beaks shining beautifully.
I set up my short Stoney Point shooting sticks, the ones made for the sitting position. I nestle the Winchester's forend into the V of the sticks and look at the herd through an Aimpoint "Hunter" optical sight. My "Hunter" is a new model from the Swedish sight manufacturer, featuring a single red "dot" aiming point in a much larger tube diameter than previous versions. This one sports a nice, fat 34mm tube diameter, compared to 30mm of previous models. Additionally, the tube features a longer overall body to allow for greater versatility in ring placement.
The Aimpoint's battery life is absurdly long. Turn it on and leave it on—-and the battery lasts an unbelievable 50,000 hours, or just shy of six years. The dot's brightness can be adjusted easily with a rheostat switch. I say again—-six years!
The red dot settles on the buffalo's black shoulder. I notice how easy and fast the sight acquisition is, the dot jumping out like a landing light on a dark airstrip. At the shot, the buffalo hunches. I reload with the rifle at my shoulder and watch as the herd gallops away in a haze of dust.
I know what will happen. The bull will slip to the back and fall behind, which I anticipate by getting back on the sticks and watching around the red dot as the herd stampedes away. When they're about 170 yards away, a solitary bull slows to a labored walk, dropping behind the disappearing herd.
I rock him with another 500 gr. Swift A-Frame. He staggers, lurches forward. My third round in the Winchester's magazine is a solid and I hold high on his back. He tumbles sideways, legs go awry, dead as he hits the ground. No death bellow; the last shot breaks his spine.
Before closing in, I laser the distance: 209 yards for the third shot. The first was about 40 yards and took the heart; the second was about 160 and hit the lungs. I'm pleased that the Aimpoint could deliver not just a first-shot on the money, but two follow-ups as well. Two hundred yards is damn good for a non-magnified sight.
The Aimpoint "Hunter" finds a home on my .458 as I realize that the optic's unlimited field of view and bright red dot are tailor-made for dangerous game in
Technical Specifications: Aimpoint H34L
Length: 9.0"
Tube Diameter: 34mm
Weight: 9 ozs.
Reticle: red dot, 2 MOA
Field Of View: unlimited
Magnification: 1x (none)
Battery Life: 50,000 hours
Included: 34mm Weaver-style rings, battery, adjustment tool