The new Ram Outdoorsman is designed to be the ultimate hunting truck. We put it to the test in the New Mexico backcountry.
The parade of five Ram trucks rolled through a ranch gate. On the horizon sprouted a collection of white canvas tipis—an incongruous counterpart to the queue of spotless new four-wheel-drive pickup trucks approaching them across the high plains of eastern New Mexico.
As I stopped the Ram I was driving in front of the camp, shifted into park, and killed the engine, outfitter Steve Jones came out to greet our crew of pickup-truck-driving outdoor writers. Steve, who runs Backcountry Hunts, specializes in hunts for pronghorn, mule deer, and other species throughout Texas and New Mexico, often housing hunters in his distinctive tipi camps.
I hopped down from the cab of the pickup and gathered with the rest of the writers to get acquainted. Our group had come to New Mexico in time for the opening of the pronghorn season, and each of us had high hopes of collecting a good "speed goat." But the main reason we were here was to test-drive the new Ram Outdoorsman pickup truck and find out how it would perform in a hunting situation.
The Outdoorsman is a new truck introduced for the 2011 model year, and it's aimed at, well, people like us. In retrospect, it's not surprising that Ram would design a sportsman-specific truck, since Ram owner demographics illustrate a serious passion for the outdoors: 47 percent are hunters, 57 percent are freshwater fishermen, 33 percent are saltwater anglers, 36 percent own powerboats, and 37 percent tow camping trailers. Overall, 62 percent of full-size pickup truck owners hunt, fish, or camp.

These trucks leave no doubt as to the identity of their target consumer!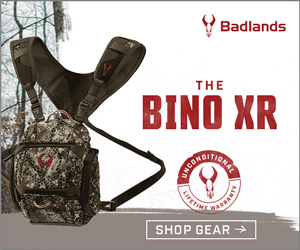 I'd already learned a lot about the Ram 1500 on the highway during the three-hour drive from the Amarillo airport; the full crew cab was roomy and comfortable, and the 5.7-liter HEMI V8 engine was smooth, quiet, and powerful. I was especially enamored of the stylish features that added significantly to the comfort and enjoyment of a long road trip: in-dash navigation, satellite radio, and a sun roof that retracted with the touch of a button. But there are plenty of comfortable vehicles on the market, and since these trucks were designed specifically for people who live the sporting life, I was particularly eager to try out some of the features that were billed as making the Ram Outdoorsman the ideal hunting vehicle.
We stashed our rifles and gear in our tipis, and then Ram Truck marketing guru Dave Sowers gave us a quick tour of the truck's gun-friendly features. I was impressed with the lockable compartment under the back seat that looked perfect for storing a sidearm safely out of sight. But the coolest features, to my eye, were the Ram Boxes—waterproof, lockable storage compartments flanking the pickup bed on either side. Equipped with optional racks called Ram Box Holsters, each box safely and securely holds either two rifles with scopes or six fishing rods. I've never liked traditional back-window gun racks (a sure way to invite someone to break into your truck), and the Ram Boxes are an innovative solution that sure beats trying to hold onto a rifle in the cab of a bouncing pickup as you're driving to your hunting area, or leaving it in the cab in plain view if you want to stop for a bite to eat on the way home.
The Ram Box is a waterproof, lockable storage unit on either side of the truck box. Each box securely holds two scoped rifles when equipped with the optional Ram Holsters.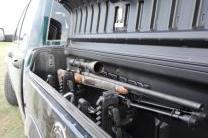 You can get a Ram Outdoorsman model in any of several variations, including the 1500 (half-ton), 2500 (three-quarter ton), and 3500 (1-ton), and in two- or four-wheel-drive versions. Naturally for a hunting and fishing truck, a Class IV trailer hitch receiver comes standard, and an integrated trailer brake controller also comes standard on the heavy-duty 2500 and 3500 models.
It was hot, very hot, on this late-August day as all of us hunters checked the zeros on our rifles and moved into our tipis. That night, the first of several thunderstorms rolled through and cooled things down, and morning dawned cool and pleasant. My hunting partner, Lisa, and I piled into our assigned Ram truck along with Floyd, our guide, ready to look for some of the exceptional pronghorn this part of New Mexico is known for.
Stalking pronghorn on the open plains is one of hunting's most enjoyable adventures. With their amazing eyesight and incredible speed, these animals are challenging to hunt, but there were plenty of pronghorn on this sprawling cattle ranch, so even though our first few stalks were unsuccessful, we weren't overly concerned. It gave us a chance to explore the countryside and put the truck through its paces while covering some ground on the ranch roads.
As you might imagine, the Outdoorsman is designed to handle some tough back-road and off-road conditions. The 17-inch all-terrain tires, designed with optimum off-road tread, have extra-strong sidewalls so they can handle heavy loads and are less likely to puncture. The scratch-resistant steel bumpers hold up to the beatings taken off road as well. A full-size spare tire, tow hooks, heavy-duty floor mats, and fog lights come standard.
These trucks look cool, too. They feature a low-key but good-looking two-tone paint job, and have very little chrome, giving them a look designed to appeal to people who spend a lot of time with nature and are interested in practicality, not garish looks.
It could have been our truck's low-key looks that caused the pronghorn we spotted in late morning to remain unalarmed even after he spotted us, but most likely we just caught a nice piece of hunting luck. We eased to a stop and glassed the bedded buck carefully. He had chosen his resting spot well, surrounding himself with hundreds of yards of wide-open short-grass plains and not a stitch of cover that might allow a predator to sneak up on him. There was no doubt that getting close to this pronghorn would be a challenge. Floyd and I slipped out of the truck, and I slid a cartridge into my rifle and made sure the safety was on.
We stalked slowly and quietly, hiking at an angle that would close the distance without seeming to. The buck watched us alertly. When at last he stood, I sank to the ground in a sitting position, rested the rifle across my shooting sticks, and squeezed the trigger.
"Great shot!" Floyd said.
We jumped to our feet, eager to take a look at our prize. We were thrilled when we reached him. With 14-inch horns, good mass, and excellent prongs, our buck was a fine example of the outstanding bucks that are so plentiful on New Mexico's scenic high desert.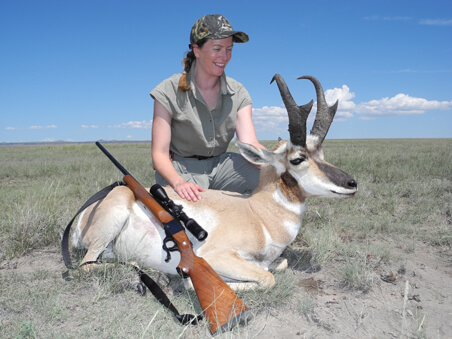 The Ram Outdoorsman is designed to get hunters into hunting country. The rest is up to you! I was fortunate to find this beautiful pronghorn during our field test of the trucks on the high desert of New Mexico.
Floyd quickly field-dressed the buck and we loaded him in the Ram. As we boosted the buck into the pickup's 5'7" box, I noticed that our truck had multi-position bed divider/extender; another very practical feature. You can move the divider to any position in the bed to secure or separate cargo, or drop the tailgate and use it to extend the overall length of the bed. I didn't spend too much time exploring these options, since we needed to get my pronghorn back to camp where we could skin him out and get him into the cooler as quickly as possible—a crucial chore to ensure the meat wouldn't spoil in the desert heat.
Lisa shot an outstanding pronghorn that afternoon, and by the end of the second day, everyone else in our group of hunters had filled their tags. With some time to spare, we had a chance to drive the Rams a bit more and put one of them—a special Power Wagon edition with extra off-road capabilities—through its paces, climbing a rocky mesa north of camp. As we got ready to load our hunting gear and coolers of antelope chops into the Rams to head for home, I thought about what I'd learned in a couple of days of hunting out of the Ram Outdoorsman.
This is what we hunters call showroom-ready!
While I'm no vehicle expert, I've hunted out of a lot of different trucks in a wide variety of terrain from the western plains to the Rocky Mountains to the eastern hardwoods. In my view, the ideal hunting vehicle needs to do several things well. First and foremost, it should handle well on the rough back roads and dirt roads that generally lead into hunting country. While off-road capability is a plus, most hunters will use their trucks primarily on back roads. The Outdoorsman did everything we asked it to, handling everything from dry, rocky hills to slick, muddy, post-thunderstorm dirt roads to barely visible two-track with aplomb. Oh, and the 32-gallon fuel tank came in handy since we were more than thirty minutes from the nearest gas station and covered quite a few miles on the ranch roads.
Second, a hunting truck should have an interior cab layout that can easily accommodate several people with their daypacks and other gear. The cab should provide both comfort and good visibility. The Outdoorsman's crew cab covers that base as well, with four full-size doors and plenty of room in both the front and back seat. Six people can certainly ride in the cab, but for true, practical use in a hunting situation, it is very comfortable for four people with their jackets, daypacks, and the like.
Third, a hunting truck should be easy and relatively quiet to enter and exit. As trucks go, the Outdoorsman was easy to get in and out of quickly and quietly. I did discover by the second day that a buildup of desert dust caused the door hinges to creak, but that is a common problem that can occur on any vehicle, and is easily fixed with a quick wipedown.
Fourth, the exterior styling and features should make such a truck practical, durable, and able to accommodate a variety of cargo. It is in this category in particular that the Outdoorsman really shines, as evidenced by the design of the bed, the Ram Boxes, the steel bumper, underbody skid plates, and other features. A lot of thought obviously went into every aspect of the Ram Outdoorsman to make it a practical, useful vehicle for anyone who loves the great outdoors.
Learn more at www.ramtrucks.com/en/2011/outdoorsman/
Trucks and tipis–incongruous? Maybe. But I'll bet the old-time buffalo hunters would have loved to have a Ram Outdoorsman pickup truck.