It took him most of a lifetime to get to Africa… but it was worth the wait!
It was 4:00 a.m. when I pulled on my boots and walked out into the cool night air. Last evening's campfire had been reduced to embers but I welcomed its lingering warmth as I settled into a dew-dampened canvas chair. The unfamiliar calls of unseen birds overhead caught my attention, and when I looked up, I saw that the Southern Cross was right where I had left it just a few short hours before.
"You're not in Texas any more," I said to myself. "And you're not in Kansas, either." I was in the Karoo of South Africa, and I was so stoked by the excitement of a grueling but successful kudu hunt and the taking of a monster steenbok, I could not sleep.
I have offered up my most fervent prayers in the hours before dawn while sitting quietly and alone in a deer stand or in the dark timber of elk country, and I could do no less with a new African day on its final approach. I had a long list of blessings to count, among them the opportunity to share Africa with my youngest son, Larry. Mauve-tinged fingers of light were tickling along the horizon's rocky backbone before my thoughts turned to the events which had brought me to this place.
I smiled to think how many times I had found comfort in the English saying, "Good things come to those who wait." Extolling the virtue of patience, it gives soothing assurance that in life, conditions change with the passing of time, and the future is made bright by the collisions of dreams and opportunities. Curiously, it was different somehow when I said it aloud with only the Karoo to hear. Then I realized with great satisfaction that the difference wasn't in the sound of it at all. This familiar phrase had changed because it wasn't a promise any longer, it was an affirmation.

The author and his son share in the excitement of taking this nice impala.
My mind went back to the incredible things Larry and I had seen and done since our arrival in South Africa just three days earlier. Less than five hours after stepping off the airplane in Port Elizabeth, I had posed for photographs beside my first trophy, a magnificent impala. The celebratory back-pounding that Larry gave me that day was the sweetest pain I have ever suffered.
"I have waited fifty years for this sunrise!" I said to myself. My dream of Africa took its first breath in 1959 when I was a seventh-grade student in San Antonio, Texas. I was in the school library on a Friday afternoon when I stumbled across a copy of John A. Hunter's first book, appropriately titled Hunter. Mesmerized, I read it cover-to-cover that weekend, not knowing that my self-made promise to see Africa one day would simmer for most of a lifetime before coming to a boil. I filled the intervening years collecting books by or about legendary professionals like Hunter–men like Selous, Taylor, and Bell–and their modern contemporaries.
For a working man like me, patience is essentially the product of prioritization, not by design but by necessity. Not to say that there aren't many good things to enjoy along the path of daily living, but the time to enjoy even simple pleasures and the resources to cover the high cost of turning dreams into realities are easily siphoned away by the more immediate needs of family and career. I could only wait as my dream of Africa ebbed and flowed with tidal monotony.
After thirty-four years of service, my retirement from the BNSF Railway in 2007 liberated me from nagging worries and ringing telephones. My first adjustment to retirement was the easiest–I committed myself to the enjoyment of sunrises, a simple pleasure which millions of people take for granted every day. There is something in a sunrise that illuminates the mind and warms the soul, and I felt that I was much in need of both. I was sixty years old when I retired, and I had missed most of 22,000 opportunities to see a sunrise. I have seen most of a thousand in the three years since.
I owe the gift of Africa to four amazing people. Anyone who knows me can tell you that the center of my universe is my wife, Bilita. The daughter of a tough Texas Ranger (a lawman, not a ballplayer), she has been in my heart and at my side for over thirty-three years. It was she who convinced me that my life's story would be incomplete without Africa among its chapters. I met the other three for the first time on the same day at the Dallas Safari Club convention in January 2009. They are Dr. Kevin "Doctari" Robertson, fellow DSC member Dale Butcher, and professional hunter JP Kleinhans. I am privileged to call them friends.
I have been reading Sports Afield for as long as I can remember, and I particularly enjoy Dr. Robertson's writings, especially his Q&A column entitled "Ask Doctari." In early 2008, I sent a question to him via e-mail through this website and in just a matter of days I was surprised to receive a detailed reply from Kevin himself. He not only answered my question as though he had no other demands on his time, he wrote as though we had been friends for years. It was Kevin who invited me to attend the convention in Dallas and meet him in person.
I heard the roar of the crowd long before I found the entrance to the DSC hall that day. I asked someone for directions to the Sports Afield booth, where Doctari would be signing books and meeting his many fans. As usual, Kevin had drawn quite a crowd, and when I finally worked my way to the front and identified myself, he greeted me with genuine affection. We talked about the role of organizations like the DSC in the global fight to preserve both the game and the right to hunt them, and with his encouragement, I found my way over to the membership booth and joined up for life.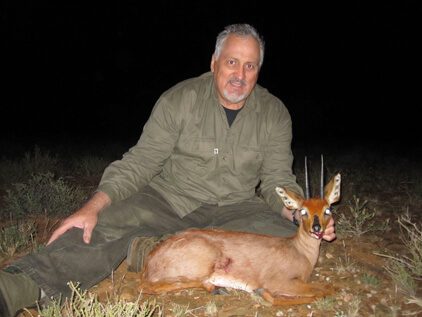 This huge steenbok fell to a solid from the author's .308.
I spent the rest of that morning watching and listening enviously as people booked African safaris on the spot. I talked to a few outfitters and collected a handful of colorful brochures, and it was well past noon when I headed upstairs to the food court. When I turned away from the cashier with lunch in hand, I discovered with dismay that every table was occupied. As I hopefully scanned the room for an empty chair, I saw a man sitting alone at a table and waving me over to join him. This simple act of courtesy was the turning point in the fulfillment of my dream to hunt in Africa.
He introduced himself as Dale Butcher from Amarillo, Texas. Dale has hunted Africa several times, and when I revealed my hope to book a plains-game hunt, he told me that his PH and longtime friend, JP Kleinhans, would soon be joining us. I instantly recognized the name and knew JP to be a professional hunter who I had seen on television in the company of Craig Boddington and Dave Fulson. I took an instant liking to JP when he arrived, and we agreed to meet at this table the next day and talk before the noisy lunch crowd arrived.
We met as planned, and I quickly learned that JP Kleinhans had the plains-game hunt I wanted at a price I could afford. We covered the basics and set my hunt for April 2010. I was babbling when I called to tell Bilita that it was a done deal, and she actually cried with happiness for me. Over the next few weeks, I talked to the several references JP provided, and after hearing their rave reviews, I knew that I had chosen well.
I stayed in touch with Doctari, Dale, and JP for a year before reconnecting with them at DSC's 2010 convention. My son Jeffrey and his eight-year-old son, Cameron, were with me, and we were thrilled to see the many outdoor television personalities whose programs give us so much viewing pleasure. Cameron, my only grandson, is my faithful companion whenever Tracks Across Africa appears on the television screen, and his eyes lit up when he saw Craig Boddington.
As we stood in the crowd, hoping to have a word with him, Craig suddenly rose from his chair and announced with regret that he was late for an appointment. He was walking by me when I caught his eye and asked if he had time to meet my grandson, who is one of his biggest fans. He stopped and said with a honest grin, "No, but I will make the time!" and with that he extended his hand to each of us, autographed Cameron's DSC cap, and posed for a photo that Cameron will cherish forever.
Tha author's grandson, Cameron, is a huge fan of Craig Boddington and his TV show, Tracks Across Africa.
Later that day, Doctari introduced me to Monty Kalogeras who operates a safari shooting school near Mason, Texas. I considered myself to be a fair hand with a rifle, but two days of intensive coaching and training with Monty revealed that I had a lot to learn about setup, breath control, and trigger squeeze. When I turned my pickup through Monty's gate and headed for Fort Worth and home, I was confident in my ability to quickly assess a shooting situation and then deliver a bullet on target. I was as ready for Africa as I would ever be.
The South African Air flight from Washington, D.C. to Johannesburg via Dakar, Senegal, was long and grueling but it was made tolerable by my considerable excitement to finally be on my way. I had no problems getting my rifle and ammunition through inspections at the DFW and Dulles airports, and the inspections by the South African police in Johannesburg and Port Elizabeth were facilitated by my courteous conduct and some judicious tipping.
That magnificent impala was just the beginning for me. Thanks to the expertise and keen eyes of JP and his head tracker, Boettie, I followed it up with an exceptional blesbok, a good Cape kudu, the monstrous steenbok mentioned earlier, a very nice springbok, a good duiker, and a hard-won zebra stallion. The gemsbok I took in New Mexico over a decade ago will be shifted from its place of honor over the mantle in my den in favor of the kudu.
PH JP Kleinhans used his skills to unite the author with this Karoo springbok.
It is not uncommon for hunters and their PHs to become friends for life, and so it is with JP and me. An expert in both the field and the taxidermy shop, JP Kleinhans is affable, charming, and enormously witty. I enjoyed his colorful stories and the laughs we shared almost as much as I did the hunting. Every moment was an adventure, whether we were defying the laws of physics as we drove up and down impossibly steep trails or enjoying an easy evening with wine and dinner. My time there was made even more enjoyable by the occasional company of JP's lovely wife, Natia, and their two children. If Bilita had been there to share in the fun, those days would have been the best of my life.
Africa was a 20,000-mile journey that required most of a lifetime for me to complete. It is magical and intoxicating, and it easily overwhelms all of the senses. Although my dream of Africa has been realized, it has been replaced by its fraternal twin. In my mind, I can still see the Southern Cross as it was during those pre-dawn hours in the Karoo, and it beckons me to return. Bilita and I will see it together in 2011, and most of our time there will be in the company of JP, his family and staff, God willing.
If you are dreaming of Africa but also feeling the restraints of duties at home, be patient because good things really do come to those who wait. Talk to people who have been there, and by all means, enjoy the excitement of gathering your gear. Use your time to prepare, because when your African dream turns to reality, as mine did, it may be as unexpected as the crisp break of a custom trigger. And if you can, share Africa with someone you love.