The Friedkin Family and Tanzania's government make a long-term commitment to conservation.

The hunting news from Africa is often troubling these days: dwindling game, rampant poaching and corruption, massive habitat encroachment. But this article is about some good news for a change. At the center of the story is an American safari company with a history of conservation leadership that is doing remarkable things in Tanzania.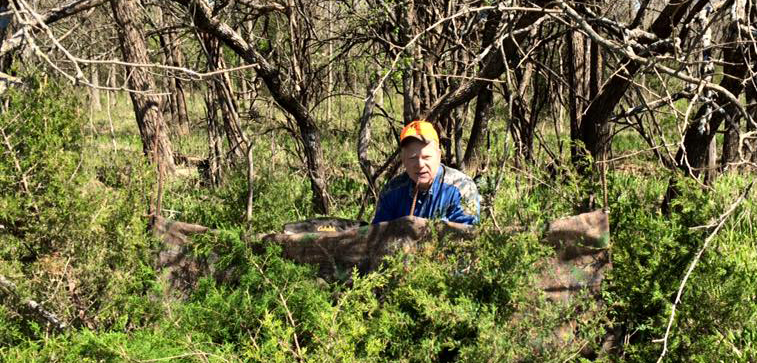 The story began, for me at least, on my first safari to Tanzania's Maswa game reserve in 2001 just a couple of days after 9/11. Very little news got through to us in the bush, isolated as we were amid more than a thousand square miles of thornbush and rocky hills, and the contrast between our remote little corner of Eden and the turmoil rampant in the rest of the world couldn't have been more pronounced. On subsequent safaris to Maswa in 2003, 2008, and 2011, that sense of blessed isolation remained intact even as the pressures on wildlife and habitat increased throughout East Africa. We continued to see elephants calmly parade through camp, the cows leading tiny calves past our tents to water in the evening, and the other animals—the buffalo, the myriad antelope species, the baboons, the birds—seemed to increase in number with each visit.

This year, professional hunter Paul Olivier came around a corner in Maswa not far from the Mbono River and stumbled on three black rhinos. The rhinos had apparently moved into the area from the nearby Serengeti, found Maswa to their liking, and decided to stay. In a hunting area. That just doesn't happen much in Tanzania, and probably not anywhere.
The magic behind Maswa, not surprisingly, is not magic at all but a long history of hard work and substantial investment. The Houston-based Friedkin Family Companies, a group of prominent hunting and photographic safari outfitters that includes Legendary Adventures, Tanzania Game Trackers Safaris, Wengert Windrose Safaris, Legendary Expeditions, and Ker & Downey (Tanzania), have long been associated with some of the best hunting areas in Tanzania: Maswa, Lake Natron, Moyowosi, Ugalla, and Malagarasi to name a few. Since 1987 the Friedkins have invested nearly $300 million into habitat protection, community development, infrastructure, camps, and facilities. Perhaps most importantly, much of that investment has funded, through the Friedkin Conservation Fund, an extensive anti-poaching program that has become a model for others in Tanzania and elsewhere.
The company's efforts have yielded remarkable success, as witnessed by my own experiences in Maswa over the years. Careful management of wildlife and habitat, combined with a famously passionate commitment to pushing the standard for luxury safaris to new heights, has secured the company's reputation among the continent's best safari outfitters.
But with success has come enormous risk. East African politics are rough and tumble, and those wildlife areas that still remain are a valued commodity. Turnover happens, often involuntarily, often for reasons that have little to do with game management. Since 2010, in particular, the Tanzanian safari industry has suffered considerable upheaval.
After losing several key areas in one round of reallocations and barely holding on to another through two years of litigation, the Friedkins found themselves forced to reevaluate the viability of their investment. Profitability was never the goal—the Friedkins make their money through other businesses and their safari companies have long been managed primarily as philanthropic endeavors, with hunting and photographic revenues being ploughed back into conservation programs. But investing millions into areas only to see them turned over to others with a different agenda was simply too much. If the company was to continue its investment in Tanzanian conservation, it needed longer-term stability.
So, in early 2015, the Friedkins approached the Tanzanian government with a proposal. In return for their commitment to continue their conservation and community development initiatives in their safari areas, and specifically to invest an additional $100 million in those areas over the next ten years, they asked to be granted Strategic Investor Status under Tanzanian law, which would assure them a thirty-year renewable franchise in each area. The proposal included detailed plans for boosting tourism and broadening resource utilization in a manner consistent with sound conservation, constructing new camps in certain areas, and creating new infrastructure and employment opportunities for local communities. After extensive discussions, on August 17, 2015, the Tanzanian government agreed to the plan and granted three of the Friedkin companies Strategic Investor Status with associated guarantees and protection.
The Friedkins emphasize that while the long-term security the company's new status provides is critical to their ability to offer first-quality safaris, the more important news is how inextricably hunting has become linked to conservation policies and to non-hunting uses of hunting areas. As the company's public statement notes, "Conservation practices were relatively easy twenty-eight years ago. Today they are complex. We must balance the demands for land and water between a burgeoning rural population and wildlife."
While hunting safaris once contributed far more revenues to conservation than photographic or other uses, demand for photographic safaris in the Friedkins' areas is now increasing much more quickly than hunting demand. It is becoming increasingly difficult for safari operators to reserve vast areas exclusively for hunting use. Mixed use seems increasingly the norm.
In consequence, it's difficult to say exactly what the Friedkin's success signals for the future of safari hunting. African politics are simply too volatile, too uncertain, and controversies regarding African hunting will doubtless continue for some time. But there is something unmistakably cheering about Tanzania's tangible recognition of the Friedkins' contribution to the future of African wildlife. Committing private capital and private effort to wildlife just because it's the right thing to do, a quintessentially though not uniquely American value, is exactly the policy Teddy Roosevelt advocated a century ago: "Of all the questions which can come before this nation, short of the actual preservation of its existence in a great war, there is none which compares in importance with the great central task of leaving this land an even better land for our descendants than it is for us."
President Roosevelt's message is as relevant to Tanzania in 2015 as it was to America in 1909. The Friedkins have demonstrated beyond question that American hunters can play a crucial role in preventing the poaching and habitat destruction that threatens African wildlife, and the Tanzanian government has demonstrated that it is willing to make substantial commitments to encourage and reward such efforts. For other investors with similar interests who step forward, the path seems a little less daunting, the future of African wildlife a little brighter.