This beautiful desert in southern Africa is home to huge gemsbok, springbok, and a variety of other game.
Quick. Name a famous desert.
If you said Sahara, join the crowd. Everyone knows the world's largest desert. If you said Kalahari, though, you're probably a hunter.
Northern Africa's Sahara, 3.6 million square miles, grows world-record sand dunes. Southern Africa's Kalahari, 350,000 square miles, grows world-record gemsbok. And more. A lot more. The Kalahari is a veritable Noah's ark of wildlife, so many species that one can't resist listing them to emphasize the point: In addition to gemsbok, this famous sand supports lions, leopards, cheetahs, caracals, African wild cats, wild dogs, brown and spotted hyenas, and jackals. There are ant-eating aardwolves and bat-eared foxes, Cape foxes, Chacma baboons, scrub hares, springhares, meerkats, polecats, genets, honey badgers, the weird pangolins and aardvarks, and three species of mongoose.
Feeding the predators, large and small, are migrating herds of springbok, blue wildebeest, eland, kudu, red hartebeest, steenbok, common duiker, warthogs, zebra, giraffe, and even elephant. Black wildebeest historically roamed the southeast edge of the Kalahari, but today they have been introduced on many large cattle ranches throughout the region, along with blesbok, impala, waterbuck, sable, and even a few rhinos. Birds and reptiles? Other than ostrich, we won't even try to list them, but rest assured you can enjoy upland hunting for francolin, guinea fowl, doves, and sand grouse.
And they call the Kalahari a desert?
Technically it really isn't; it's a semi-desert. Although dry and extremely hot in summer, it greens up with the three to eight inches of rain that falls each summer from November to March, irrigating grass and thorn scrub amid its long, low, red sand ridges interspersed with valleys locally called streets. Umbrella-shaped camelthorn trees are a common sight in many districts. The Kalahari, "the great thirst" in the local Tswana tongue, is most desiccated in the southwest where it spills out of Botswana into South Africa and the eastern reaches of Namibia.
Its edges are not precisely defined. Rather, they blend into a wetter, 2,500,000 square mile Greater Kalahari Basin that includes the southeast corner of Angola, southern fringe of Zambia, most of Botswana and a sizeable swath of South Africa north of the Orange River, which was not named for its color nor any citrus fruit, but in honor of William of Orange. Some claim the Kalahari sand basin extends as far north as the Congo and as far south as the Cape, but we'll confine our attentions to the classic, dry central core known famously as Bushman country.
Bushmen, the San people, evolved both culturally and physiologically to survive where no other people could. Archeological evidence places them in most of southern Africa 30,000 years ago. Tens of thousands of their rock art images adorn caves, cliffs and boulders, depicting them hunting eland, giraffe, and other animals with bows. Apparently the Kalahari has long been a hunter's paradise, and formerly a much wetter one. After the sixteenth century, pressure from new immigrants, black and white, forced the San deeper and deeper into the central core of the Kalahari basin where only they could survive. Bushmen, when living their traditional lifestyle as hunter/gatherers, were widely regarded as the best game trackers in the world. They had to be, not only to find game, but to follow it while waiting for the slow poison on their arrows to take effect. Under the influence of modern cultures, few retain these skills, but many who do are hired by professional hunters to track leopard and other game for clients.
The Kalahari basin rests on a plateau 3,000 feet above sea level. Seasonal streams, omuramba, drain some of it, leaving shrinking pools where game drinks, but most sheet water ends up in isolated, shallow lakes. The most famous, Makgadikgadi Pans in northeast Botswana, is a remnant of ancient Lake Makgadikgadi that once covered 106,000 square miles. The Okavango River cuts across the Caprivi Strip of Namibia after draining central Angola, then disappears into the sands of the Kalahari in the famous wetlands of Okavango Delta on the northeast edge of the desert.
Smaller pans scattered across the region provide seasonal sustenance for grazing animals as well as humans. In 1849, the famous Dr. David Livingstone, with the aid of William Cotton Oswell, crossed the Kalahari from the southeast to "discover" Lake Ngami. He reported bird flocks darkening the sky, sitatunga by the thousands, and lions preying on them. In extremely wet years, overflow from Okavango still swells Lake Ngami, but it is a mere shadow of its former glory, often completely dry. The sitatunga and lion are long gone, but the remnant water makes this a bird mecca.
Before Livingstone reached Lake Ngami, rumors of it had inspired William Cornwallis Harris, whose 1836 hunt had taken him near the south end of the Kalahari, to propose an expedition to find the lake. The Royal Geographical Society declined to fund it. From 1943 to 1948, R. Gordon Cumming hunted the southeast corner of the Kalahari and wrote about it in A Hunter's Life in South Africa, but he never pushed deep into the desert. His accounts of migrating springbok by the hundreds of thousands is classic African natural history.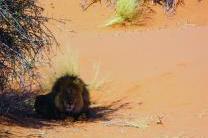 The Kalahari still holds good populations of lions in some areas.
Pans played essential roles in more modern immigrations into the Kalahari. As recently as the 1950s, white settlers were pioneering into the area to establish sheep and cattle ranches, building homesteads near the shores of wet pans where they sank wells. The flows from these bore holes now sustain wildlife across the region. A first-generation descendent of one such pioneer, Hannes Steyn, recently guided a client to the new world's record gemsbok, a cow with one horn reaching 50 inches and both adding up to 109 1/8 inches under the SCI scoring system. This was no fluke. Steyn regularly leads clients to huge gemsbok. In just three days he guided my wife and me to 41- and 40-inch bulls on his Namibian farm.
The Kalahari gemsbok, a subspecies of rapier-horned oryx, is a classic desert survivalist with specialized physiology that enables it withstand severe heat and go for days without water, extracting moisture from leaves, desert melons, and cucumbers. Special nasal blood vessels shunt air-cooled blood to the brain while body temperature soars as high as 113 degrees F. Some say the long horns are also used as heat radiators. They are certainly used as defense against lions.
Ranches have been both curse and blessing to Kalahari wildlife. Not surprisingly, the early cattlemen, Boers, contributed to the destruction of native wildlife to protect grazing lands and crops. Market hunters later devastated wild game populations, nearly wiping out the black wildebeest, or white-tailed gnu. In the 1960s, governments began erecting "veterinary" fences to prevent wild game, potential carriers of the dreaded foot-and-mouth disease, from migrating into cattle regions. Wildebeest, hartebeest, springbok, and others piled against fences and died by the thousands. As recently as the 1980s, some herds during drought years declined by 90 percent. On the upside, ranchers, to meet hunting demand, reintroduced many species formerly extirpated. Boreholes provide year-round water, negating the need for migrations.
Dozens of professional hunters and hundreds of farms and ranches offer mixed-bag plains game hunting across the Kalahari. Some enclose 50,000 acres or more behind high fences. Many form conservancies in which the free-roaming wildlife resource is shared rather than fenced. Such private lands are spared the upheavals and uncertainties of governments that open and close hunting on government concessions for purely political reasons.
Ranch hunts in the Kalahari are currently some of the easiest, safest, and most affordable in Africa. While not exactly wilderness, the land–vast, isolated, and undeveloped–feels as if it is. You can hunt for weeks and never hear traffic, never see a highway or powerline, never detect the glimmer of a city light. You will see a sky aglow with stars and hear the yapping of jackals, the barking of kudu, perhaps the cough of a leopard. The Kalahari remains quintessential Africa.