Five new hunting books that should be on your reading list.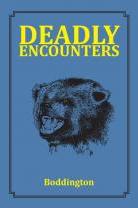 In Craig Boddington's new book, Deadly Encounters, the author flips the usual hunting narrative on its head by telling the stories of encounters with dangerous animals that don't end well for the human. His stories of hunts and other outdoor adventures gone wrong involve lions, elephants, leopards, bears, and even bison. He discusses and dissects the incidents to examine what went wrong and how hunters and other outdoor enthusiasts can avoid becoming the hunted themselves.
The new book Africa's Greatest Tuskers by Tony Sanchez-Arino lists every known elephant ever taken with at least one tusk of 130 pounds or more and tells the stories of who hunted these elephants, who owns the tusks, or how they were found. Three years of meticulous research went into the unearthing of these stories. The book includes dozens of elephants not listed in the record books, together with a treasure trove of photos of enormous elephants and huge tusks that have been lost or forgotten in the mists of time.

Great news for hunters who love the high country–sheep-hunting historian Robert M. Anderson has just published another magnificent mountain hunting book: Wind, Dust, and Snow II. If you are familiar with his North American sheep-hunting books, Great Rams I, II, and III, and his first book about Asian hunts, Wind, Dust, and Snow, you'll know the kinds of fascinating stories and eye-popping photos you can expect to find in this tour de force of Asian hunting.
Safari Press recently reprinted two of the great elephant-hunting classics of the post-World War II era. These extraordinary books, Kambaku by Harry Manners and Bell of Africa by W.D.M. Bell, are autobiographical tales by two of the most adventurous hunters who ever walked the trails of the Dark Continent.