Take the Canadian Firearms Safety Course for stress-free border crossings.
American hunters traveling to Canada often encounter long lines, confusing firearms regulations, and hidden fees. But if you hunt in Canada often, there's a way to avoid all of that.
Now you can prepare ahead, and cross into Canada with a firearm while dealing with less paperwork and fewer hassles. The key to easier border crossings is to complete a Canadian Firearms Safety Course (in Canada), pass a written test, and then file an application for a possession and acquisition license under the Canadian Firearms Act. After you pay a $55 test fee, and then a $70 application fee (at the time this was written), you'll receive a card that will permit quick processing through lines when you reach the border and want to cross with your firearm. The at-the-border fees will also be waived.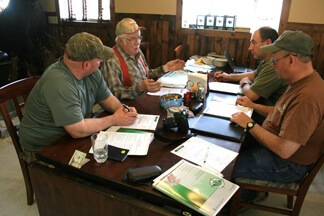 Hunters completing the Canadian Firearms Safety Course.

The Canadian Firearms Safety Course takes approximately eight hours to complete. Don't be surprised to find questions about suicide, obsolete cartridges, and questions about revolvers and other handguns-even though you cannot take handguns into Canada. Much like U.S. firearms and hunter education courses, the Canadian version covers hunting with groups and basic safety principles. The Canadian firearms safety course goes into deep detail on cleaning a firearm, and provides information on a five-shot magazine restriction.
For more details, call the Royal Canadian Mounted Police at 800-731-4000. You can also e-mail questions and requests for forms or course details to: [email protected].