Preparing for a safari is almost as much fun as the trip itself.
The anticipation has been building for months, and at last the day is almost here. I'm getting ready to leave for a safari in Namibia, via a flight to Washington, DC, where I'll connect with South African Airways to Johannesburg, and then on to Windhoek. My duffel is stuffed with safari clothes and soft-soled leather boots and lots of additional stuff I probably won't really need; my rifle is sighted in and ready to be locked in its case; three boxes of ammo are locked in a hard-sided pistol case inside the duffel; and my carry-on contains my passport and a sheaf of other paperwork as well as cameras, reading material, and a variety of sleep aids for that 16-hour ordeal in coach.
They're big planes, but they seem awfully tiny when you've been wedged in a coach seat for hours and hours.
There's a lot to think about when you're getting ready for a hunt in Africa, but the preparation is almost as much fun as the trip! Robert Ruark said it best in The Old Man and the Boy: "The best part of hunting and fishing was the thinking about going and the talking about it after you got back." OK, maybe it's not the best part, but the anticipation and the remembering are always an integral part of the experience.
I'll be hunting in northwestern Namibia with Omujeve Safaris in their Omatendeka Concession, which, by all accounts, is huge, wild, uninhabited, and unfenced. And crawling, so they say, with outsized examples of Namibia's beautiful plains game—kudu, gemsbok, mountain zebra, springbok, and common eland.

The eland is my main goal. I want to hunt one of these huge spiral-horned antelope in the classic manner, by getting on a track in the morning and following it until we catch up or get busted by the wind. Eland will walk for miles and miles in a day, so they say, so it can be a real challenge. That said, though, I've been to Africa several times before, and I know that sometimes what the hunt gives you is not what you expect, so I've learned to be flexible and enjoy whatever happens.
One of the great things about Africa is you don't need much in the way of fancy clothing. Two or three safari shirts, dark green or dark khaki, and the equivalent in lightweight pants will do it for your basic gear. I also have a cool safari vest I got from Boyt Harness company. Lightweight boots with very quiet soles for stalking (I got mine from Russell Moccasin), a windproof fleece jacket for those cold rides in the Land Cruiser in the mornings and evenings, and a hat with a brim, round out the essentials. I'm taking a light, bright 10×32 Zeiss FL binocular, and of course a good camera.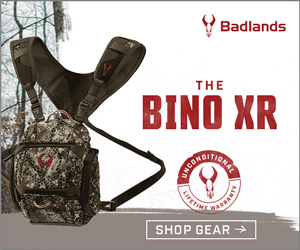 The most important consideration, of course, is the rifle and ammo. For this trip, I'm taking a Ruger M77 in .300 Win Mag, topped with a Trijicon 3-9×42 scope. It will be loaded with Hornady's Superformance ammo with 180-grain Interbond bullets. I have full confidence in this rig to do the job on any large plains game animal that crosses our path, as long as I'm able to put the bullet in the right place.
Shooting practice is one of the most important, and according to many PHs I've talked to, one of the most overlooked aspects of safari preparation. It's not enough to just sight-in your rifle on the bench; it's also crucial to practice shooting from a variety of positions, including sitting, offhand, and resting on shooting sticks. I've been to the range several times in the past couple of months, but I've also supplemented that with a regimen of daily dry-firing, which has helped me to gain even more familiarity with the rifle.
This will be my second trip to Namibia. My husband, Scott, and I chose Namibia for our very first safari in 2003 and had a wonderful time. It's one of the safest countries in Africa (if not the safest), and has great infrastructure, excellent game management, and wonderfully friendly people. You don't need any special shots or medications in most areas (although I always take malaria preventative whenever I go to Africa, just as a precaution.)
Sunsets in Namibia are beautiful, especially when you're watching one after a successful day of hunting.
The only bad part about going to Africa is the long flight, but all you can do is prepare as well as possible with lots of reading material and whatever helps you sleep. My travel agent, Annelise Dubose, specializes in Africa, and she has been a tremendous help in finding me the best flights and helping me figure out the connections, get the gun permits, and plan a little sightseeing after my hunt. Between Annelise and my friends at Omujeve Safaris, I know I couldn't be in better hands. Now all I need to do is concentrate on shooting straight and enjoying the experience. It doesn't get any better than that!