An expedition to central Asia in search of the magnificent mid-Asian ibex.
In October 2014, I traveled to the fascinating country of Kazakhstan, along with my husband, Scott, to hunt one of the world's most interesting mountain animals, the mid-Asian ibex. This successful and enjoyable trip was arranged by The Hunting Consortium. You can read the story of the hunt in the January/February 2015 issue of Sports Afield. Because space did not allow Sports Afield to publish as many of the photos from the hunt as I would have liked, I am posting here some additional photos from our fantastic central Asian adventure.
We found the skulls and horns of wolf-killed ibex in many of the ravines we hiked. Our guides explained that the wolf packs hunted ibex by splitting into two groups; one group would drive the ibex into a ravine, where the other wolves would be waiting in ambush.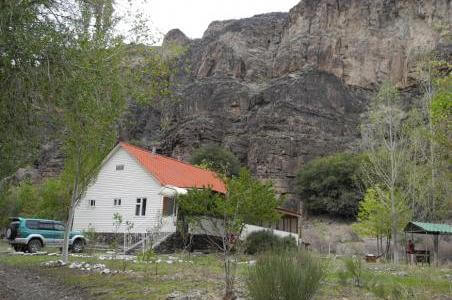 We thought we'd be staying in tents on this hunt, so we were surprised to find that our base camp was this cozy lodge at the base of sheer cliffs. We had comfortable beds and hot meals each night.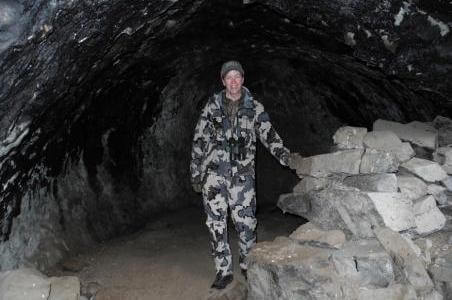 This cave was once used by nomadic herders as a stopover in their treks between seasonal pastures. As it was raining pretty hard on the first day of the hunt, it was nice to seek shelter for a few minutes in this nice, dry cavern.
One day we sneaked to within 20 yards of this ibex billy, who was tucked into a cave, chewing his cud.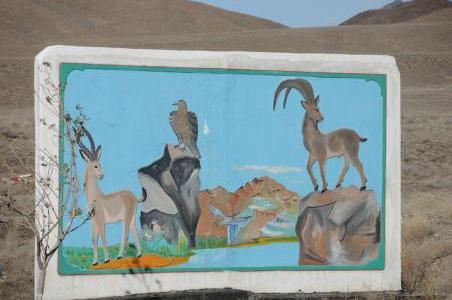 This sign marked the entrance to Altyn Emel National Park. The whimsical paintings depict some of Kazakhstan's iconic wildlife: a Persian goitered gazelle, a golden eagle, and, of course, a mid-Asian ibex.
Scott and I pose with my mid-Asian ibex. It was a great day in the mountains.
Yes, we ate the meat of the ibex we killed. This is bishbarmak, a traditional central Asian dish of boiled meat served atop flat, homemade noodles. The meat is from Scott's ibex.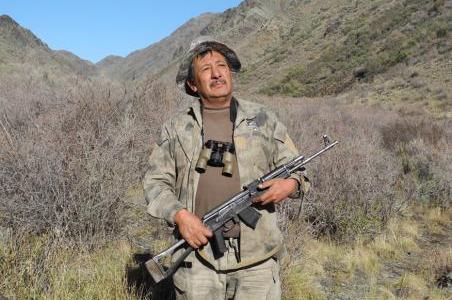 One of my Kazakh guides, Bek. He had worked in the area for many years and was extremely knowledgeable about the wildlife in the region as well as the historic and archeological sites. He was also a character. Here, he strikes a "serious" pose.
The best part about hunting in faraway lands is meeting great people. Enjoying a celebratory dinner on the last evening of the hunt are, from left to right: Scott, guides Bek, Deydar, and Janat, and interpreter Oleg. Thanks to all of these guys for a fantastic hunt, and a shout-out to Corey Knowlton and Bob Kern of The Hunting Consortium for making it all possible!