This new DVD is a must-have for anyone who is a fan of Jack O'Connor, and those who don't know much about O'Connor will find it fascinating as well. The film is an in-depth look at O'Connor's life, from his childhood in Arizona through his later years when he became a globetrotting hunter and the most famous gunwriter in America.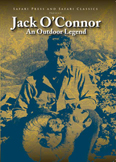 Never-before-seen footage of O'Connor's hunts, shot by himself and his hunting partners with a 16mm movie camera and provided to the filmmakers by the O'Connor family, provides a fascinating glimpse of O'Connor and his family and friends in the field. Most interesting is the footage of his many wilderness pack trips into the Yukon, British Columbia, and Alberta in search of wild sheep, grizzly, mountain goat, and black bear. Because these trips occurred before the advent of bush planes, they were many-week affairs that required long horseback rides into rugged mountains and pristine wilderness, and the glimpses of O'Connor and his guides packing mules, hauling out game, and relaxing near their canvas tents are windows into another time. There's also footage of O'Connor's many African safaris, his shikars to India and Iran, and his hunts for antelope and deer in Wyoming and Idaho.
The filmmakers have framed this historic footage with the story of O'Connor's life, using an extensive collection of black-and-white and color photos to give the viewer an in-depth look at the O'Connor family through the years. O'Connor scholar Buck Buckner and biographer Robert Anderson provide commentary and insight into the writer's life and tell the stories of his various hunts and the effects his growing fame through the years.

This film is an insightful record not just of the life of a remarkable man, but also of a time that could be called the golden age of big-game hunting, when men like O'Connor were exploring new hunting lands and opening the eyes of outdoor magazine readers to the wonders of the wider hunting world.
Produced as a joint venture of Safari Press and Safari Classics Productions, this one-of-a-kind video belongs in every serious hunter's collection. Running time: 2 hours. $29.95 from Safari Press: 800/451-4788; safaripress.com.