Remember, the first day of a hunt is as good as the last.
The stand overlooked a big field of almost impenetrable CRP grass. The wind was howling that day and I didn't expect to see much. Also, I had no particular expectations. I was in western Nebraska, unfamiliar country, unguided hunt, on some country leased by Hornady (a Nebraska company, of course). Neal Emery was sitting with me on that frosty morning, and I was grateful for an enclosed blind and a propane heater. (Hey, one of the things I learned in the Marines is it's not necessary to practice to be miserable!)
We saw nothing until mid-morning—and then whitetails started to pop up like mushrooms. Mostly we saw antlers, the rest of the animal hidden in the tall growth. But as we watched the antlers float along there were occasional glimpses of body. Again, I had no expectations; it was just a deer hunt with friends. So I could have shot an OK 8-pointer, then a spectacular tall, heavy 8-pointer, and then a weird 4×3 with cool palmated beams. All of these were in easy range. Lacking expectations, I was mesmerized…and it never really occurred to me to shoot.
At my place in Kansas, neighbor Chuck Herbel and I pool our properties and lease some ground for deer season. It would be grandiose to say that we "outfit," but we take a dozen or so whitetail hunters annually, and I was doing exactly what I exhort my hunters not to do: I was "stockpiling" whitetails. Worse, I was doing it on a time-constrained hunt, in country I didn't know…and passing bigger bucks than I'd expected to see in the first place.
I think I can say that I knew I was doing this and didn't care. I was enjoying different country and I was seeing bucks…bucks that I understood only an idiot would pass. The enticing thing was that CRP field was full of bucks, and they never spooked. So, foolishly, I figured I'd see a couple of them again. For the moment, I was having fun watching deer.

The next day was dead calm. As a whitetail hunter my biggest failing that I hate to sit still! I'm usually good for about four hours before I start to go insane. On that day, absolutely expecting to see (and shoot) at least one of several bucks I should have shot the previous day, I sat all day, dawn until dark. I saw a couple of bucks moving along the far edge of the CRP, out of range, and, toward dark, a couple more in a green wheat field on a neighboring property, out of bounds. None were familiar, and in the CRP I saw only two small bucks. In other words, all the bucks I'd passed had vanished.
Far sillier, I'd taken these gambles on a three-day hunt. Madness! On the last morning I crawled into a tripod on the edge of that CRP. Just at dawn I watched a buck swagger up a mowed strip toward me. Well, I was also watching my watch. It said we were about three minutes into legal shooting when he was as close and as clear as he was going to get, and I shot him. It's not fair to say there was ground shrinkage. It's more honest to say that I never studied the antlers or counted points. I knew he had antlers, and he had the body shape of a mature buck. That was enough.
I shot this Nebraska buck on my last morning…but on the first day I passed a half-dozen larger bucks.
A few days later another of my editors, Scott Rupp, told me he was headed back to his native Pennsylvania to hunt with a Savage 99 in .300 Savage with aperture sight. I commented that, for some of us, using the rifle is more important than the deer we take. That was surely me on that Nebraska hunt; I was itching to take a deer with a gorgeous Dakota M10 in .275 Rigby (aka 7×57). And, on the last morning, I did.
So, exactly, why did I pass better bucks than I expected to see in the first place? Part of it was lack of familiarity with the area. We don't have much CRP in my part of Kansas. I didn't know that, on a windy day, it creates a protected shelter that whitetails gravitate to, and on calm days they're more likely to be somewhere else. Most of it, however, was pure folly, if not stupidity. You can't stockpile whitetails, meaning pass a buck now and expect to see him again. Actually, this applies to most big-game animals throughout the world, so it's a general lesson with a specific example.
You want honesty again? I hate taking an animal early in a hunt. That makes it hard to build a story, and it's worse with the TV camera rolling. You have to film backwards, really awkward. But that's business, and hunting is reality. My reality: I've taken a lot of nice whitetails, but I admire really big eight-pointers. On that first morning in Nebraska I passed two dandies. Folly, foolishness, stupidity! Ten days later, when the Kansas rifle season opened, I took my own advice and shot a big 8-pointer on opening morning. Two of our hunters took my advice as well, filling their tags with good, solid bucks. Maybe we'd have seen bigger deer if we'd passed, and maybe not. With our tags filled, we'll never know. So if you take the first animal you see, make sure you're happy with it!
My longtime personal credo is that, when Mother Nature offers a gift, one shouldn't kick sand in her face. The last day of a hunt is as good as the first, so one must keep trying, but let's not ignore the corollary, that the first day is as good as the last. Obviously it depends heavily on your personal goals, which are yours to set. It's okay to go for greatness–the long ball, or nothing. Note: the higher your self-imposed standards, the most likely you are to go home empty-handed! It's also okay to set "minimum standards." But what if you encounter that minimum standard on the first day? In some circumstances it is okay to look around for a bit, but never expect that an acceptable and satisfactory animal encountered will ever be seen again!
I've played this game so many times. I love the hunt itself, so aside from business concerns (building a story, building a TV show) I am reluctant to shoot early in a hunt, but I also recognize the risks in passing. Clear back in 1981 I took a monstrous Alaskan brown bear on the first hunting day. We spotted him at distance, and my guide, Slim Gale, started stripping his pack. I said something stupid like, "Hey, it's the first day, there's no hurry."
Slim said, "Good Gawd, man, what's wrong with you, that's a ten-foot bear."
Totally bemused, I went along with the deal, and Slim was wrong. It wasn't a ten-foot bear; it was an eleven-foot bear, probably my best North American animal–and I had wanted to pass!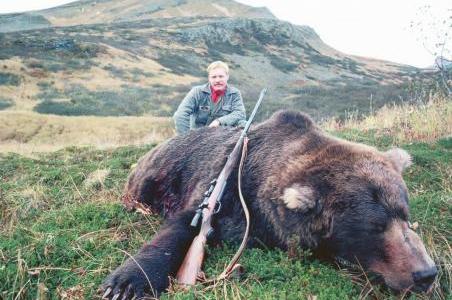 This huge Alaskan brown bear was taken on my first hunting day back in 1981. Since it was the first day I tried to pass the bear; fortunately my guide insisted, and obviously he was correct!
More than twenty years later we were looking for a brown bear for Donna. It was the first day, and we were passing the southern tip of Admiralty Island, enroute to another spot, when guide Alisha Decker spotted a bear at incredible range. More incredible, she knew it was a big bear. This time I didn't argue, but I was intrigued. As we worked toward shore she was sharpening her skinning knives, so I asked her, "You're serious, aren't you?" She grinned and whispered, making sure Donna couldn't hear above the spray, "Oh, yes, that's a ten-foot bear. We're going to get him if we can."
The latter was certain: This young lady (and Alaskan Master Guide) was determined. We beached gently, wind good, and I took on the role of boat handler while Alisha and Donna made the stalk and shot the bear. This was a very expensive hunt and initally we weren't happy about a first-day bear . . . somehow it seemed wrong (as, I suppose, mine had been so many years earlier). However, Donna's bear was exactly ten feet, as called; the biggest bear of that season and, realistically, a bigger bear than Admiralty Island should produce. And it was taken on the first day, which is as good as the last day.
Guide Alisha Decker and Donna Boddington approach Donna's bear. Donna was very reluctant to shoot on the first day and she's just starting to realize how big this bear is. Unusually large for the area, passing it would have been a mistake…on any day!