Outfitters and hunters battle poaching in one of Africa's most famous hunting grounds.
In 2010, Buzz Charlton and Myles McCallum of Charlton McCallum Safaris were awarded the rights to hunt in the Dande Safari Area and Dande East concessions in Zimbabwe's Zambezi Valley, two of Africa's classic dangerous-game hunting destinations. While poaching is an issue throughout the Zambezi Valley, the duo quickly realized that the situation in Dande East was particularly bad and unless there was immediate action the area's wildlife would be lost for good. One problem was that the community game scouts went unpaid for most of the year and had minimal resources at their disposal to strike back against organized gangs of armed poachers.
Curtailing poaching in two areas of the Zambezi Valley has allowed populations of game animals such as kudu to rebound, and has also raised the standard of living for people in the area.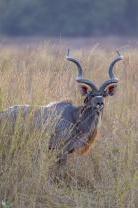 The previous hunting operator hunted Dande East for elephant bulls during the early part of the season, but by the end of July the area was neglected. Once hunting operations ceased, poachers operated unchecked. Local villagers set snares and traps that killed and injured a wide variety of non-target species. Dande East had become a virtual wasteland, and it seemed it would be swallowed-up by the increasing human population and demand for resources.

Charlton and McCallum could have abandoned Dande East, relinquishing what little game remained to bands of local poachers. But they knew the area had potential: A 2009 evaluation suggested that the region had a carrying capacity of approximately 1,000 Cape buffalo, 500 kudu, and 500 sable, far above the numbers that existed in the concession. So they established the Dande Anti-Poaching Unit, or DAPU, and paid (largely out of their own pockets) salaries to community game scouts. They outfitted these scouts with uniforms, GPS and radio communications systems, and armed them in their efforts to halt poaching in the area. The game scouts responded by stepping back into the role of policing these remote areas. In addition, DAPU offered financial bonuses to game scouts who collected snares, provided information on poaching operations, arrested poachers, and so forth. These cash rewards provided even more incentive for scouts to assist in DAPU anti-poaching efforts.
The results of DAPU's initiatives have been remarkable. Since 2010, DAPU scouts have collected more than 5,000 illegal snares and have arrested numerous poachers. These efforts have allowed native game populations to flourish, and the resurgence of wildlife has allowed for hunting operations to move back into the area. The revenue from safari hunting in Dande East has, in turn, provided jobs and produces an abundant supply of fresh meat to local villagers. Wildlife has rebounded amazingly well in Dande East, thanks in large part to the financial support generated by safari hunting.
DAPU's efforts did not stop there. Recently, Charlton McCallum Safaris took over operations in Dande North, and they found that the poaching situation in that part of the valley was also serious, so DAPU immediately expanded their efforts into the new concession. This meant that Charlton McCallum Safaris and their DAPU scouts, in association with Zimbabwe Parks and Wildlife Management Authority, were responsible for protecting hundreds of thousands of acres of the Zambezi Valley against illicit poaching and trapping. Augmented by additional funding by Charlton McCallum Safaris and donations from hunters, DAPU scouts waged war on poaching units that had been killing big game, particularly elephants, at a rapid rate in the area. The ivory hunters were well-armed and well-funded, but DAPU and Parks scouts managed to diminish poaching operations in Dande North, at least for now. Increased sport hunting operations in the area will likely further reduce poaching by offering employment to villagers and providing local people with a steady supply of meat.
Charlton McCallum Safaris and DAPU have made great strides toward protecting Zimbabwe's wild game, not just by arresting poachers but by providing locals with an incentive to preserve wildlife populations for the future. Programs like DAPU have succeeded in large part because of funding from hunters. The ever-expanding human population is placing greater demands of Africa's natural resources, and the continent's wilderness areas are under constant threat. In many places programs like DAPU are all that stands between wildlife and poachers, and it is yet another example of how funds generated by sport hunting are having an immediate impact on conservation. As DAPU's efforts have expanded across the Valley, the associated costs have risen as well, so it's critical for hunters to continue to fund these programs with money generated by safaris and direct donations. For more info about DAPU visit www.cmsafaris.com.