A European Hunting Tradition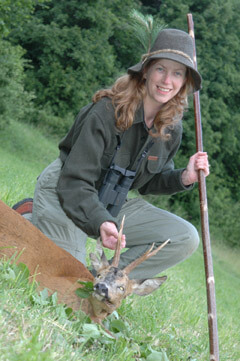 One of the many charms of hunting in European countries is the importance of tradition. Age-old rituals meant to honor the game animal and the hunter are still practiced in many regions.
A roebuck from Austria and the "last bite."
One of these traditions is the letzebissen, or last bite, which is practiced in Germany, Austria, Holland, and some Eastern European countries. The animal is placed upon a bed of leaves as a sign of respect, and a sprig of vegetation is placed in its mouth. Another sprig of greenery is placed in the successful hunter's hatband to let others know of his or her good fortune. And if you hunt in Germany or Austria, you will hear the term "Weidmannsheil," which functions as a good-luck sendoff as well as a form of congratulations when you return with that telltale sprig of vegetation in your hatband.