Optics aren't just an adjunct to a hunt, they're an amplifier, increasing your visual pleasure, providing more information, and saving time and steps.
Naturally, you'll need a binocular for your hunt. But when you travel, don't pack your glass in your checked luggage. First, you don't want to risk having an expensive set of optics lifted by a sticky-fingered baggage handler. But more to the point, your binocular is too useful to restrict to hunting camp only. Include it in your carry-on bag or even wear it around your neck. And use it often. Just as it's important to dry-fire your rifle to develop and maintain proficiency, so is it essential to practice glassing whenever possible, whether you're studying a bird outside your hotel window or the Rockies from the Salt Lake City airport waiting room.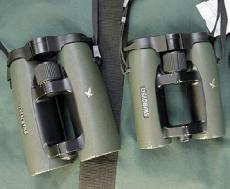 If you fear drawing attention with your Swarovski 10×42 ELs in JFK (although I haven't heard of any TSA bans on them yet), try the smaller 8x32s or even a unit as small as a 8×20 compact. A well-made miniature binocular can never transmit as much light or resolve quite as much detail as an equally well-made, full-size binocular, but the higher-quality pocket models come surprisingly close. And they're so compact, so light, you can store them in a corner of any carry-on bag, or even your shirt pocket. Even if you then pack a full-size hunting binocular, you'll have a back up. But don't settle for an inexpensive, off-brand mini binocular. At this size, materials and construction must be first-rate.

Another option is to carry a mid-sized tool such as the 8×32 Swarovski EL or any similar instrument from a top-line manufacturer. Roughly 4.5 inches square and weighing around 20 ounces, 8x32s are my idea of the perfect all-round travel and hunting binocular. Their 4mm exit pupil, coupled with some of the industry's most efficient multi-coated lenses and phase-coated prisms, makes them bright enough for effective use 30 minutes to 45 minutes after sunset. Heck, I've used them on full-moon nights to detect single stems of tall, winter grass against brushy backgrounds at 60 yards. Pack something like this in your carry-on and you might not even need a larger binocular in your baggage.
If, like this traveling hunter, you love what a spotting scope does for your viewing pleasure, consider taking it along, too. You're not going to wear a 3-pound spotting scope around your neck, but you might squeeze it into a carefully packed carry-on bag. An acceptable compromise between too big and too small is something like the mid-sized Swarovski ATS 20-60x65MM HD, at 2.4 pounds and 13 inches. I frequently fit one of these in my camera backpack, along with an amazing collection of lenses, bodies, a flash, chargers, binoculars, toiletries, spare socks, underwear, shirt–everything I figure I'll need to survive lost baggage for a day or two. They won't let me pack a gun in there, but at least I'll be able to view, study, and photograph wildlife while awaiting the delayed firearms.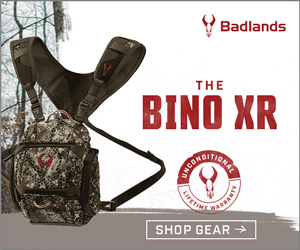 I find a spotting scope essential for sizing up open-country game like sheep, goats, and pronghorns. Lots of magnification is also critical for hunting trophy mule deer, elk, whitetails, and even African antelope. Anything with horns or antlers really requires a careful, high magnification vetting if you're aiming for maximum trophy quality. A binocular is rarely sufficient for seeing small details, and an inch of horn often spans the difference between "book" and no-cigar. Sure, you can let your guide do the studying through his spotter, but that hardly enriches your experience.
If you're going to pack any optic with a magnification above 12X, it'll need solid support. A tripod is best. To save weight, I screw a small photo ball head or the Switcheroo head atop a Bog-Pod tripod and slip it into my rifle case. This unit weighs about 2 pounds, but its legs telescope from 22 to 68 inches. Taped together with supplied Velcro, it works fairly well as a walking staff. At camp it suffices as a support pole for rain tarps or laundry lines. Attach a spotting scope or binocular to the head for steady glassing at any height from sitting to standing. Screw on the yoke and use as a rifle rest. After your shot, you can even attach your camera to the tripod and get some self-portraits.