What's the best time of year to plan a hunt for a black or brown bear?
I just got back from a September bear hunt in New Brunswick. For a Westerner there's a lot of good bear hunting much closer to home, but I'd long wanted to see New Brunswick's big forests. It's a historical hunting area, too, popular with Eastern hunters for generations. Theodore Roosevelt hunted there, as did the great African hunter, Frederick Selous, on one of his North American jaunts.
The hunt was with Dave Winchester (Winchester's Sporting Camps), bought on a whim at an SCI auction. He gave me a choice between fall and spring; I chose fall, partly because it suited my schedule, and partly because of the fall colors. Turns out Winchester has been operating in New Brunswick for forty years. His camp is a cluster of snug cabins, and he knows his woods and his bears. His baits were well-sited, overlooked by good, solid stands, and on arrival the bears were hitting the baits like crazy.
I left a week later without a bear. I don't go bear hunting every year, but bears are kind of a thing with me so I've hunted them a lot, in a lot of places, and by most techniques. Thinking back, I believe this was the first time that I've blanked on a dedicated black bear hunt. I guess I was due. Sure, I would have liked to take a New Brunswick bear, but I've shot plenty of black bears, so it's not the end of the world.
I've hunted black bears—specifically—in both fall and spring. Likewise brown/grizzly bears, but that's a lower percentage deal; I've failed (and been successful) in both spring and fall. Obviously I've hunted black bears more than the big bears. The hunts are a lot more available and affordable. Black bear hunts have been both guided and unguided, but since I've never lived in grizzly country all my hunts for the big bears have been guided. It's important to plan carefully, picking the right area, a great outfitter, and going at the right time. With all bears, a major point of discussion is which is better, spring or fall?

Sometimes there's no choice. Spring bear seasons aren't nearly as common as they used to be. But, given a choice, which is better? Since I just got beat on a fall hunt it may appear that I've answered that question. So let's examine why, in a great area with a fine outfitter, I didn't get a bear in September 2017. It's simple: Expectations and weather. The first two days I had seven bears on the bait I was sitting…I'm pretty sure there were repeats, but at least four were different bears. Two were small and two were shootable, but I've shot a lot of black bears and I elected to wait. Then it started to rain and never really stopped. I sat through mist, drizzle, and downpour and bears were still hitting the bait—but apparently during breaks in the weather, even if in the middle of the night…not while I was there.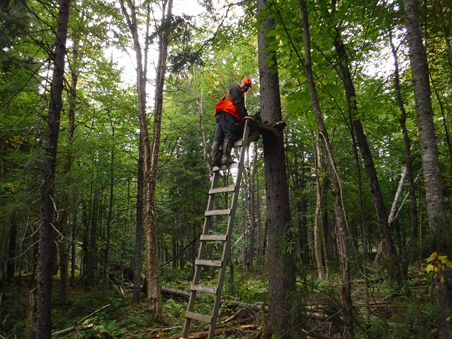 The bear stands in New Brunswick were sturdy and reasonably comfortable. In most bait hunting you sit from mid-afternoon until dark, when bears are most active.
I tend to like spring bear hunting, but in part that's because no other big game seasons are open. You're there to hunt bears, which is always the best approach. But fall hunting can be very successful, too. Mind you, I've thrown away a wastebasket full of fall bear tags—but a black bear was usually an add-on or extra while I was hunting caribou, elk, goat, moose, sheep, whatever. It happens, but I've personally never filled one of those "extra" tags while hunting for something other primary animal. Until now I've done well on dedicated fall bear hunts.
It does depend on the technique. Depending on the area, black bears are generally hunted with hounds, over bait, or by spot-and-stalk technique. With hound hunting I don't think it makes any difference. Bears move and feed and leave scent, and it doesn't really matter if the movement is nocturnal because good hounds can easily pick up a trail that's several hours old. Density of bears and good dogs matter. Baiting counts on a bear's appetite, its greatest weakness. Just out of the den bears are hungry and there isn't yet much to eat, so it's easy to get them on bait…but fall bears are trying to slab on fat before hibernation and they're hungry too. Baiting works fine in both seasons.
Both hound hunting and baiting developed in forested regions where spot-and-stalk hunting is almost impossible. This is important to understand before you take the currently popular position that both techniques are unsporting. If spot-and-stalk is the technique, then my experience is that bears are more visible in spring than fall…but it depends on the bear. Almost all brown/grizzly bear hunting is spot-and-stalk. It's more difficult, with fewer bears in bigger country, but the big bears are somewhat less nocturnal than black bears…and a grizzly or brown bear hunt is more likely to be very specific, and of longer duration. Carry a grizzly tag in the fall while you're hunting other game and your chances are slim…but go into good country and specifically hunt bears and your chances go way up.
Availability of food is very important. In the spring you glass for bears on slides, meadows, beaches, even roadsides where the first new green comes up. Winter-kill carcasses are popular, and in some areas the first thing a bear tries to do in the spring is make a kill…and then it will cover it up and snack on it until nearly gone. In the fall bears come to berry patches and stuff themselves. One fall in British Columbia's Skeena Mountains during a bumper-crop berry fall I counted thirty-two sightings of grizzly bears between September first and tenth. Some were surely repeats, but many were not. That's a lot of grizzlies! In Alaska and coastal B.C. fall salmon runs are major draws…but there are spring runs for suckers and other species. Some areas have unusual situations. In Arizona, prickly pears are ripe in September; the purple fruit is irresistible to bears. In some agricultural areas bears become unrepentant crop raiders. Fall or spring, you hunt food to find bears.
Spring bears are lean; fall bears are heavier…and with less carrion and more berries, the meat is probably better. As for quality of coat, that's a grab-bag. Most bears come out of the den with excellent fur, but as the spring warms they apparently get itchy. At some point in the spring—different from spring to spring—coats become patchy and "rubbed." This condition lasts until early fall, when they start to grow their winter coats. The very best hides are probably late fall, just before hibernation…but that's not consistent. I shot my best-ever bear years ago on the Alaskan Peninsula, a giant of a brown bear. The coat wasn't patchy, but it was thin. Tooth section aged the bear at 29 years, a very old bear–maybe just too old to grow another good coat.
I want to go back to New Brunswick and try again. Maybe I'll try spring, but not because I'm convinced it's better. Rather, because spring bear season is a special and unique time. If you're deciding between spring and fall, do your homework. It depends on the area, the food, the technique…and, above all, planning enough time and really concentrating on bear hunting.
One of Boddington's best black bears was taken on a fall hunt in North Carolina. In that area the bears come into corn fields, making fall an ideal time to hunt them.