It's less expensive than you might think.
An African safari is one of the greatest adventures remaining on planet Earth, and a plains-game safari in Southern Africa is one of the best bargains in the entire hunting world. Such a hunt doesn't cost an arm and a leg, and is actually within reach of most working Americans, although it may take saving, planning, and prioritizing.
"Southern Africa" in this context refers to Namibia and South Africa, and "plains game" excludes dangerous game. Africa is a big place, with at least 18 countries offering organized hunting. Conditions and prices vary radically. Prizes like bongo and giant eland are costly to hunt, and even in Namibia and South Africa, safaris that include dangerous game are costlier than plains game safaris. It is thus impossible to put a firm number on what a safari costs, but we can categorize the line items. You need to ask the hard questions, and ultimately come up with total numbers that you can compare as you do your shopping.
DAILY RATE: This is the basic charge for your hunt, including your professional hunter, camp, and food and services provided in camp. This usually includes basic trophy care (skinning, salting and drying, preparation for transport)—but not veterinary certification, crating, and so forth. In many situations the daily rate is the major cost, but in some situations licenses and trophy fees will exceed it. Daily rates can vary from as low as perhaps $300/day to, well, add a zero in the costliest countries. Generally, the more remote the area the higher the cost of outfitting, and this is passed to the customer.
There should be little mystery to the daily rate. However, many outfitters don't express this as "X dollars/day," but instead quote, say, ten days, fourteen (and so on) at "Y dollars." You can do the math and compare against other "daily rate" charges. Also, many outfitters offer "package deals" that include the fees for certain animals. You should shop around and get a feel for what outfitters who price a la carte charge for these animals, thus what the package is really worth.

For comparison, things to consider: Are the days of arrival and departure considered "hunting days?" If your safari includes changing areas, are the "transfer days" considered "hunting days?" Is airport pickup/transport to camp included or separate? You can expect daily laundry service, and local beer (pretty good!) is often cheaper than soft drinks…but are (reasonable quantities) of alcoholic beverages included?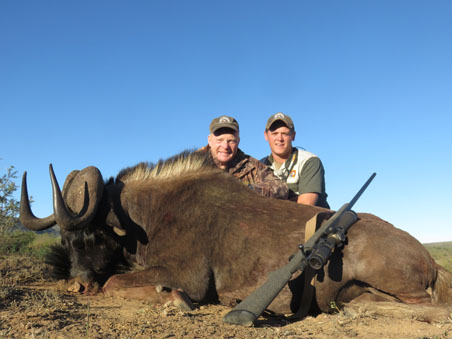 Boddington and Frontier Safaris' Scot Burchell with a good black wildebeest taken in 2017. Like many operators, Frontier Safaris prefers to market "package hunts" that include certain pre-paid animals. Packages are often solid deals, but you need to shop around a bit to determine the value of the animals on your list.
LICENSES AND TROPHY FEES: Some countries are "trophy fees only," which means, according to a printed schedule, you only pay for game taken (or wounded and lost, so don't shoot unless you're sure). In both Namibia and South Africa game on private land is privatized, so daily rates are low and operators derive much of their income from trophy fees. Farther north "government trophy fees" become the norm. Realistically, an outfitter's trophy fees may include "add-ons" to actual government fees, but this is usually reflected in higher or lower daily rates. Some countries, such as Tanzania, have license fees, payable up front, in addition to trophy fees for game taken. Ethiopia is fairly unique in that, as in North America, specific licenses must be purchased up front for any animals you intend to hunt, and are not refundable.
Your total cost is largely controlled by your hunting success. If you're on a tight budget, exercise restraint on your trigger finger! But I submit this: Once you're there, you don't know if you'll ever be there again. Within reason, a few extra trophy fees for awesome animals you didn't plan for may be the best bargain you'll ever get.
OTHER FEES: These do not apply in all countries, but in some areas "concession fees," "anti-poaching levies," and taxes (such as VAT, essentially our sales tax) may apply. These should be listed in the outfitters' price list, but may not be totally obvious. Ask!
TRANSPORTATION AND TRAVEL: Basic air fare from the U.S. or Europe to Africa hasn't gone up much during my career so, in real terms, it's gone down quite a lot. By planning early and shopping around you can find excellent fares. However, I strongly advise using a travel-savvy, hunter-friendly travel agent who really understands international travel with firearms. Some airlines no longer carry firearms, and most now require advance notification. Some European countries don't allow transit with firearms, and some require police clearance. It is not impossible to work through this labyrinth on your own, but it's a whole lot easier to work with a gun-savvy travel agent. Baggage allowances keep going down and excess charges keep going up, so pack wisely and expect to pay up to a couple hundred bucks each way for baggage.
Do not allow close connections; ground arrangements can get complicated if you miss a flight. Even so, it can happen, so make sure you have good phone numbers and either a satellite phone (inexpensively rented) or an international chip in your cell phone (preferably both).
Will you need to overnight in a hotel, or will you be whisked straight to camp? Hotels/meals before and after the safari are generally on your nickel and must be added to the total cost. Johannesburg's O.R. Tambo airport is the hub for most hunting in Southern Africa, now including Mozambique and Zimbabwe. The South African gun permit is free, but can be done in advance for an average of $150; and there are inexpensive guest houses that cater to hunters. However, if I'm not actually hunting in South Africa but going onward to another country I usually schedule flights so that I pass through Johannesburg "in transit." For me this saves time and a little bit of money, but it makes a long trip even longer. Which is best is your call.
How are you getting to camp? If charter flights are required these are expensive in Africa and can add a lot to the total cost, depending on distance. Driving is not necessarily an option; a short distance on an African map may mean many hours on African roads. If charters are required make sure you get firm quotes on the costs. Fuel costs are high in Africa, so unless the distance is quite short it's normal for outfitters to charge for "airport pickup/drop-off" and road transport to/from camp. However, those days should not be counted or charged as hunting days.
Consider really good trip cancellation insurance, and for sure get a medical evacuation membership. Chances are you won't need either, but if you should, you need them badly!
HIDDEN COSTS: There shouldn't be much left. If you choose not to take your own guns most African camps have suitable rifles, and charges for gun rental and ammo should be in the price lists. If levied, these are probably a fair tradeoff against baggage fees and gun permits.
After the safari there are some little details nobody likes to talk about. Tipping should not be considered optional to your camp staff nor to your professional hunter if he/she has done a good job. Every camp has a sliding scale. Too little is being chintzy, but too much places a burden on hunters who follow you. I have yet to meet an outfitter or PH who likes to talk about this, but they will if you pin them down. For the camp it depends on how many people, the length of the safari, and also the standard in the country. For a seven- to ten-day plains-game safari a few hundred bucks to the camp is normal, and perhaps the same to the PH. This must be in your planning figures!
"Dipping and packing" means veterinary clearance, paperwork, and crating for shipping. Some camps have a flat fee, others a fee per animal. Especially in Namibia and South Africa, where good taxidermists are plentiful, they may handle these chores; in other countries they may be handed off to a shipping agent. Either way, this is a multi-faceted burden. At some point after the safari you will probably be charged separately for "dipping/packing/crating," shipping, and of course eventual taxidermy. It is impossible to get exact pricing up front, but do your very best to pin your outfitter down so unpleasant surprises are avoided.
Be aware: Shipping charges for trophies are getting out of hand. These costs are controlled by how much you shoot and how much you have sent home. That said, overseas shipping is usually by cubic measurement rather than weight, so removable horns (especially long horns like kudu and oryx) save cubic inches, and skins make little difference. To some extent you are captive to the circumstances—some countries offer very few options, and rampant through the industry are kickbacks to outfitters from taxidermists, and from taxidermists to shipping agents. The trophies are yours, but after you go home you have little control over them. So the time to exert your preferences is at the conclusion of your safari, as you're working out the final details and payments.
Part of a season's trophies at Zambeze Delta Safaris, salted, dried, tagged, and ready to start their long journey. Once properly dried these skins are as hard as concrete. Stored in low humidity they will be just fine for several years before tanning and taxidermy are required.
Sea freight is a much less expensive option than air freight. It takes longer, but it will probably be months before raw (salted, dried, dipped and packed) trophies are shipped, so a few extra weeks in transit means little. Shipping is very much a "hidden cost"—but you can and should ask about the options (understanding they may be limited). In Southern Africa, AHG Shipping (www.ahgshipping.com), recently established by hunters, vows to cut shipping costs by up to 30 percent, a huge step forward.
Unless you live near a designated port and have the time (and patience) to clear a shipment yourself, you (or your shipper) will engage a customs house broker to clear your shipment. You obviously can choose your broker, but your taxidermist and/or shipper can recommend a trophy-savvy broker. Just insist that your shipment arrive at a designated port as close to your home as possible, because unless you physically go retrieve your cleared trophies there is another unavoidable cost in trucking them to wherever you want them.
Taxidermy costs are controlled by you (whether you have it mounted or not). These bills don't start for many months but, ultimately, they are part of the safari cost. In much of Africa there is little choice: Your salted, dried, and disinfected trophies will be shipped home, cleared, and then sent either to you or your taxidermist. In Southern Africa, uniquely on the continent, there are excellent taxidermists. So now you have a tough choice: Ship your raw trophies home and get them to your taxidermist; or have the trophies mounted there and the finished products shipped.
African taxidermy can be very good. The price differential isn't what it used to be, but it is usually a bit less expensive and will usually be quite a bit faster. African taxidermists do know what African animals are supposed to look like. Smaller taxidermists in North America may be great artists, but may not be familiar with African animals. This suggests the wisdom of using larger studios, which may increase costs and require further shipping to your home. Since shipping of large items is always more by cube than weight, shipping of raw trophies is less expensive than shipping of mounted trophies. However, again, where practical, detachable horns save a lot of space, and thus shipping cost.
Determining the full and final cost of your safari is not simple. There's a lot to think about, and there are unknown variables (based mostly on hunting luck), but unless you really don't care, it's a good idea to do some figuring and come up with an approximate bottom line. However, I'll leave you with one last thought: Whatever it costs, I can assure you it will be worth it!