Famous female hunters have long walked the game trails of the world.
Surveys by the National Shooting Sports Foundation and the National Sporting Goods Association show that 3.3 million women hunted in 2012, compared to just over 3 million in 2008. That growth of nearly 300,000 represents a 10 percent increase in just four years. This continues a decade-long trend–from 2006 to 2011, the percentage of female hunters jumped from 9.6 percent of all hunters to 11 percent. Programs to introduce women to hunting and shooting deserve part of the credit, as do more and more manufacturers who are designing products especially for women.
This is great news, but the fact is women hunters are not a new phenomenon. There is a long and proud tradition of female hunters and shooters, both in the United States and elsewhere, who have held their own and often exceeded the accomplishments of their male counterparts.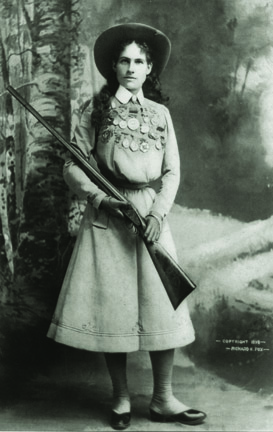 Most of us know the story of the great sharpshooter Annie Oakley. Born into poverty in 1860 in western Ohio, Annie began trapping before the age of seven, and she was shooting and hunting by age eight to support her siblings and her widowed mother. She sold the game she killed to local shopkeepers and to restaurants and hotels in Cincinnati and northern Ohio. At age fifteen, the revenues from her shooting skills paid off the mortgage on her mother's farm.
Her prowess was well known in the region, and in 1875 a local hotelier arranged a shooting match between Annie and the traveling show marksman Frank Butler when Butler bet him $100 ($2,155 in today's dollars) that he could beat any local shooter. Butler lost the match and the bet, married Annie, and the rest is history.

Paulina Brandreth, a deer hunter, naturalist, and photographer from the Adirondacks, held her own with the finest deer hunters and outdoor writers of the late 1800s and early 1900s. She began writing for Forest and Stream magazine in 1894, at the tender age of nine. Her articles were credited to "Camp Good Enough, Brandreth Lake," which was a deer camp owned by her grandfather. Later, she wrote under the pen name Paul Brandreth, and in 1930 published one of the first major books on white-tailed deer hunting, Trails of Enchantment. Paulina was a passionate and skilled still-hunter of whitetail bucks, and she often went afield with other well-known nimrods of the day, including Roy Chapman Andrews, General "Black Jack" Pershing, and Reuben Cary.
Across the Atlantic, a number of adventurous and well-heeled women of the Edwardian period were pursuing the most exotic of worldwide hunting adventures. An amazing Englishwoman named Lady Catherine Minna Jenkins, who was married to a judge in Bombay, had already taken five tigers in India and a variety of game in Somalia when she decided to hunt in Tibet in 1906. Her husband was too busy to accompany her, so she went alone. During her solo shaker in some of the most difficult mountains in the world, she shot seventeen game animals, including blue sheep, Tibetan argali, gazelles, urial, barasingha, ibex, and marcher. She recounted her adventures in Sport and Travel in Both Tibets, published in 1909.
Two cousins, Englishwomen Agnes and Cecily Herbert, undertook fantastic hunting adventures that took them to Alaska, the Caucasus, and Africa in the years between 1906 and 1911. They formed and organized their own expeditions, some of them solo and others with companions, and Agnes, a journalist, wrote a book about each excursion. Agnes's comment at the beginning of her book Two Dianas in Alaska is classic: "My friend shudders at my slaying a rhinoceros, but manages to eat part of an unfortunate sheep immediately afterwards. I wonder if the good lady's words ring true. She may be right, and books on sport and adventure are only for men and boys, the sterner sex. If, therefore, you, reader o' mine, should regard all forms of taking life as unwomanly, read no more… We went to Alaska to shoot, and–we shot."
When it comes to guts, though, it's hard to match the famous Osa Johnson. As she and her husband, Martin, filmed groundbreaking footage of Africa's wildlife in the 1920s and 1930s, essentially inventing the wildlife documentary, it often fell to Osa to fearlessly stop charging lions and elephants with her 9.3×62 Mauser. Her autobiography, I Married Adventure, was the bestselling nonfiction book of 1940, and three-quarters of a century later, it's still an exciting read.
Women have a long and proud tradition in the world of hunting, and there's no doubt all of these adventurous women would be pleased to know that it continues today.