There are six continents to choose from, and all of them have great hunting.
Hard on the heels of the holidays comes convention season. Dallas Safari Club (January 4-7, Dallas), Safari Club International (January 31-February 3, Las Vegas), and Wild Sheep Foundation (January 18-20, Reno) are three big ones, but there are plenty more of all sizes. These are great places to meet outfitters in person, but whether you're a convention-goer or not, the early months of the year are prime booking season for outfitters the world over. That means it's prime shopping season for hunts! So, if you're in the market for a hunt in 2018, you have many choices.
I thought it might be interesting to compare "average" hunting conditions across the six continents that offer hunting opportunities. But with this comes a caution: By definition, a continent is a very large land mass, so it's difficult to generalize. Texas, Wyoming, and Yukon, for instance, all offer North American hunting…but most of us will understand that hunting conditions in these three areas aren't exactly the same. This applies to all the continents, but perhaps there are some commonalities.
North America holds some of the world's most diverse hunting. From the jungles of southern Mexico to the Arctic you can find just about every climate and habitat type. However, and this may surprise some, North America probably offers some of the world's most difficult hunting. This is due in part to the North American Model of Wildlife Management, which, almost uniquely in the world, holds wildlife as a public trust resource. Mexico is a bit different, but in Canada and the United States wildlife is neither privatized nor owned by the government; it belongs to all of us, and we have relatively free access to millions of acres of public land. This system brought North American wildlife from tattered remnants a century ago to relative plenty today.
It also created the world's largest hunting culture. Our wildlife managers must carefully allocate the resource, maintaining as much opportunity as possible. This is because wildlife management is primarily funded by hunters through license fees. Here in North America, hunters must compete for opportunity. Effects differ from place to place, but end results include relatively short seasons and, for scarcer resources, limited permits allocated by drawings. We in North America live with this system (most of us cherish it, and we should!) and never even think about it. We understand that our wilderness hunting is tough stuff and we know that a lot of our hunts will not result in the taking of game. Hunters I've encountered from elsewhere are often bewildered by our unique North American situation.

Despite a dense human population, there's a lot of wildlife in Europe. Also, a lot of tradition. Hunting was once the province of the landed gentry; today much European wildlife is privatized or essentially owned by the government. Either way, wildlife is considered a cash crop. Compared to North America, European hunters are relatively few in number, and in general are accustomed to paying dearly for their passion. Management is intensive and effective, and often by age class.
Things are slightly different in each of Europe's fifty sovereign countries, but across Europe it's common to be accompanied by a competent gamekeeper who often has sole say over what animals may be taken. It is not always allowed to take the largest animal you see—and sometimes you don't want to. Trophy fees are often based on size, and may escalate dramatically with really large specimens. These concepts—not always being able to take an animal you like, and paying extra if you get lucky—are foreign to American hunters, but the European system works. Most hunts are relatively short—many permits are only good for three days—and success is extremely high. Because there are fewer hunters to accomplish the desired harvest, seasons tend to be long by our standards, and many areas offer some combination of species.
Every European country has its own unique culture and cuisine, and on most European hunts both will be enjoyed. There is very little real wilderness on the European continent, so "hunting camps" as we know them hardly exist. Some outfitters operate from lodges, but the norm is small country inns. We speak of "hunting vacations," but a lot of hunting in North America is extremely hard work. Most European hunting is not, and often really is a relaxing vacation. On the other hand, while fenced estates are not uncommon, most European hunting is free-range; the secret to their success is simply that European game management is excellent.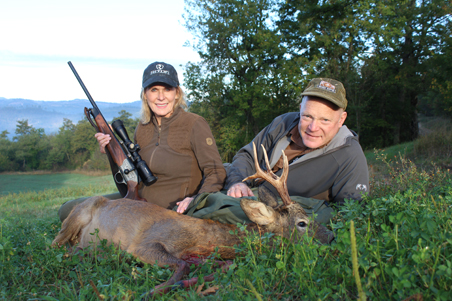 Donna and Craig Boddington with Donna's exceptional European roebuck. The roebuck has never been successfully introduced anywhere else; it's a true European exclusive.
Things are quite different in Asia. Typically, governments exercise almost full control, and wildlife is considered a cash crop. There are some bargains here and there, but on a per-animal basis Asian hunting is probably the most expensive in the world. In my experience, little wildlife remains near population centers. There is a great deal of wildlife in Asia—but you can expect to spend long hours getting to the hot spots.
Once there, it's usually worth the journey. Most Asian hunts target one or two species, and most are successful for the primary quarry. Since wildlife is essentially sold to visitors, seasons tend to be long, and there are often additional opportunities you may not have thought of. Of course, the Asian land mass is gigantic and conditions vary widely. The most organized hunting in Asia, with the most competent and experienced guides, is probably found in Azerbaijan, Mongolia, Nepal, Pakistan, and Turkey. But in many situations camps are rough, food is unfamiliar, and language and cultural barriers can be extreme. Asia is a region for serious and experienced hunters, and it's essential to be patient and roll with the punches. Chances are you'll get your game, and of course Asia holds many of the world's greatest game animals, but you probably won't enjoy every single minute of the experience.
South America had a great deal of interesting native wildlife, but recovery is far behind our continent. Bird shooting is legendary, but opportunities for big game are limited. Introduced red stags are hunted in Chile, and tropical whitetails are hunted in Peru, but most of the big game hunting is confined to Argentina…and most of it is for about a dozen introduced species. This is not all bad: Red stag were introduced a century ago, and Argentina offers some of the very best free-range red stag hunting in the world.
That said, big game hunting in Argentina is a mix of fenced estates and free range…however, almost all species can be hunted free range if preferred. Red stag is the big attraction, but Argentina has excellent blackbuck, water buffalo, and fallow deer…and in the north native species include capybara and brocket deer. It is a friendly country, very European in culture, with English widely spoken. Most hunting will be from lodges, and this is probably no place for vegetarians; Argentinean beef will feature prominently on the menu, along with their famous Malbec red wine. What's not to like?
The South Pacific isn't really a continent but a region, including the continent of Australia. Australia and New Zealand are the primary hunting areas, but New Caledonia and Papua New Guinea are on-again, off-again, primarily for excellent rusa deer. A challenge for this region is virtually all huntable species were introduced. There is great variety, but the populations are often widely scattered—and ideal seasons may differ. The primary exception to this is New Zealand, where any combination of Himalayan tahr, chamois, red stag, fallow deer, and more is readily available. However, you'll accrue serious frequent flier miles if you try to hunt multiple species in Australia and New Zealand.
Both countries offer both free range and estate hunting for all species. New Zealand is especially famous for huge red stags, but it's only fair to say that the really big stags are consistently estate animals. Free-range stag hunting is fantastic, especially during the roar…but antlers are usually modest. Tahr and chamois are well-distributed in the South Island's high country, offering one of the world's best mountain hunts in incredibly gorgeous country.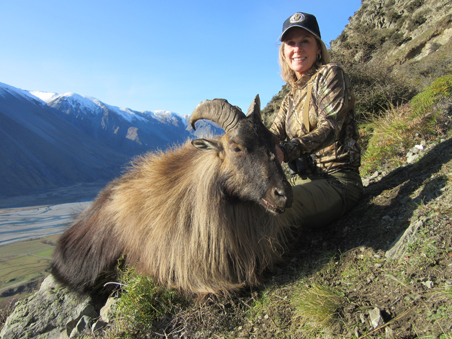 Donna Boddington with a good Himalayan tahr, taken with Chris Bilkey on New Zealand's South Island. The scenery in this area is straight out of Lord of the Rings…there must be hobbits somewhere near.
In Australia the Northern Territories' water buffalo is probably the biggest draw and offers a marvelous Outback experience. There are usually some wild boars around, but combination hunts are more difficult. Queensland and southern Australia both offer multiple varieties of deer…just be aware that these areas are vast distances apart! In New Zealand lodge accommodations are common; in Australia hunting is often in the back-of-beyond, so a genuine bush camp is more likely.
Africa offers the greatest variety of wildlife remaining on Earth. Understand, however, that it's a very big place, and with about twenty countries open to hunting situations vary considerably. Also understand that, although Africa holds over a hundred varieties of antelope alone, not all are found in any one area. However, most African hunting areas will offer ten or a dozen different species…and a few hold twice that.
Although Namibia and South Africa are the only two countries that offer hunting for the entire Big Five, both are primarily plains game destinations, and both offer a mix of free-range and estate hunting. Elsewhere on the continent game ranches range from rare to nonexistent…but hunting "wild Africa" tends to be more expensive than hunting on private land in the south.
Thanks to a century of safari tradition African camps are consistently excellent, although there are huge differences between well-appointed lodges in the south and tented camps in the forest zone—and everything in between. One of the great advantages African outfitters have is they can get help—and offering local employment is an important aspect of the safari industry. So, realistically, you will probably be better looked after in an African hunting camp than anywhere else in the world.
Unlike most destinations an African safari is usually based a "wish list" of several species. Hunting is successful because most African professional hunters are extremely competent, and if you do your homework you'll land up in a game-rich area. That said, some animals are more difficult (and less common) than others. Almost no one will have opportunity at all species in a given area, but most hunters take the majority of their primary animals…and perhaps a couple they didn't think about.
So, is Africa the best continent of all for hunters? That depends altogether on what interests you! Africa is great, but that's not where you're going to find a big mule deer or a grizzly bear…or a Marco Polo argali… or a big red stag… or, well… it's a big world, and the hunting is good on every continent.
No other place can rival Africa for variety. This is a nice herd of sable antelope, just one of more than a hundred varieties of antelope.