Engineered specifically for women, this new line of hunting clothing is proving itself on the world's toughest hunts.
Prois has been making great-fitting, high-performance women's hunting clothing for the past decade, and now–just in time for hunting season and the holidays–they have brought a whole new level of quality and construction to what was already a great lineup with a brand-new clothing line in the company's own Cumbre camo pattern. I recently had the opportunity to wear the new Prois Cumbre clothing on what turned out to be the ultimate field test—a 10-day ibex hunt in the mountains of central Asia, where conditions were as tough and variable as you're likely to find on any hunt. The gear performed like a champ. Not only did it hold up well in rough, rocky conditions, but the performance fabrics proved their worth, stopping the wind, keeping me warm, and efficiently wicking sweat away from my skin on the toughest mountain climbs I've ever done.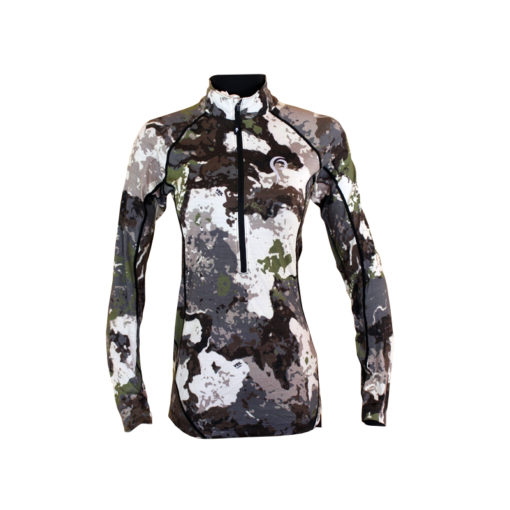 Thermoregulation—staying warm without overheating—can be the toughest part of a strenuous hunt. I'm a huge fan of baselayers constructed of merino wool, which is soft, doesn't itch, wicks beautifully, and keeps you from getting stinky. Prois's line of Olann Merino baselayers is the absolute best I've found. The line includes a half-zip top, tank top, merino bottoms, glove liners, and… FINALLY—someone has made a merino sports bra! On the hunt, we made a brutal five-hour climb to our spike camp, and there was no way to avoid sweating profusely. Some of the less-well-equipped members of our party were soaked and shivering in their poorly wicking base layers, but my Olann Merino baselayers kept me dry and comfortable for the entire hike. The sports bra and tank top have joined my regular clothing rotation not just for hunting but also for wearing during cold-weather workouts, winter hikes, and even strolls around the neighborhood.
Left: Prois Olann Merino half-zip base layer top. Right: Prois Olann Merino sports bra.

The Tintri Lightweight line is great for early-season hunts or for layering in changeable weather. The half-zip top, short-sleeve top, pants, and neck gaiter are made from a poly/spandex blend with a water-resistant finish and 4-way stretch. These layers fit great, especially the pants. I wore the neck gaiter almost constantly on the ibex hunt; it was just the right weight to protect my neck from high-altitude breezes.
Right: Prois Tintri Lightweight hunting pants.
Prois's Callaid down jacket, vest, and mittens are the ultimate layer when temperatures plunge—which happened on my hunt every evening when the sun dipped behind the horizon. Keeping your core warm is crucial, and the Callaid line is made with a water-resistant polyester ripstop shell stuffed with lofty 800 gray goose down. The vest and jacket have deep hand pockets and chest pocket as well as vents constructed of breathable poly/spandex for optimal movement and ventilation.
Left: Prois Callaid down jacket.
The Torai Midweight line was my go-to for this hunt, since mountain weather is unpredictable. Jacket, pants, beanie, and gloves are made of a poly/spandex blend and lined with plush fleece for warmth, and everything is windproof and waterproof. And because it's made by Prois, it fits and looks good, too.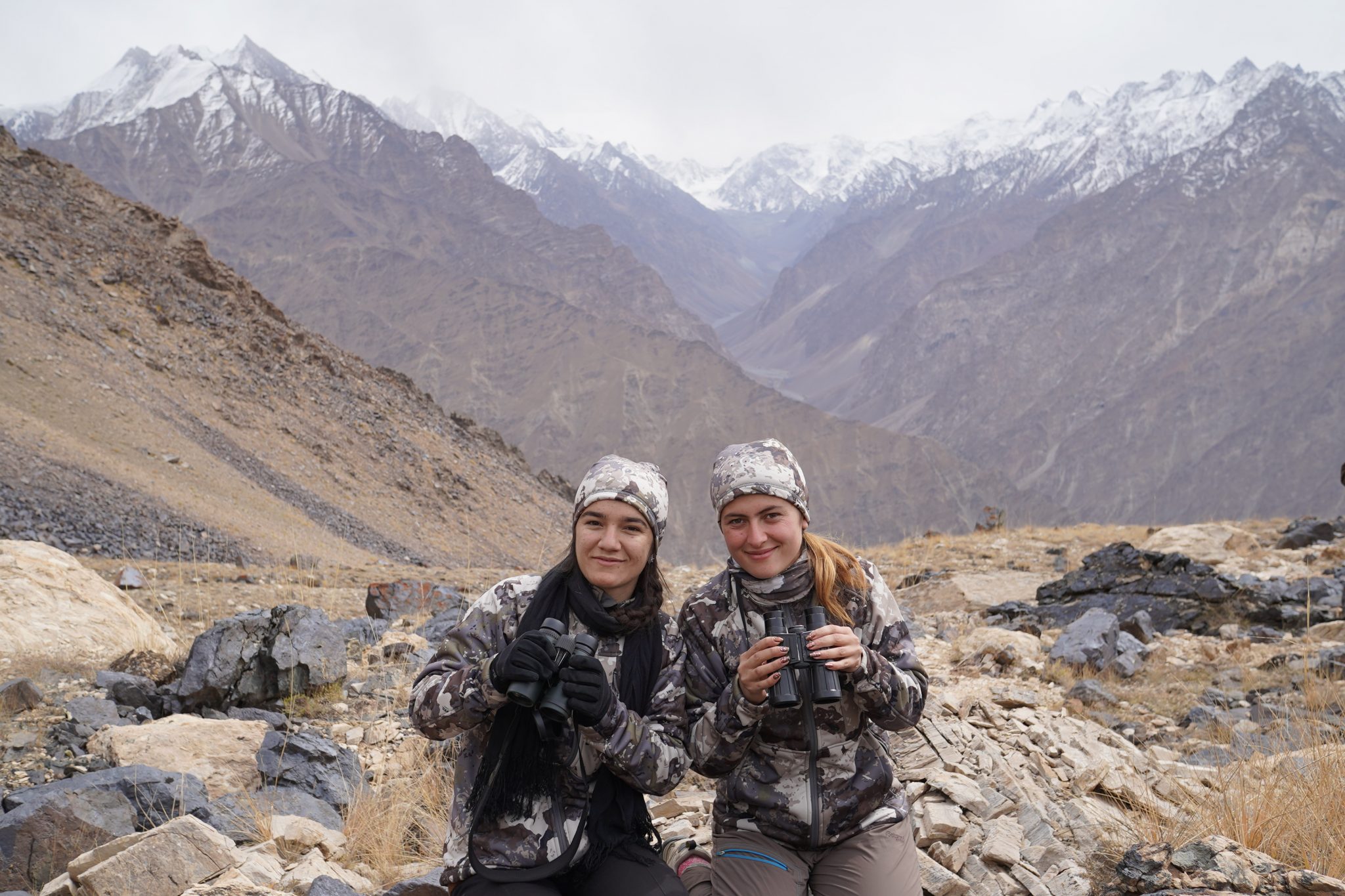 Right: Tajik hunting guides Anisa and Latifa stayed warm and comfortable in their Prois Torai jackets and beanies during hours-long stints glassing for ibex at 14,000 feet.
A note on the Cumbre camo pattern: developed in partnership with Veil camo, it proved a great pattern for open slopes and rocky peaks, helping me avoid the sharp eyes of the ibex we were hunting, but it's also an extremely versatile pattern that worked well on a more recent hunt in wooded country. It's also a distinctive, good-looking pattern you won't find on any clothing you buy in big-box stores.
Prois gear is available online, direct from the company, and you can also find it on the racks at your local Scheel's store. Check out the full line at proishunting.com.