Many famous caribou-hunting regions are now closed, but in other areas there are still good opportunities for success.
On the final morning of a caribou hunt in Quebec many years ago we awoke to a blustery, threatening dawn. I was still in my sleeping bag when one of the guys ran into the cabin saying, "Hey, you gotta see this!" Several of us stumbled out to the porch and gazed across the lake at a scene straight from a John Ford western. However, instead of angry Apaches lining the horizon, the ridge on the far side of the lake was rimmed with caribou, on the move and headed our way!
The week had been fairly slow, at least as Quebec caribou hunting was in those days, but there were singles and small groups moving around, and we'd hauled some good bulls into camp. By evening of the next-to-last day most everybody was "tagged out" with two bulls. Except gunmaker Lex Webernick (of Rifles, Inc.) had managed to hold out and hadn't fired a shot…and I had one tag left. You could say that our camp-mates had been too hasty but, after all, there was no guarantee a mass of caribou would show up! However, it worked, and Lex and I were in the driver's seat. We grabbed our gear, jumped in a canoe, dashed across the lake, and had our pick of exceptional bulls.
A very fine Quebec-Labrador caribou taken in 2001, toward the tail end of the golden era for caribou hunting.
It's easy to recall exactly when that memorable hunt occurred, because we got home just a few days before the dire events of 9/11/2001. That, of course, changed our world forever, but since then, the caribou world has also changed. Twenty years ago—and even ten—caribou hunting was affordable and available across much of North America. Woodland caribou—or moose and caribou combo hunts—were readily available in Newfoundland. Quebec was wide open, with options between the George River and Leaf River herds, both hundreds of thousands strong. In Northwest Territories the Courageous Lake herd of Central Canada barren ground caribou was wide open, with good numbers of mountain caribou in the far west McKenzie District. Yukon had mountain caribou in the south and barren ground caribou in the north. The mountain caribou of northern British Columbia were in decline, but strong enough—in enough areas—that numerous great bulls were taken in the 1990s and early 2000s. Alaska's wildlife managers figure there are thirty-two separate caribou herds in that vast state, so at any given time some will be up and some down, but back then many herds were up.
It's a far different picture in 2019. Newfoundland's woodland caribou declined drastically, with much discussion of a complete closure. Fortunately, cooler heads prevailed; instead of a precipitous shutdown the number of permits was seriously reduced. Although it isn't at all clear that overhunting was a factor, the downhill slide seems to have stopped. Calf survival is up, and some great bulls are being taken. However, outfitters in caribou country now get a very small permit allocation, and, of course, are charging accordingly.
Continent-wide, the worst news comes from northern Quebec. First the George River herd collapsed, with hunting closed in 2013. Then the Leaf River herd went into a steep decline, with the last nonresident permits issued in 2018. At the time of the closure the Leaf River herd was still estimated at 150,000, plenty enough caribou to support the relatively small (but financially important) nonresident harvest. The fact that almost nothing has been done to reduce subsistence harvest says all that needs to be said about the politics of the issue. At this writing it is not clear if the Leaf River herd will stabilize or continue to crash, but nonresident caribou hunting, long an important industry in northern Quebec, is now closed. This means that dozens of camps are moldering on the tundra, along with the infrastructure that supported them. If there should be a reopening it won't be as simple as turning on a switch.
Central Northwest Territories is similarly closed, with northern Manitoba now the only option to hunt Central Canada barren ground caribou. To the east, Nunavut is open for Central Canada barren ground caribou on the mainland; and the small Arctic Island caribou to the north, primarily on Victoria Island. In the west, the McKenzie Mountains still hold good numbers of mountain caribou, as do some of the guide territories in southern Yukon. That's good news, because opportunities for mountain caribou are very slim in British Columbia. I was a youngster when I shot my one and only mountain caribou in northern B.C. back in 1973. I've long wanted a bigger bull but, in recent years, I've tried twice in northern B.C. Both times I saw caribou, but nothing legal or shootable. Yukon and the McKenzies have appeal, but having priced those caribou hunts, my ardor has cooled somewhat.
Northern Yukon also has good barren ground caribou, with Alaska's Porcupine herd, estimated at 170,000, shared between northeast Alaska and northwest Yukon. All of Alaska's caribou are considered barren ground caribou, estimated at 950,000. Her numerous regional herds vary from remnants of a few dozen to the huge Western Arctic herd at 325,000. Collectively, Alaska holds lots of caribou and plenty of opportunity.
Aside from those two blank attempts for a mountain caribou in B.C. and a frosty hunt for an Arctic Island caribou in 2012, I did almost all of my caribou hunting before 2000, in a time when caribou hunting was affordable, available, and routinely successful. I didn't always punch both tags, but In N.W.T. and Quebec, two caribou were generally on license. Much Quebec hunting was what I'd call "semi-guided," meaning we'd go into an established camp with logistical support and hunt on our own, a wonderful way to hunt caribou, especially when there are lots of them moving through.
There was one exception to that "routinely successful" business. Between 1975 and 2000 I hunted Alaska numerous times, both guided and DIY. I'm not sure how many caribou tags I purchased, and for sure I wasn't always hunting caribou exclusively (or specifically)—but I never had a chance at a decent caribou in Alaska. I can't really call it a bucket list thing, since I took a nice barren ground caribou in north-central Yukon back in 1999, but I'd long felt it was a gap in my experience.
So it was that in September 2019, I hied myself (as my old friend Colonel Charlie Askins might have said) to the Alaskan Peninsula for a caribou hunt. Now, if I were you, and hankering for an Alaskan caribou, I'd consider the North Slope of the Brooks Range, where four large herds come together and more than half of Alaska's caribou reside. Fortunately for you, you aren't me, and there was both method and circular thinking in my madness. On hunts for both moose and bear, the southern Alaskan Peninsula out of Cold Bay was one of the places where, back in the 1980s I'd carried (and eaten) caribou tags. So, there was some unfinished business involved. Occupying a small area with limited habitat, the Southern Peninsula caribou herd isn't large, today estimated at just a thousand. However, these are big-bodied caribou and antler quality is excellent.
Guide Jordan Wallace and Boddington with a very nice caribou from the Alaskan Peninsula. Amazingly, this was one of the smaller bulls taken in the author's camp.
Back in the day I saw a lot of caribou, just nothing I wanted. Then the herd declined, and for some years there was no hunting, reopened just two years ago. My buddy Dave Leonard of Mountain Monarchs of Alaska was able to add a couple of weeks of caribou hunting before his alternate-year bear season.
Hunting from his David River base camp and fly-in spike camps I had a wonderful caribou hunt, and took a very nice bull. That said, it was a lot different from so many caribou hunts in years gone by. The area does allow two bulls, but it's not a big herd and Leonard discourages a second tag. At the current cost of nonresident Alaskan tags, that's perfectly fine with me. Come to think of it, my friend Mr. Leonard's fee was more than I ever thought I'd pay for a caribou hunt, but that's the way of caribou hunting today. Alaska remains the only option where DIY caribou hunting remains possible, but, realistically, by the time you do the flying and all the freight I'm not convinced there's much savings. Bottom line: Caribou hunting is pricier than ever before!
According to my experience this was not an easy hunt. It wasn't like northern Quebec or N.W.T.'s barrens in years gone by. There was no sitting at a known crossing and waiting for a nice bull to amble by. It was more like hunting pronghorn on foot in big country, except with miles of spongy tundra tussocks to traverse. We glassed caribou from a couple miles; sometimes we caught up, and sometimes not. Leonard's two groups for the last two weeks of the season were not 100 percent. Obviously, that has been my experience with caribou in Alaska, and recently for mountain caribou, but failure was unusual in the halcyon days of caribou hunting! That said, success depended on tough hiking, fairly long shooting, reasonable expectations, and luck. I saw plenty of caribou and shot a reasonable bull on my next-to-last day. I was happy; I got my Alaskan caribou. Four of my camp-mates were even happier: I saw four bulls carrying over 400 inches of antler brought into camp. The big ones were there!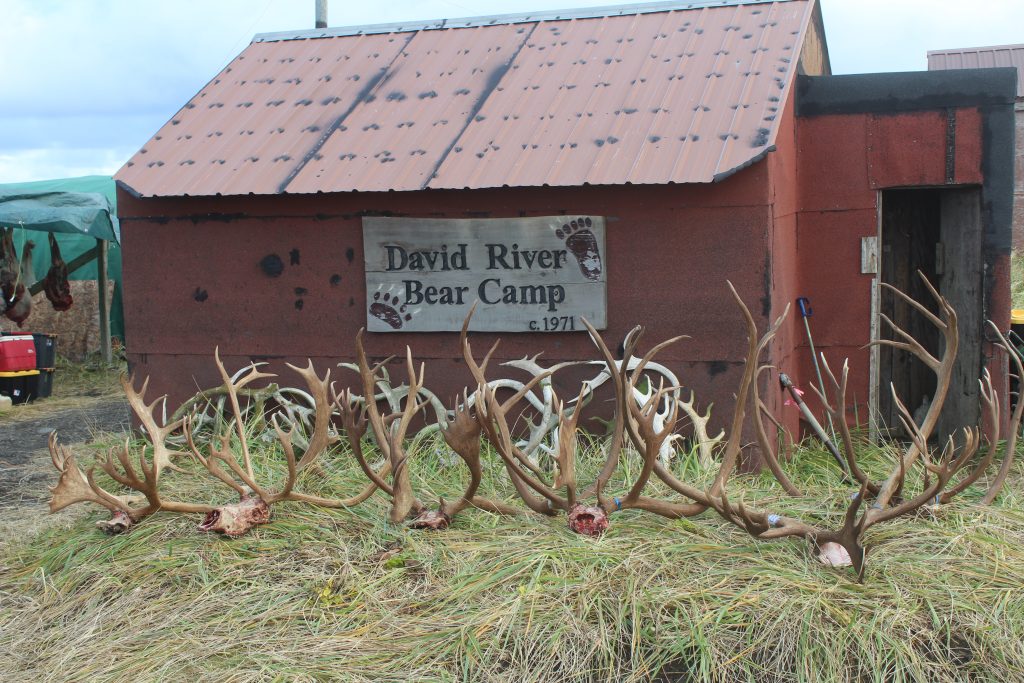 Mountain Monarchs' David River Camp, near Nelson Lagoon on the Bering Sea side of the Peninsula, is famous for big brown bears. The caribou herd here is small, but after several years of closure the area is again producing very big caribou.