If you're moving, and you have a taxidermy collection, the experts at Trophy Transport can help.
A couple of years ago, my husband and I relocated from southern California to northern Colorado. Long-distance moves are complex and expensive, especially if you've been in one place for many years, as we had. Arranging for movers to pick up our furniture was simple enough, but our taxidermy collection was another story. How on earth were we going to move some 20 shoulder mounts and an equivalent number of European mounts and racks without damaging them, and without breaking the bank?
The first option we considered was to have each head professionally crated by a taxidermist, and the crates placed on the moving truck. But with so many large heads (including a kudu, a gemsbok, and a 66-inch Alaska moose) the crating alone would have been incredibly expensive, not to mention the additional cost for the square footage the enormous crates would take up on the moving truck. And once we unpacked, we'd be stuck with enough crating material to build a fair-size cabin. We quickly abandoned this idea.
Fortunately, I discovered Trophy Transport, a moving company that specializes in moving taxidermy over long distances. Not only do they understand how to handle taxidermy without damaging it, they know exactly how to pack it so it won't shift—no crates needed. Best of all, the price they quoted me to pick up our mounts in California, store them briefly at their headquarters while we moved in, and then bring them to us at our new place in Colorado, was far less than having them crated and shipped.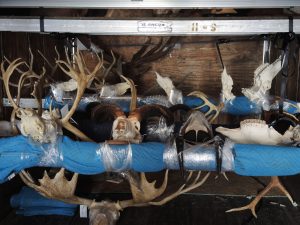 Skulls and racks were attached to padded bars in the truck with stretch wrap.
The big Trophy Transport rig pulled up to the curb in front of our California house in early February, and husband-and-wife team Dino and Janice went to work, expertly carrying our mounts to their truck and carefully securing them via super-strong stretch-wrap to metal load bars in the trailer. The larger shoulder mounts were placed on backing boards, which were then secured with titanium screws to the floor of the trailer or to plywood shelves on the metal bars. Soft packing materials protected the ears and noses of the more fragile mounts. Cleats on the floor of the trailer provided total stability for the carefully packed load. I was impressed with the job and how securely each head was attached. They had our collection loaded up within a couple of hours, leaving us free to finish our packing and hit the road without worrying about our mounts.
Trophy Transport could have delivered the load to our new place immediately, but we opted to wait until we were settled in. In early May, once we had our new home organized, the familiar big rig pulled up to our curb once again. The mounts were unloaded in no time and carefully placed in the rooms where we wanted them. I inspected them all and found they were in great shape, with barely a hair out of place. Now all the was left was to find places for all of them on the walls in our new house.
If you're planning a move, don't risk damaging your irreplaceable taxidermy. Contact Trophy Transport: 877/644-9757; trophytransport.com
The mounts arrive at our new place and are safely unloaded on a fine spring morning.