Beat the cold-weather blues with these off-season adventures.
Here in North America, the winter doldrums are here. I'm writing this on the eve of the New Year, with major interstates blocked by blizzards on both coasts. There are still some late deer and elk seasons ongoing, and January can be a great month for waterfowl and upland birds. But for most of us, our favorite hunting seasons are past. However, scattered here and there, it's prime time for some great hunts. As we look ahead into a brand-new decade, here are some mid-winter getaway hunts worth planning!
Deer in Mexico
The snowbirds are heading south to Mexico's famous beaches, but this is a perfect time to enjoy a great hunt in the desert mountains of northern Mexico, where the scenery is fantastic and the winter weather is (usually) sunny, cool, and pleasant. I'm generally thinking Coues whitetail, a beautiful little deer that offers a postgraduate course in serious glassing. For both quantity and quality, western Chihuahua and northern Sonora are, in my experience, the best places to hunt Coues deer. Prices have gone up (what hasn't!), but Coues deer are widespread and available, and numerous competitive (and competent) outfitters keep the prices reasonable.
That said, hunting Coues whitetail isn't the only great hunt in northern Mexico. Mid-winter is the perfect time for desert mule deer, also a great experience. With better management, desert sheep have increased dramatically in recent years, and although costs remain high, there are more sheep and more opportunity right now than ever before.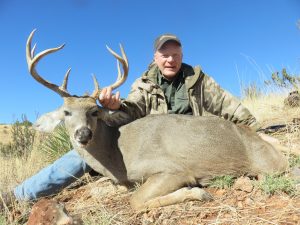 A fine Coues whitetail, taken on a January hunt in northern Mexico. This is a wonderful time to be in the arid mountains.

And there's more. Mexico holds several lesser-known races of both mule deer and whitetail, and new opportunities are opening up. January 2020, as you read these lines, I'll be hunting Mexico's Central Plateau whitetail out of Zacatecas, northwest of Mexico City, with Armando Klein's Sierra Madre Hunting. This is a medium-sized whitetail subspecies only recently available to outsiders, so something different…but I'm sure it will be another excellent northern Mexico experience.
Mountain Lions
Winter is the best time to hunt many of our predators, from foxes, coyotes, and bobcats on up to cougars and wolves. They're hungry and hunting hard, thus are more visible during the coldest months. Late December through early February is an especially good time to hunt cougars because snow conditions are most likely to be favorable.
Donna Boddington and houndswoman Katy Kern with a fine Idaho tom, taken on Donna's fourth attempt to find a good male cougar. It was late December, and we finally caught perfect snow conditions.
Without question there are many very good and successful dry-ground packs of hounds, but it is easier to find and hold tracks in soft snow. So, too early and you can have bare ground when snow is anticipated. Too late and snow that is either too deep or heavily crusted can make conditions too difficult. "Perfect" is thus a fairly narrow window. Hitting it right takes a bit of luck, but it's a hunt that's best to plan for the very best time, which is now.
The legend is that, with good hounds, a cougar hunt is a slam-dunk. Maybe, with a lot of luck, but it doesn't always go that way. Forty years ago, I got a big tom in Arizona, dry-ground hunting with the famous Glenn family. That worked but, much more recently, Donna wanted a mountain lion. We did three hunts in good places with good people, and there was not enough snow…or too much snow! She passed on females, but never had a chance at a male. A couple years ago we went to northern Idaho with Bruce Duncan's Selkirk Outfitters and finally hit the jackpot. Donna passed a big female on the first day and took a big tom on the third day. On the fourth day, while looking for bobcat tracks with snow falling fast, we hit another big cougar track. I went to town and got a license, and we got the cat just before sundown.
If you want a big mountain lion, right now is the best time of year to try for one!
Lone Star Aoudad
Between native game and a host of introduced species, Texas offers good hunting opportunities in every month of the year. A lot of whitetail hunting remains open after the first of the year, and January still catches some rutting activity. Of course, all the non-natives are available, although many of the deer species may have dropped their antlers. But if I had to pick a perfect New Year hunt in Texas, I'd pick aoudad.
Hunter Ross and Boddington with a very large free-range aoudad, taken in the Davis Mountains of Far West Texas.
With its flowing mane and matching chaps, the Barbary sheep is a gorgeous animal and offers a fantastic hunting experience. Big-bodied, tough, and extremely wary, the aoudad is never easy to hunt. However, in the desert mountains of Far West Texas the aoudad offers a real sheep hunt! Ranges like the Chinati, Davis, and Glass Mountains are straight out of a John Ford western, and the hunt is a lot like hunting desert sheep. Except you'll see a lot more animals and it won't break your bank account.
Over the last decade I've done several aoudad hunts in Far West Texas with Hunter Ross of Desert Safaris. I like to go this time of year, in part because the weather is great and because it doesn't interfere with fall hunting seasons. However, Ross tells me that late fall is also very good and may be even better because that's when he tends to see large bachelor groups. You can't prove it by me because I've always hunted them in late winter and have seen lots of aoudad! Take your pick, but the desert mountains are harsh, so it's important to hunt in cooler months. Just make sure you put an aoudad hunt on your bucket list! I seriously doubt I'll hunt another desert sheep, but I will do more aoudad hunting
Central Africa
In the Southern Hemisphere it's the height of summer, and in many southern climes it's also the rainy season. Remember: The Equator passes through Africa from Kenya to Gabon. So, two-thirds of Africa's vast land mass lies north of Equator, thus in the Northern Hemisphere…with the same seasons we have.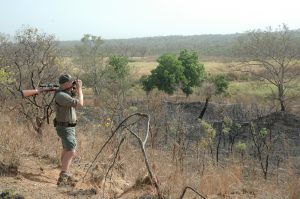 The sub-Saharan areas of Benin, Burkina Faso; and northern CAR and Cameroon are called "savanna," but it's really savanna woodland or terminalia forest. This is all very wild country that's marvelous to hunt.
Realistically, you have be quite a bit north before you see the temperate effect. And in most areas rainy seasons should be avoided. However, you can take advantage of the short (and very mild) winter in several great hunting areas. Without question, right now is the best time to hunt in northern Cameroon and the northern savannas of Central African Republic; and this is also an ideal time in both Benin and Burkina Faso. These areas are all about 10 degrees north of the Equator, with a short, pleasant winter!
It's still Equatorial Africa. It gets hot during the day, but from late December through February mornings and evenings are perfect and nights are cool…much cooler than in March and April, when the heat is brutal!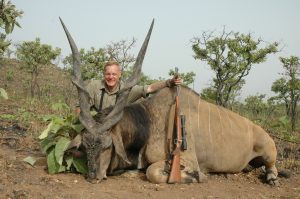 In northern CAR and Cameroon the Derby eland is the premier species, and among Africa's great prizes. The distinctive black collar is winter coat, available from late December into early March; late in the season the colors fade to a uniform tawny.
This is also the time when the Derby eland bulls are in their glorious winter coats, with that luxurious black collar. Some bulls will keep the colors deep into March, but by April they've gone tawny. For me the Derby eland is the premier species in northern CAR and Cameroon, and Africa's greatest antelope prize. It is a premium animal, but these two areas plus Benin and Burkina Faso are all excellent mixed-bag destinations, with good numbers of buffalo and a wide assortment of desirable antelopes, including the big western roan, kob, hartebeest, harnessed bushbuck, reedbuck, and more. Absent Derby eland, costs are reasonable, and this region is truly wild Africa, where lions roam. Just, trust me on this, go early in the year if you can…by March it's hot, and April is an oven!
England's "Other Deer"
The British Isles offer fantastic hunting for a wide variety of deer: Scotland is famous for red stag and roebuck. Ireland is "the place" for free-range sika deer, and England offers a long and luxurious roebuck season, plus has scattered populations of red deer and lots of fallow deer.
Most of this hunting is in summer and autumn, but there are a couple of interesting animals that are best-hunted in the dead of winter. The little Asian muntjac, with small antlers and fangs, was introduced in the 19th Century and is well-established and widely dispersed in central England and Wales. In fact, the muntjac is now believed to be the most numerous wild deer in England! The Chinese water deer, absent antlers but with very large fangs, is neither numerous nor widespread, but is established free range in several counties in central England.
Muntjacs are often encountered while stalking roe deer and can usually be taken if desired. The challenge, however, is that they're tiny and it doesn't take much cover to hide them completely. Like many tropical deer, some muntjac bucks are in hard antler throughout the year. Mid-winter is considered an ideal time to hunt them because the cover is down, so they're much more visible—and it's a lot easier to judge them. Chinese water deer keep their fangs year-around, but January is a prime mating month, so this is also an ideal time to hunt them.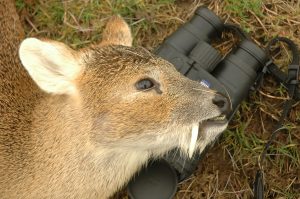 A Chinese water deer with impressive fangs!
I will not suggest that England's weather is perfect at this time of year. When I did it, we caught a lot of rain, but it was still a marvelous hunt! We stayed in small country inns—really pubs—and stalked when the weather allowed. We hunted muntjac down in Wales, and then hunted Chinese water deer free-range near the famous Woburn Abbey, the Duke of Bedford's estate, where most of the United Kingdom's non-native species were first introduced.
Although a bit soggy, it was all good, but one of the coolest things I've ever seen in was watching Chinese water deer bucks sparring for mating rights. It was like a ballet; absent antlers, the bucks jump over each other and strike downward with their fangs…many of the bucks carrying tattered ears as a result! My Chinese water deer was like a hundred-pound tusker, but my muntjac wasn't big. This is a hunt I want to do again…including great English "pub grub."