There's a model that's right for everyone in Leica's line of high-end compact rangefinders.
If you're in the market for a high-quality compact rangefinder, check out Leica's Rangemaster CRF line, which has a model to fit every taste and budget. All three of these models fit easily in any pocket and feature a rugged, robust design. They are made with crystal-clear, all-glass optics. The 7x magnification is a major advantage when you need to get a good look at game (many other compact rangefinders have magnification ranges of 4x to 6x).
At the top of the line (see photo above) is the CRF 3500.com ($1,199), which uses a high-end Class 3R laser to give precise, fast readings out to 3,500 yards even in bad weather. The latest Bluetooth technology allows you to use it with the Leica app on your smartphone and connect it to the Kestrel Elite or an Apple Watch, taking full advantage of the latest applied ballistics technology even when you're far from civilization.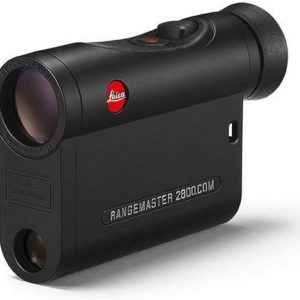 Then there's the CRF 2800.com ($749), which measures distance to 2,800 yards and can be customized through the Leica ABC Ballistics app on your smartphone, providing you with holdover calculations out to 1,000 yards. You can also connect it to a Kestrel Elite weather meter and it will display windage corrections. The 2800.com and 3500.com are both equipped with full onboard atmospherics to adjust ballistic calculations precisely to your current environment.

The entry-level model is the CRF 2400-R ($550). Weighing just 6.5 ounces, this waterproof rangefinder is easy and intuitive to use and gives distance readings up to 2,400 yards and the equivalent horizontal range (EHR) as well, for accurate shots in steeply angled terrain.