Re-measuring heads that were originally recorded many years ago reveals that the Rowland Ward system is, and was, exceptionally accurate.
Photo above: This exceptional Marco Polo argali was taken by famous wildlife artist John Guille Millais in 1927. 
The Rowland Ward office frequently receives questions about record heads recorded a very long time ago. Because the Rowland Ward measuring system is very old, the database contains heads that go all the way back to the 1800s. Many especially fine trophies were registered between the late 1890s and World War II. Some of these heads still exist in museums, but others have long since disappeared in the mists of time. Luckily, there are trophy collectors throughout the world who have purchased many heads at auctions to preserve the finest and most unusual trophies.  This type of collection is particularly popular in Europe, and many of the collectors are not even hunters.
The accuracy of the measurements from long ago is always a point of discussion. Were there really elephants with 200 pounds of ivory in a single tusk, and rhinos with 40- or even 50-inch horns? It is well known that some horns, skulls, and antlers shrink as they age, a process that is influenced by the conditions under which the trophies are kept, as well as the age of the animal when it died.
Clearly, it is impossible to re-measure all of the old heads; however, we do sometimes get opportunities to confirm dimensions recorded a long time ago. Two intriguing animals came across our desks in recent times: the world-record bloubok and a very large Marco Polo argali.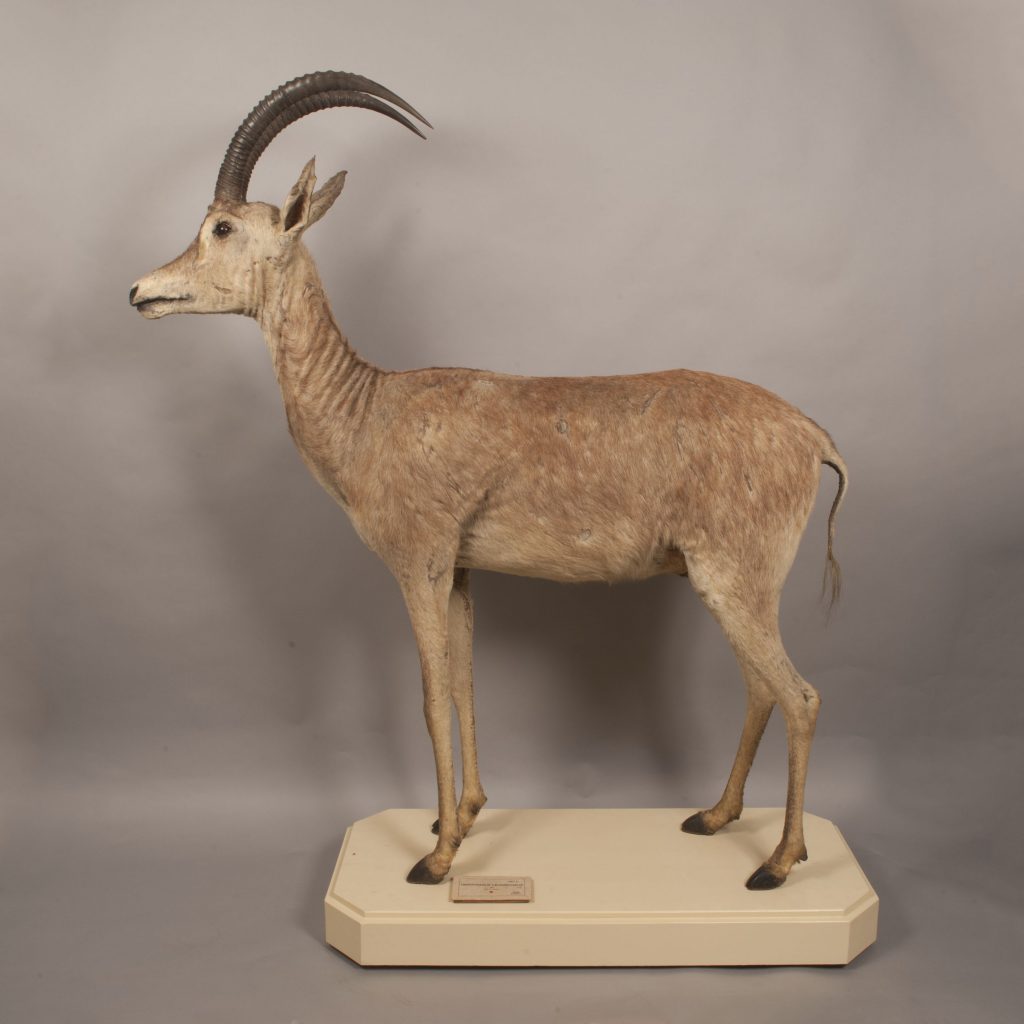 The bloubok (Hippotragus leucophaeus), sometimes called bluebuck or blaubok, was a now-extinct antelope that lived exclusively in the coastal area of South Africa's Cape. Bloubok were closely related to roan antelope, albeit smaller in body size, the largest mounted specimen being 47 inches at the shoulder. Why they became extinct is not known, but they appear to have existed in low numbers even before European settlers arrived. Only a handful of specimens are known to science, and all are housed in museums. The world record is in the Naturalis Biodiversity Center in Leiden, the Netherlands. The museum was moved to a new building in 1998, and unfortunately the animal is no longer on display to the general public.
However, through the efforts of the curator, Rowland Ward was recently able to get new measurements of its horns. The animal is from the 1700s and was obtained near Swellendam. It is not known when it was originally measured for Rowland Ward, but it was likely before World War II. Originally the longest horn and base was recorded as 24 4/8 and 6 3/8 respectively. In 2020, the measurements were re-recorded at 24 4/8 on both horns, with bases of 6 4/8.
Marco Polo or Pamir argali (Ovis ammon poli) are among the most sought-after sheep in the world. Their horns grow longer than any other wild horned animal, with the greatest ever recorded at 75 inches; only a handful ever have taped over 65 inches. Recently we had an exceptional 1927 head officially re-measured. Collected by quintessential British hunter and talented wildlife painter John Guille Millais, it was recorded in 1928 with a length of 68 6/8 on the longest horn, and bases of 15 inches. When re-measured in 2019 in the UK, the longest horn was 68 7/8 and the base was 14 6/8, for a total score of 226 3/8 taking both lengths, bases, and all quarters.
Finding such small discrepancies between heads measured today versus half a century or more ago gives us great confidence in the integrity of the Rowland Ward measuring system.
If you are interested an submitting trophies for the 31st edition, go to rowlandward.com for method forms and instructions, or contact Carrie Zrelak at Rowland Ward [email protected].