Lightweight mountain rifles can be just as accurate and easy to shoot as traditional heavier rifles.
Photo above: Even with a 21-ounce Nightforce SHV scope in steel rings, Barsness's New Ultra Light Arms .30-06 weighs exactly seven pounds, still qualifying as a mountain rifle.
Most big-game rifles weigh around 8 or 9 pounds with scope. But in the past twenty-five years or so, we've seen the advent of big-game rifles that are both much lighter and much heavier than that average. Here, we'll look at the development of what are called "mountain rifles," defined as weighing 7 pounds or less with scope.
The modern mountain rifle started to evolve after the development of "lay-up" stocks in the 1960s, stocks made of strong, lightweight synthetic fibers held together with epoxy, which weighed far less than a typical wood stock. Even a walnut stock made of very plain, coarse-grained wood has to be pretty darn slim to weigh under 32 ounces (2 pounds), and the lightest I've weighed went around 26 ounces. Lightweight lay-ups generally weighed 24 ounces at most, even with a substantial recoil pad. Some only weighed about a pound, with Brown Precision's Pound'r going right around 16 ounces without a buttpad. So many mountain hunters bought Pound'rs that they became a target for other synthetic stockmakers, some of whom made stocks weighing as little as 12 ounces, resulting in rifles lighter than 6 pounds with scope.
Many traditionalists, of course, started whining about such rifles being not only supremely ugly but unshootable, because they kicked hard and were too light to hold steady. To a certain extent these complaints were true, but while beauty is in the eye of the beholder, it's also conditioned by tradition. During the nineteenth century transition from flintlocks to cartridge rifles, many hunters thought repeating rifles were really ugly, especially bolt actions. Of course, later traditionalists often started referring to some bolt actions as "works of art," especially the pre-'64 Model 70 Winchester.

The other objections, that super-light rifles couldn't be shot well and kicked too much, were also partly related to tradition. Before lay-up synthetic stocks, the most practical way to lighten bolt-action rifles was to slim and shorten the barrel. Hardwood stocks could only be slimmed so much, and the most popular bolt actions weighed at least 2 1/2 pounds—including the 45-ounce "sculpture in steel," the pre-'64 Model 70, and the basic 1898 Mauser. One of the most highly prized actions for custom lightweight rifles, the G33/40 version of the Mauser, was a "small-ring" version with recesses milled in the action—which still weighed 40 ounces.
While it's possible to make a 7-pound scoped rifle on such actions, even a light scope and mounts weigh a pound, meaning the bare rifle had to weigh around 6 pounds—with the action close to half the weight. As a result, most early attempts at really light bolt rifles had very short "toothpick" barrels, with fore-ends not much thicker, making them extremely muzzle-light and hence hard to hold steady.
When traditionalists heard about 6 or 7 pound synthetic-stocked rifles, they transferred their experience (if any) with toothpick rifles to the new "plastic" lightweights. But synthetic stocks allowed the use of heavier barrels of conventional length—as did newer, lighter actions, starting with the Remington 722 in 1948. The 722 was the forerunner of the short Remington 700 action, and weighed around 35 ounces. Of course, the traditionalists also whined about that as well, saying the short cartridges designed to fit their magazines lacked sufficient "killing power" for big game.
This, of course, ignored the fact that the premier short-action cartridge was the .308 Winchester, introduced in 1952 in the new Model 70 Featherweight (which still used the full-sized pre-'64 action, so ended up weighing close to 8 pounds scoped). Yet despite the .308 being "too short," its ballistics matched original .30-06 factory ammo, a cartridge considered plenty for most big game by famous hunters from Theodore Roosevelt to Ernest Hemingway.
The major point, however, was many traditionalists already considered lightweight rifles impossible to shoot well. If and when they actually shot one, I suspect many didn't try very hard, or grasped them very firmly in an attempt to steady the reticle. This is not the way to shoot a hunting rifle, especially from field positions.
Lighter rifles do reveal flaws in shooting technique, such as failing to hold the rifle consistently the same way every time, and pulling the trigger too quickly and firmly. Heavier rifles are far more forgiving of such flaws—although a longer, heavier barrel results in steadier holding, even in really light rifles.
The "mountain rifle" I've taken more big game with than any other is a New Ultra Light Arms Model 24 .30-06, which has a 24-inch Douglas No. 2 contour barrel, measuring 0.6 inch at the muzzle. This is far from a being toothpick, and in fact is just about the same size as the standard (not Featherweight) pre-'64 Model 70's barrels. Yet the NULA weighs slightly less than 6 1/2 pounds with a typical 12-ounce, 3-9x hunting scope, due to a Kevlar-based synthetic stock weighing 24 ounces with a 1-inch thick Pachmayr Decelerator, and the total action weighing 24 ounces. In fact, the stock and action combined are almost as light as a pre-'64 Model 70 action. Thus more of its weight is up front, promoting steady aiming.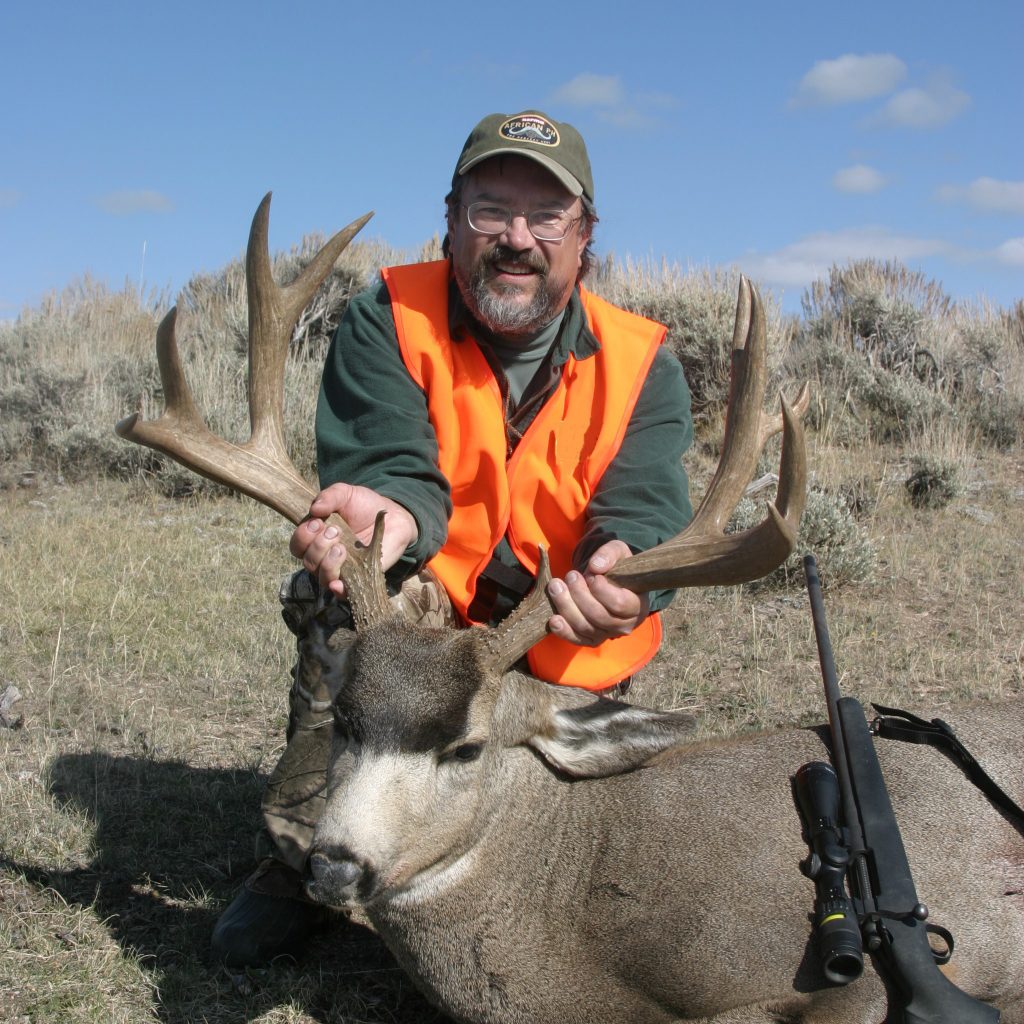 A more recent trend involves putting "dialing" scopes on light rifles. In the 3-9x range, these generally weigh about a half-pound more than traditional "set and forget" 3-9x scopes–about as much as a cup of water. A couple years ago I decided to try a 22-ounce Nightforce 3-10×42 SHV on the NULA .30-06, which increased the overall weight to exactly 7 pounds—still within the definition of "mountain rifle."
I also used detachable steel Talley rings, so the Nightforce could be easily switched out for other scopes—mostly because I often use the NULA to test new scopes. Its combination of fine accuracy and substantial recoil quickly reveals any mechanical faults—one reason I decided to try the rugged SHV for general use.
Another factor I discovered after hunting with lightweights for several years is they don't group as well with the fore-end placed on a harder front rest—and even a well-packed sandbag can be considered hard with 7-pound rifles. Eventually I tried folding the terrycloth towel in my range bag and draping it over the front sandbag, whereupon rifles that wouldn't consistently group under an inch at 100 yards would start shooting much smaller groups. In fact, I own sub-7-pound rifles that will group three shots into around an inch at 200 yards, including the .30-06, and a couple that group even better.
Hunters are fond of pointing that benchrests are scarce in the field—but that doesn't mean we have to shoot off a hard rest. To a certain extent this includes bipods, the portable equivalent of a mini-benchrest—and in the semi-vertical country where a really light rifle makes a difference, I prefer not to increase its weight by adding a bipod.
Instead, my portable rest is the fleece daypack I always carry in steep country anyway, filled with stuff from lunch to layers of clothes. Bench-testing proved the soft daypack works just as well as a folded towel, and provides some degree of height adjustment. I've shot big game from 300 to 500 yards in varying terrain by laying the pack flat, or on its side, or standing it upright. But I also practice a lot with light rifles, both at the range and by hunting smaller game, because (again) they are not as forgiving of faulty shooting techniques.
Eventually many traditionalists accepted lightweight rifles, partly because of growing older (as luckier traditionalists do), and realizing carrying 9- or 10-pound rifles uphill wasn't as much fun as it used to be. Of course, to really make a difference, older hunters need to lose a lot more weight than the 2 to 3 pounds of a really light rifle, whether from ourselves (which becomes more difficult with age) or our other equipment. Luckily, far lighter gear is available today, in everything from boots to packs. A lighter rifle, though, can definitely help reduce the load and, if we learn how to shoot it well, it should not handicap our accuracy in the field.
Today's Top Mountain Rifles
Today's mountain rifles are lighter, easier to shoot, and more accurate than ever. Here are a few of the best, all of them weighing less (often much less) than 7 pounds.
Weatherby Mark V Backcountry Ti: Tipping the scales at less than 5 pounds, this rifle has an action machined from titanium, a carbon stock, and a fluted 24-inch barrel. A shock-absorbing 3D-printed butt pad and muzzle brake help tame recoil. It comes in 13 calibers.
Nosler M48 Mountain Carbon: This 6-pound rifle mates the M48 action to a match-grade carbon-wrapped 24-inch barrel and pillar beds it into a Granite Green Ultra-light Mountain Hunter stock. All steel surfaces are Cerakoted, and the rifle comes with a sub-M.O.A. guarantee with Nosler ammo.
Kimber Mountain Ascent: This ultra-lightweight rifle has a 24-inch stainless steel fluted barrel, adjustable trigger, and reinforced carbon fiber stock. The 84L action has a 3-position safety and Mauser-style claw extractor. The base rifle weighs an astonishing 4 pounds 13 ounces and comes in 10 calibers.
Browning X-Bolt Pro Tungsten: Weighing in at 6 pounds 1 ounce, this rifle has a full 360-degree carbon fiber wrap stock with compressed foam core. The 22-inch stainless barrel and receiver are finished in Tungsten Cerakote, which is also on the exterior of the stock for added protection. Additional features include a detachable magazine and spiral-fluted bolt with enlarged knob.
Sako 85 Carbonlite: The 85 Carbonlite is the lightest Sako rifle ever produced, featuring a carbon-fiber stock with a soft-touch surface, and right-hand palm swell and cheek piece. These rifles have a 20¼-inch barrel, detachable magazine, and lightweight aluminum trigger guard.
HS Precision PHL: The Professional Hunter Lightweight from HS Precision weighs less than 6 pounds. With a Pro Series  action, 22-inch 10X cut-rifled barrel and detachable magazine box, it is designed to be easy to carry on hard hunts and comes with the company's legendary ½-MOA accuracy guarantee.
New Ultra Light Arms M20 Ultimate Mountain Rifle: Built on an intermediate-length action, this rifle is designed for exceptional accuracy with .308-class cartridges. The action weighs just 20 ounces, the finished rifle about 5 pounds. A 3-inch magazine allows extra versatility for load development.
Remington Model 700 Mountain SS: A 22-inch mountain contour stainless-steel barrel and Bell & Carlson synthetic stock reduce the weight on this classic bolt gun to just 6.2 pounds. The 700's innate accuracy and consistency are enhanced by the adjustable X-Mark Pro trigger. Comes in 7 popular calibers.