No one knows who shot this incredible bighorn, or where it is today.
One exciting aspect of running a record book is coming across animals from long ago that seem to be shrouded in a mysterious fog. Photos of this bighorn sheep were discovered recently in the Sports Afield archives, which was recently moved and re-cataloged. Because the photo of this animal was never published in a regular edition of the magazine, it had been overlooked.
After researching, we discovered it had been published in the 1953 Sports Afield Hunting Annual in a photo essay, with no information as to where it came from, who owned it. The photos were taken by E.R. Augustin from Livingston, Montana, in the studio of Lenfter Brothers Taxidermy. Henry (Hank) Lenfter is shown. The photos were taken no later than early 1953 (and they may have been taken several years earlier. They show the various steps of mounting a life-size bighorn.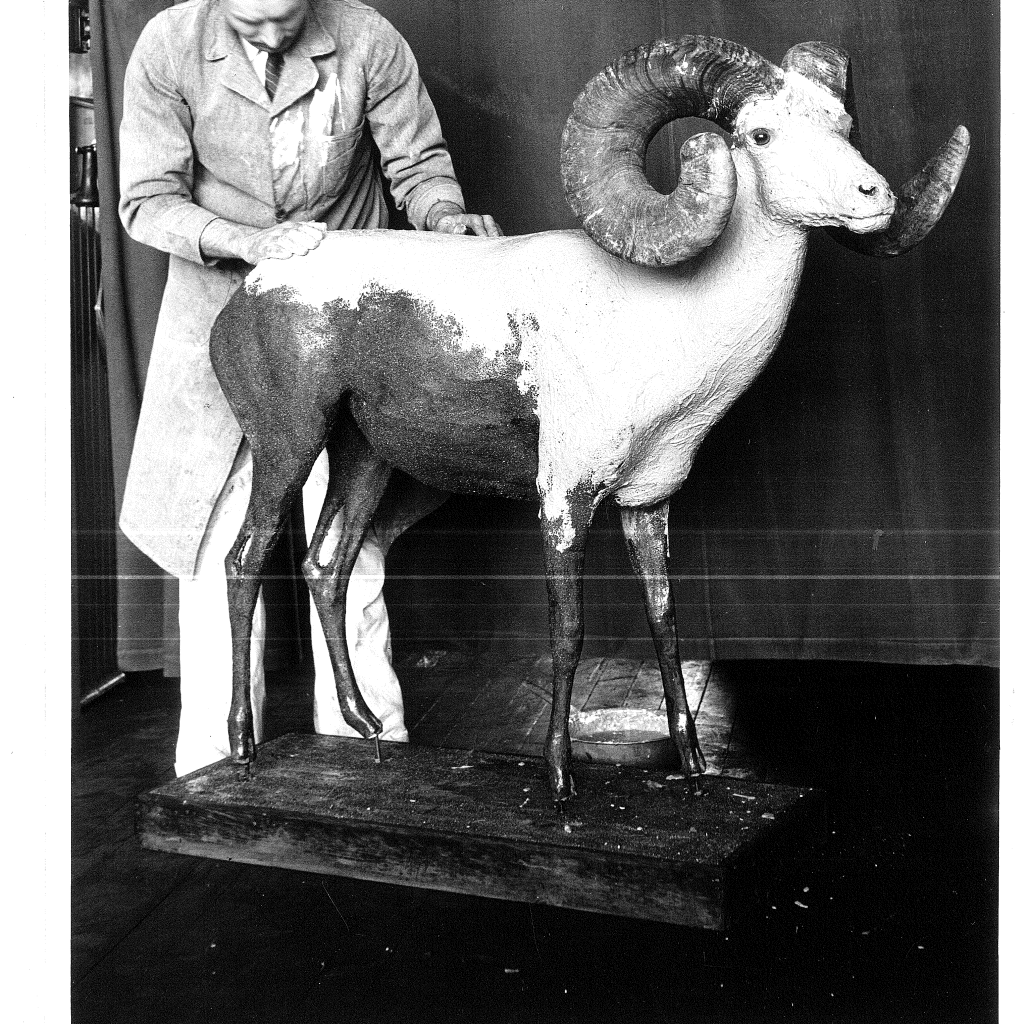 Longtime sheep guide and Hunting Application Services proprietor Larry Altimus estimates the ram scores 200-plus points, and several other sheep experts agree that it reaches this magical mark. To put this in perspective, the largest bighorn sheep ever recorded scores 217 2/8 Boone & Crockett points, and the minimum for inclusion in Rowland Ward is 170 points. A grand total of about forty rams have ever been recorded with a score of 200 or better.
In the 1950s the US was not known for producingrams of this size; in fact, there is only one sheep recorded with a score of 200 points taken in the US before 1990, a ram from Wyoming that goes back to 1883. Only in 1990 did the US produce a second 200-plus ram, which came from Montana. According to Montana sheep aficionado Doug Dreeszen, the Montana bighorn season was closed in 1915 and reopened in 1953. Little is known about the exact season dates that year, but it is unlikely the ram came from Montana. The animal depicted is probably a Canadian ram, likely from Alberta. We have not been able to locate its present whereabouts, and for now it must remain in our collective imaginations, in that "department of mysteries" that every true hunter keeps adequately stocked with hopes and dreams that fuel the will for the next hunt or discovery.