Stukeys Shooting Bench is not only sturdier than most other portable benches, but some permanent benches as well.
In 2004 a self-described cowboy named Royal Stukey contacted me, saying he wanted to send me a test sample of his portable shooting benchrest, then named the Stukeys Sturdy Shooting Bench. I'd already seen the distinctive advertisements in several magazines, including a photo of a full-sized pickup truck with each tire resting on one of the benches.
We talked for quite a while, Royal explaining that his father had been a retail gun dealer, so Royal grew up shooting a lot of different guns. After high school he first worked for a plant owned by the company that makes Crayola Crayons, spending nine years as a production mechanic, learning to machine and weld production tools to keep them running.
He then decided to fulfill a lifelong dream, moving to Montana to become a cowboy—where he could also shoot a lot more. Eventually he became the manager for a big ranch, where the owner turned out to be a worldwide big-game hunter. They decided they needed a portable benchrest in order to shoot on various parts of the ranch. Royal looked and looked, but couldn't find anything sturdy enough. The ranch manager, having seen Royal fix and make all sorts of stuff, suggested he make one.
That's where Royal started making the benches, but he eventually moved a few times, including to Worden, Wyoming, where he lived when he contacted me. (Today the company is in Powell, Wyoming.)
At that point I really wanted to try one. I'd used quite a few portable shooting benches over the decades, and while all worked, some worked better than others. The test sample arrived quickly, and the basic design basically followed a common theme among portable benches, including many homemade models: a wood top with three steel legs screwed into the underside.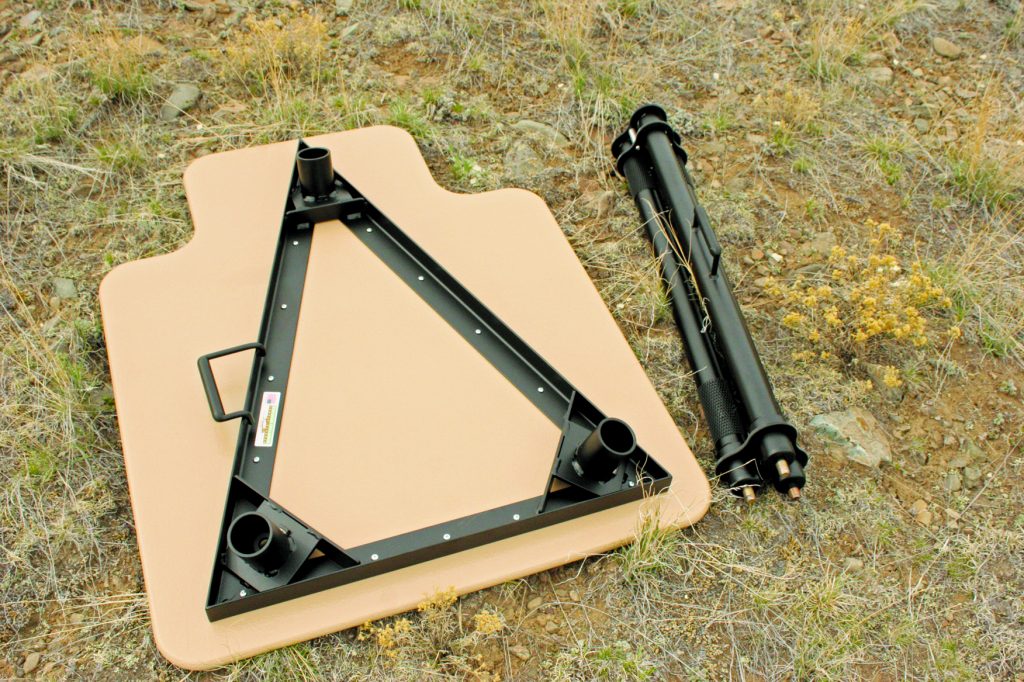 But the quality of the parts was better than any three-legged bench I'd used. The top consisted of a piece of well-varnished 3/4-inch plywood, with a triangular steel bracket made of 2×1 1/2×1/8-inch angle iron, welded together then screwed firmly to the plywood. The legs were made of heavy SCH40 2-inch pipe, and the bolts were 5/8 inch thick, attached to the angle-iron frame by what Royal calls a "nut-plate" system, eliminating the wobble common to similar three-legged benches. For transport, the three legs were held together by what Royal calls a "leg caddy," two pieces of ultra-high molecular weight polyethylene, each with three holes, connected by a bungee cord—also a nice touch.
The bench turned out to be very sturdy—unlike several others I'd used, which tended to vibrate noticeably even in a moderate wind, like those typically blowing across Montana and Wyoming prairie dog towns in spring. This was partly due to the Stukeys Bench weighing 64 pounds–the top 38 pounds and the legs 26 pounds–although the weight varies a little, due to different batches of wood and steel. Still, putting the parts in a pickup did not require vast effort, thanks to a steel handle on the top's bracket, and another on one of the legs.
Before using the bench in the field, however, I decided to perform a range-test to see how accurately a rifle would group compared to the permanent bench on the private range where I do most of my shorter-range rifle shooting. The permanent bench is made of redwood lumber varying in size from 6×6 legs to the 2x4s on top. The test consisted of shooting an equal number of groups off the redwood bench and the Stukeys, alternating from one bench to the other between groups.
The rifle was a Remington 700 laminated-stock varmint rifle in .223 Remington, purchased new in 2001. After I applied several "accurizing" techniques from epoxy-bedding the stock to recrowning the muzzle, it turned out to be the most accurate factory rifle I've ever owned. Ammo put together using benchrest handloading techniques averages under ¼" for five-shot groups at 100 yards, and most factory ammo will put five in around half an inch, shot when using a 16-pound Caldwell Rock BR Competition front rest on the redwood bench. I also used the Rock when testing the Stukeys Bench, along with accurate Black Hills Ammunition factory ammunition loaded with 50-grain Nosler Ballistic Tips. Result: The groups shot off the Stukeys Bench averaged .15 inch smaller than those shot off the permanent bench.
This convinced me the Stukeys Bench would be more than adequate for testing big-game rifles at longer ranges in the mountain surrounding our valley. The first test involved my wife's primary rifle at the time, an Ultra Light Arms Model 24 .270 Winchester, which normally grouped three handloads with 130-grain Nosler Partitions into an average of right around half an inch at 100 yards. At 300 yards, with Eileen shooting off the Stukeys Bench, the same load grouped three shots in 1.75 inches—very good for a rifle weighing exactly six pounds with scope, in a slightly varying breeze. (At this point I mailed Royal a check, since he was not getting the bench back.)
It may seem odd for a portable bench to result in such small groups, but Royal mentioned how he'd experimented with dampening vibration. When I mentioned my test, he was pleased but not totally surprised—and a few years later he sent me a new top, also made of 5/8-inch plywood but with 11 laminations, instead of the five in the original, which further helped dampen vibrations, partly because it weighed a little more.
His latest version, new for 2020 and now called simply Stukeys Shooting Bench, uses 13-lamination, ¾-inch all-birch plywood, but along with the varnished plywood version he also offers an option with the top spray-covered by hot polyurea while the primer is still tacky, to cross-link the molecules. (In case you didn't know—I didn't—polyurea is a modern elastomer that's extremely tough and UV light resistant. It's primarily used for preventing corrosion and impact damage various industrial surfaces, such as tanks, pipes, roofs, concrete garage floors and oil-field containment ponds. It's also used for coating buoys in the Great Lakes, where they've gone 20 years without being recoated.)
Royal sent along a few poly-covered scrap pieces, inviting me to whack them as hard as possible.
I started with a 16-ounce claw hammer, with a piece resting on the concrete apron in front of our garage door. After several whacks, a dent finally appeared, so small it wouldn't be recognizable if I hadn't known where the hammer hit. I then switched to a 6-pound firewood splitting maul, whacking the plywood with the blunt end. This left a noticeable dent about an inch long, but the poly coating did not crack, or separate from the wood.
The stouter plywood and poly coating adds a few pounds to the bench, though not enough to make it less portable, this sample weighing a total of 72 pounds. In addition, Royal offers several optional, high-quality accessories, including an adjustable 3-legged seat, and a very steady turret-base for the front rest from Target Shooting Inc. I bought this bench because it works, even though it is not cheap; the basic model is priced at $1,385.00—but that includes Fed Ex ground shipping to U.S. addresses.
For more information, see stukeysbenches.com.