Hunting axis deer in the Hawaiian Islands.
I sat in the shade of an old, gnarled tree. The tree was called a kiawe, though the thorns that adorned it and that poked painfully into my derriere made it seem little different than the flat-topped acacias of East Africa. The morning heat was already causing mirage, and the red dust was blowing across the sun-baked flat. If the call of a red-eyed dove or the bark of a bushbuck had graced my ears, I'd have bet money that I was on safari in one of those huge dangerous game blocks that I love so much. But the view on the horizon–a placid patch of turquoise water and an island rising upward from it–belied that. The water was the Pacific Ocean, the island was the Hawaiian Island of Lanai, and the thorns in my butt were bred on Molokai.
We had made the long trek from upstate New York to Honolulu on the island of Oahu, and caught the afternoon flight on Mokulele Airlines to Molokai. The late-afternoon trade winds, gusting over 25 mph, made for a bumpy landing, and I knew we'd have to zero our rifles in these conditions as well.
Until I was invited to Hawaii to test some new gear, I had never given a thought to hunting the fiftieth state. As I did some research, I became intrigued with the deer situation on Molokai: estimates indicate that the island is home to over 70,000 axis deer, the spotted deer indigenous to India, which are also known as chital deer. Considering that the population of Molokai is just over 7,300 people, there is all sorts of habitat for the prolific breeding of these cervids. We'd be spending the next five days in pursuit of these beautiful deer with Go Hawaii Outfitters, a family business that guides hunters from around the world.
Just how the axis deer got to Hawaii is an interesting story; they aren't native, but just as in Texas and Argentina, they certainly have made themselves at home in their island paradise. The British colony of Hong Kong gifted the axis deer to Hawaii's King Kamehameha V in the 1860s and they were initially placed on the island of Molokai. Today, there are healthy, huntable populations of axis deer on Molokai, Lanai, and Maui, and all three islands have outfitters that offer hunts to the travelling hunter.

Molokai's geography is stunning. There are beautiful beaches, tall peaks, impossibly deep valleys and canyons, large volcanic rock formations, and a diverse selection of flora. The western side of the island is drier than the eastern end. In fact, 2020 saw a terrible drought which resulted in the death of a good number of animals, and the effects of that drought are still evident. It was commonplace to see the bleached bones of animals that had succumbed to the drought, bones of both cattle and deer. My initial mental comparison to the African veld was largely because of that arid terrain, as the smell of the dried grass and the constant layer of fine, red dust which coated skin, clothes, optics, and rifles brought back memories of safaris past in Zambia, Zimbabwe, and Tanzania. As you head east, however, things change completely. Temperatures cool, precipitation increases, and vegetation thickens. Here there are open meadows reminiscent of Scotland or Ireland, and the ocean breezes bring thick fog banks that roll in quickly; a bright, sunny afternoon can turn into a cool pea-souper in a matter of minutes. We were fortunate to hunt in both environments and get the full Molokai experience.
Our guides were all native to Molokai, and we rotated guides each day so everyone in our party had a chance to hunt with all the guides. They were more than friendly, giving that feel of ohana (family) to the point that within a couple days their children were calling me "uncle." Chase, Koa, Ku (assisted by his nephew Sy), DonDon, and Koa's dad, Desmond, who made a special appearance here and there, took good care of us for the week. We stayed at a condo not too far from the hunting block, and established a routine: up at 3:00 a.m. for a light breakfast, meet the guides at 4:00 to be on watch by 4:45. The morning hunt would wrap up by 9:00, when we'd go back for a hearty brunch and a nap, only to be back up at 3:00 in the afternoon for the evening hunt. There was no lack of deer activity. On the west end of the island, where water was at a premium, the deer would make the morning migration from their feeding area to water and cover, and the reverse in the evening.
There were seven hunters, each allotted one buck and three does. The biggest bucks–easily identified by their deep voices–stayed in the thick gullies and canyons until last light, giving little opportunity for a shot. I spent the morning holding out for a good buck, but as last light of the evening hunt approached, Koa and I agreed that a mature doe was fair game if the shot presented itself. With just minutes of light left on the first day, a doe stopped at just over 200 yards to look back over her shoulder. Shooting from a set of tripod shooting sticks, I adjusted the elevation turret of the scope for that distance and broke the trigger of the 27 Nosler. The bullet took her on the rear edge of the shoulder, putting her down instantaneously. I was excited to have the delicious venison, as axis deer rank at the top of my list of the best-tasting game meat in North America.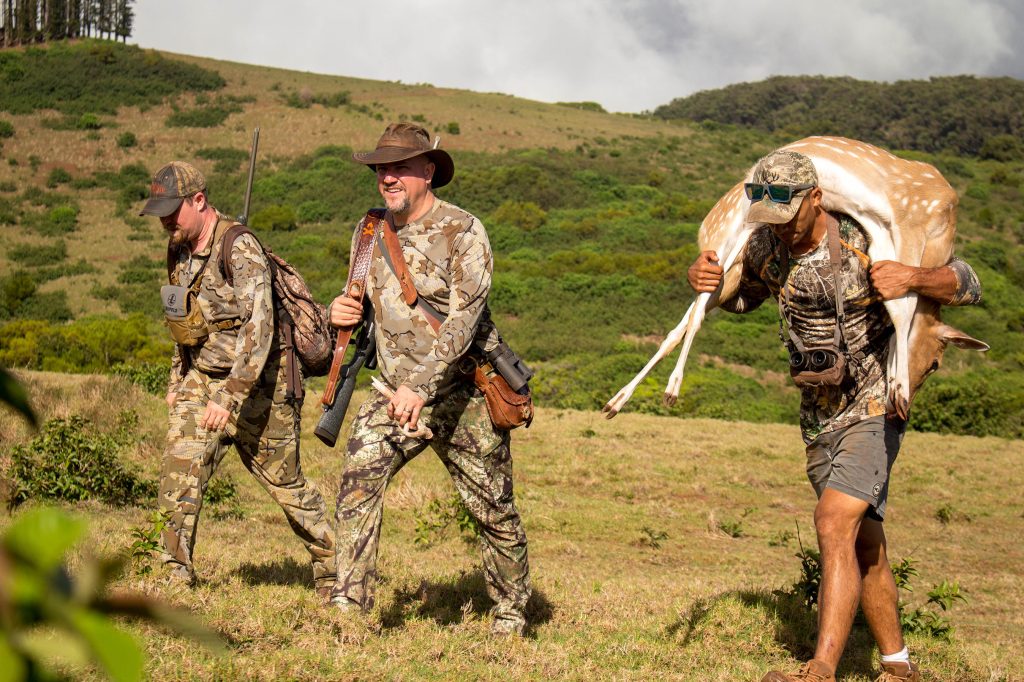 The next morning was one of those magical mornings where things just line up. I was hunting again with Koa and fellow writer Natalie Krebs when a huge herd came in rapidly, from our right, within 100 yards. A mature buck, fully developed but with rather narrow antlers, presented a clean shot, and I took it. It fell as if pole-axed, and it wasn't yet 6:00. Shots rang in the distance from different directions, giving us a good indication that it was an equally productive morning for the other hunters. Then a second herd appeared on the same path. Glassing the parade, Koa and I hastily agreed on the same impressive buck, and Natalie took her first axis deer: a 32-inch beauty. You couldn't have chiseled the smile off her face.
The next morning was spent with eyelids closed, as the combination of early mornings and a wicked case of jet lag had taken its toll on the lot of us. A beach cookout for lunch, where we were introduced to Hawaiian Winners–the local hot dogs–was a great time, and for the evening hunt we were taken to Meyers Lake, toward the eastern side of the island. This area was emerald green, with open meadows; I took another axis doe within minutes of entering the block. The herd had stopped at just over 150 yards, and the Nosler did its one-shot trick again. For the remainder of the evening, Koa, my wife Suzie, and I sat contentedly at the top of the highest open meadow, looking down through a gorge to the peninsula where Kaluapapa was situated, listening to the echoes of two boar hogs fighting it out. The beautiful sunset was, time and again, interrupted by thick clouds rolling in from the ocean, limiting visibility to mere yards, then rolling out just as fast as they'd come in.
We had the wonderful opportunity to spend the following morning fishing for bonefish; our guide, Joe, took us in his 12-foot skiff off the southern coast, with a panoramic view of Lanai, Kaho'olawe, and Maui. Bonefish fight like crazy, and we had a great time bringing these fish to the boat, watching the sea turtles floating by, and enjoying the idyllic setting. To see Molokai from the ocean was reminiscent of Jurassic Park, what with those deep, green valleys and pronounced ridges of the volcanic islands.
I tagged out on the evening of the last day, hunting with DonDon, who was quite a character. In spite of the trade winds, which changed directions every five minutes, getting more severe toward dark, DonDon picked a stand on a hump of rocks, pointed toward a steep side hill 250 yards away, and assured me that "they'll come out feeding across that hill." I should've known better than to second-guess the guide, as the deer came out as if scripted. "Two-fifty," DonDon said curtly, pointing with his bristled chin. "Shoot her." I did, ending my hunt on an island paradise and creating fantastic memories with new friends.
I said earlier that I'd never given a thought to hunting on the Hawaiian Islands; now I won't be able to see them without thinking about my time spent chasing deer on Molokai. Suzie and I spent an additional three days on Oahu celebrating our tenth wedding anniversary, but I admit I spent much of my time as a tourist there staring into the hills of the Makaha Valley, looking for axis deer.
For information on this hunt, go to www.huntingoutfittershawaii.com
Gearing Up for an Island Hunt
The Nosler Model 21 is a wonderfully designed rifle. A synthetic stock with a gentle, sweeping pistol grip reminiscent of classic stock designs cradles a push-feed action with a neat, fluted bolt, two-position safety, and a crisp trigger. Feeding and extraction were no issue at all, and the gun printed sub-MOA groups, even in the terrible afternoon winds. It was light enough to carry up and down the steep side slopes of those innumerable gullies and canyons, yet balanced enough to settle down for the longer shots. My gun was chambered in the speedy .27 Nosler, which sends a 150-grain AccuBond Long Range bullet faster than even the .270 WSM. It was more than enough for even the largest axis deer.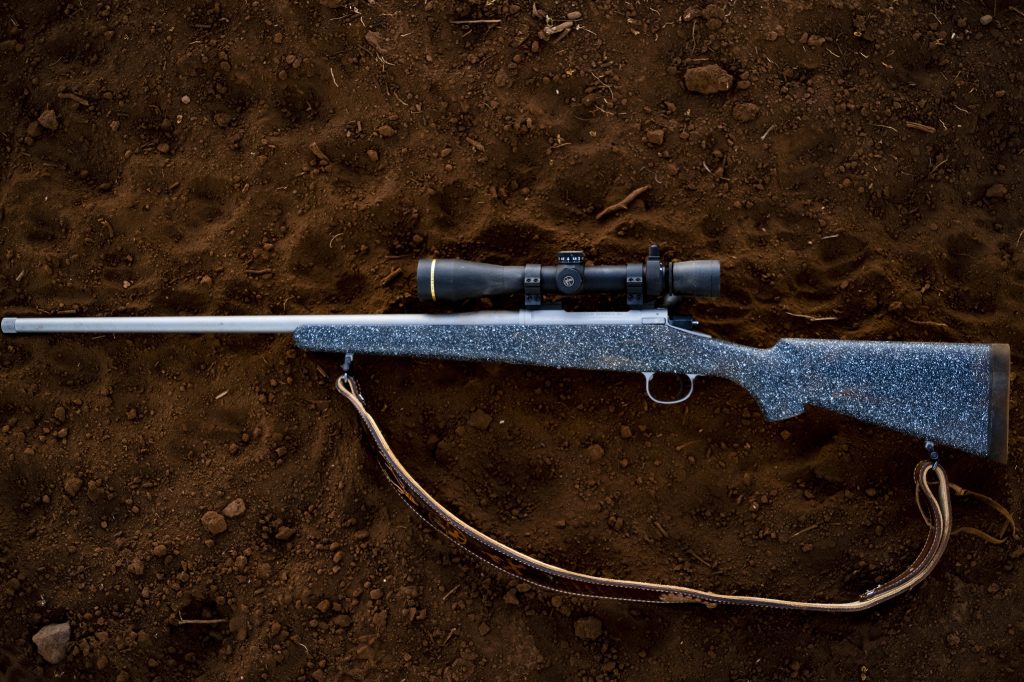 The rifle was topped with the new Leupold VX-3HD 4.5-14x40mm Side Focus CDS-ZL WindPlex, a good value for any hunter. With a 30mm main tube, it is wonderfully bright even at dawn and dusk, yet can be mounted low to the bore, while offering enough elevation adjustment for hunting at longer ranges. With a zero-lock elevation turret and a reticle which allows for quick and accurate wind deflection adjustments, it is a fast system which any hunter will appreciate.
For glassing, the Leupold BX-4 ProGuide HD 10×42 binocular were light to carry, but offered enough magnification to pick out a good buck at distances best measured in portions of a mile, without any eye strain. The Hawaiian sun is unforgiving, but the Leupold Payload glasses not only protected from the tropical sun, but were amazing on the water; the polarized lenses cut glare and allowed me to see fish, turtles, and more both on Molokai and while enjoying the famous North Shore of Oahu.
While cooking wild game in camp, I made a new friend in the Camp Chef cast iron pans. I'm no cook, but my wife knows her way around a cast iron pan and fresh venison tenderloin. Based on what she and Brooks Hansen whipped up in camp, their line of products deserves an audition.–P.P.M.