Warthogs are common throughout most of Africa, but big ones are never easy to find.
Photo above: This is a young boar, probably about four years old. Warthogs mature slowly; big trophy-class boars are eleven, even twelve years old.
Disney made him famous as "Pumba" in The Lion King. In his landmark work, Great Game Animals of the World (MacMillan 1969) veteran African hunter Russ Aitken described him as "the nightmare that walks like a pig." The warthog is neither a genial clown, nor ugly, but he is an essential part of Africa. What would a waterhole be if there weren't warthogs slipping in? What would the African bush be like without a warthog ushering her brood away, tails straight up like antennae?
The warthog is one of Africa's most widespread animals, found from the Horn of Africa to the Cape, and from Kenya to Senegal. Most warthogs are the common and widespread Phaocochoerus africanus. Only recently, hunters began to separate the desert warthog, P. aethiopicus. This pig is smaller-bodied, with facial differences, found from northern Kenya up through Somalia, Djibouti, Eritrea, and in neighboring Ethiopia. I've never shot one, but I had a desert warthog in my sights in 1993, in the Danakil Depression near Djibouti. Didn't shoot; the desert warthog wouldn't be recognized by hunters for a quarter-century. Ethiopia produces some spectacular warthogs. The pig I was looking at had good tusks, but short of spectacular. I passed. You don't know what you don't know.
Today, I suppose I can live without the desert variety, but I dearly admire big warthogs, scarce and hard to come by! Warthogs are common, and in good areas you see plenty, but big ones are another story.

In Maun, Botswana, Debbie Peake has long done the recording of trophies for the game department. She reckons an exceptional warthog is eleven or twelve years old, much the same as a kudu or buffalo. Slow growth puts big animals in short supply. This is worse with warthogs. They use their tusks to dig, so breakage is common, especially in stony areas. Also, warthogs must have water. Catch a dry year and the warthogs suffer more than many species, and older boars seem to go first.
So, you can't stockpile big boars. But warthogs are surprisingly habitual. If you see a good one, make a mental note of time and place. In the Luangwa Valley this past July, with son-in-law Brad, we saw a monstrous warthog. The stalk almost worked, maybe a half-second for a shot, then gone. That pig was huge. Over the next three weeks we saw him twice more, but no shots were fired. With his general location known, that pig's luck can't last forever; I assume somebody will get him!
Not every hunter is like me, always excited by a big boar! Exceptional warthogs aren't easy to find, but not everyone wants one. Through the course of the long African hunting season, most PHs will know where good boars have been seen, thus where to start when a client wants one. Years ago, David Porter and I were hunting in Mozambique's Coutada 14 with PH Debbie Visser, who knew about a huge warthog living along a boundary road. The first time we saw him he gave us the slip, but we kept our eyes open and David eventually got him.
Warthogs are usually on license and trophy fees are generally low. Big tuskers are cool, and their meat is good. So, my mantra has long been: "Nobody has enough big warthogs." I'll never forget one time I failed to recite it: Selous Reserve, 1988. Paddy Curtis and I came around a little bend, and the most amazing warthog I've ever seen stood looking at us. Parentheses of thick ivory almost met far above his muzzle. At the time the trophy fee was a couple hundred bucks! Sure, I was counting pennies, but that moment defines "penny-wise and pound-foolish." We drove on and kept looking for buffalo tracks.
I still think that was the best warthog I've ever seen, but who knows? They're tough to judge, in part because body size varies. In northern Cameroon in 2008, Guav Johnson and I saw some warthogs moving and caught a flash of big ivory. You don't go to Cameroon to hunt warthogs, but we'd had a lucky hunt and had taken everything we wanted. I'm a sucker for big warthogs!
Guav directed a quick stalk and we got ahead of the pigs and took another look. The boar looked awesome, so I shot him. It was a nice pig, but not as good as we'd thought: The body was tiny, old, and wasted away. Funny, the sows he was with must also have been small!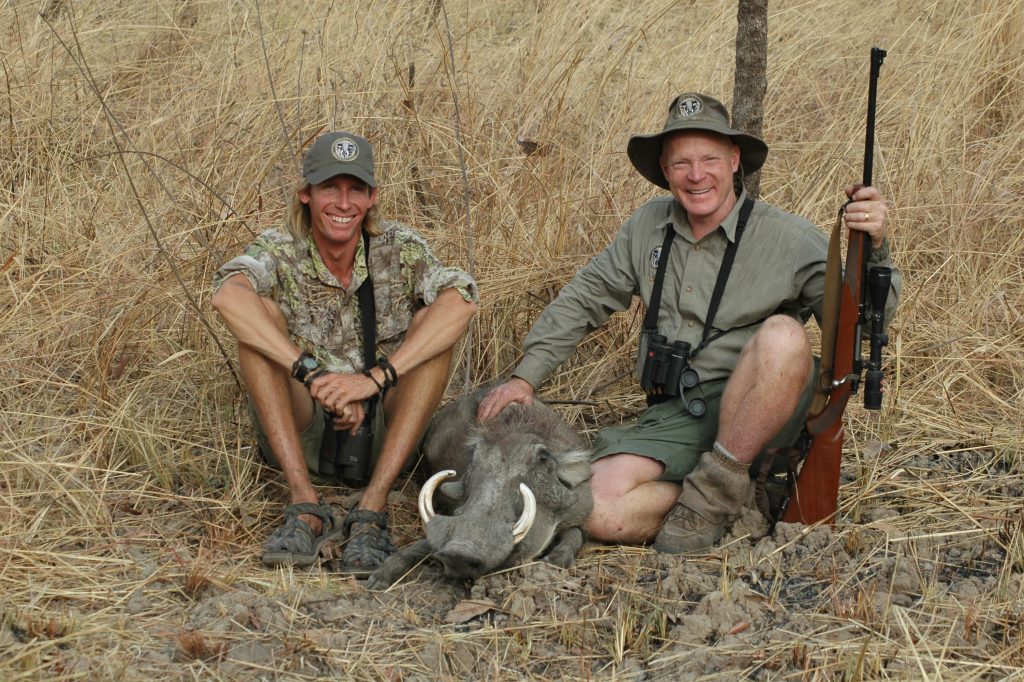 Ethiopia is known for big warthogs, but on my two safaris there, I saw nice boars, but no giants. Even in the best places, monster pigs are rare! I looked in the current Rowland Ward Record Book (Thirtieth Edition, 2020) and was shocked: Ten of the Top 20 warthogs are from South Africa. Two are from Zimbabwe, and there is one each from Ethiopia, Kenya, Namibia, Senegal, Uganda, and Zaire. (And two "unknown.") To some extent, provided good habitat and groceries, the big boys are probably where the larger numbers are.
I'm pretty sure the biggest boars are more likely to be found where year-round water is available; where soil is soft; and where harvest and poaching are controlled. I'll never forget that monstrous pig I saw in the Selous, but there's only one warthog from Tanzania (No. 30) on the first page of Rowland Ward, seventy-five entries. Go figure: Big warthogs are where you find them!
I was lucky to get a warthog at all on my first safari, on the Tsavo plains in 1977. It had been dry, and numbers were down; I shot the only good boar we saw. I've seen the same in the Zambezi Valley: Lots of pigs one year, then poor rains and fewer pigs the next.
If you asked my advice regarding a really big warthog, I'd go with the numbers: Twenty-six of the top fifty warthogs have come from South Africa, mostly along the Kruger Park corridor. Namibia also has lots of warthogs (and a safari industry second only to South Africa). Any area with big numbers will produce some big ones and Namibia does—but just one in the Top 20, no other Namibian entries on the first page. She is an arid country, with stony ground, but I've seen a lot of good warthogs there! Such a disparity in entries between Namibia and South Africa goes against everything I thought I knew, so I kept digging.
I am convinced that, right now, coastal Mozambique is one of the best places to look for a really big warthog. Conditions are ideal: Plenty of water and year-round forage; soft soil; good management for the past thirty years. I've seen great warthogs come into camp every time I've hunted there, and I've shot a couple of them. But you get three-quarters down the second page of the Rowland Ward listings before you come to the first Mozambique entry for warthog, a monster with 16 1/8-inch tusk, No. 130 in Rowland Ward, taken by my old friend Ted Razook in 1963.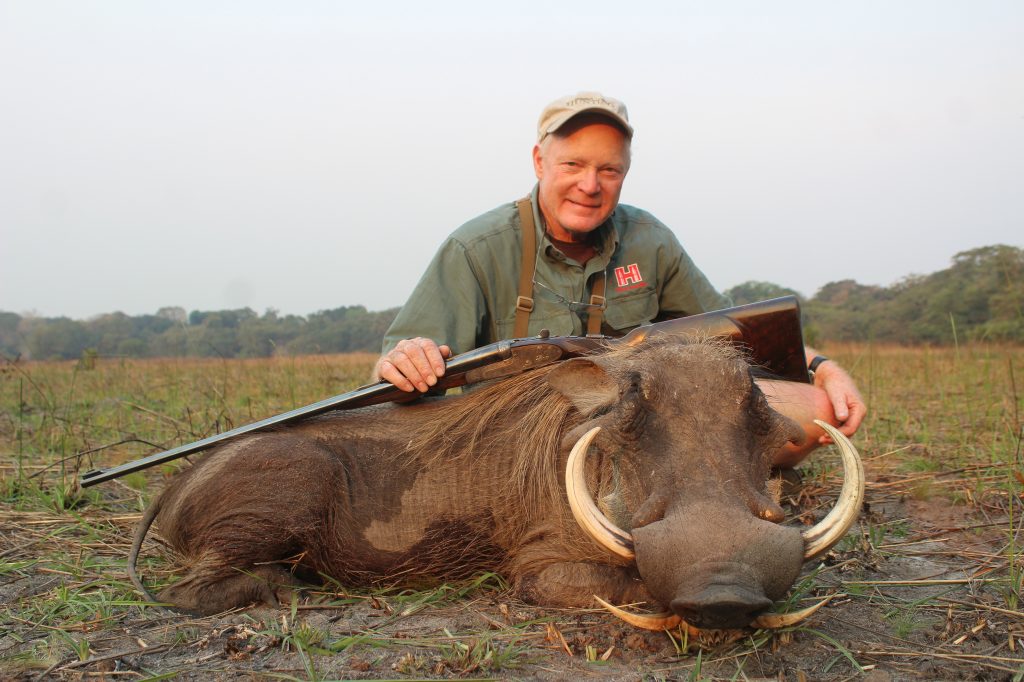 This is perplexing! The Rowland Ward minimum is 13 inches on the longest tusk, but I've seen some that size in the skinning shed. Of course, many hunters don't get their animals measured (I'm one of the worst!). However, when looking for big animals of any species, my advice always includes checking the record books. When you do this, you must conclude that Mozambique isn't the best place for big pigs–but I know it's excellent!
There was no sport hunting, so no entries, during Mozambique's long civil war, from 1975 to 1992. Little wildlife remained after hostilities, and the restart of hunting was slow. If it takes a decade for a warthog to mature, then few mature warthogs existed until as late as 2012. I was hunting there then. There were shootable warthogs, but they weren't common. Today the warthog population has noticeably exploded, and bigger pigs are being taken every year. In a week or so in the Marromeu complex, I expect a chance at a big boar.
Obviously, there's a time lag. After a twenty-year gap—while South Africa and Namibia's game flourished—Mozambique had some catching up to do! The record books may someday reflect Mozambique's recovery, but it's gonna take years. Meantime, I'm convinced the Marromeu area is a great place to look for a big warthog. And, trust me, when I'm there, I'm always looking.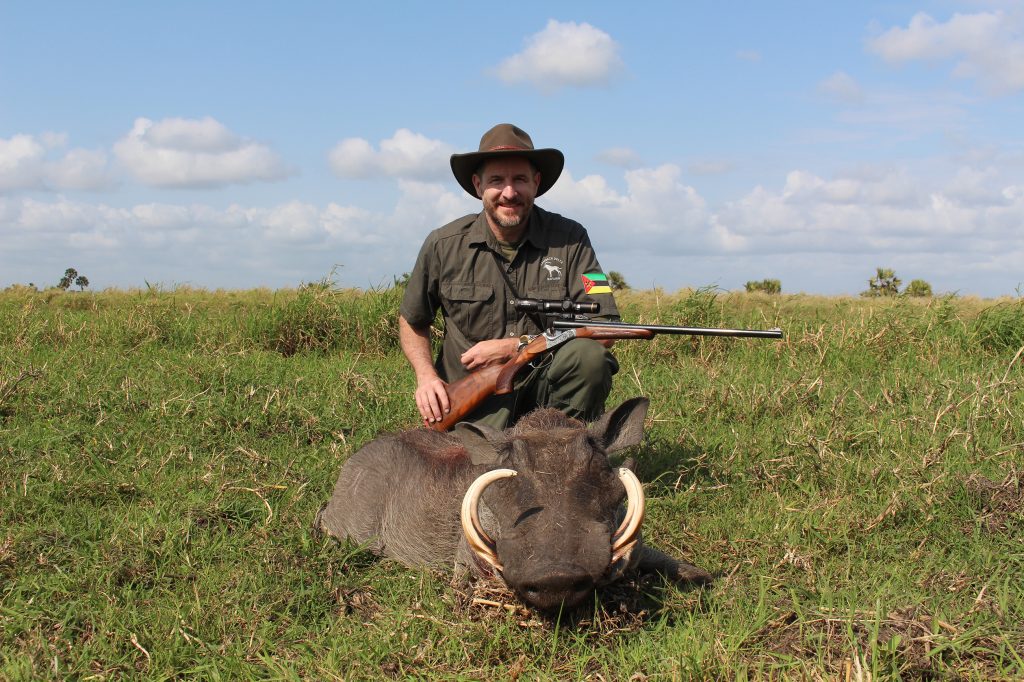 In September I was hunting with Rye Pletts, a great young PH. He knew where some big pigs had been seen, so we looked, looked some more, and kept looking. Mind you, it wasn't a single-minded quest for a warthog; we were messing with nyala, hunting bushbuck, looking for buffalo. But, every day, at the right times of day, we'd hit a couple of spots, either glassing or walking in. We caught a couple of glimpses of big ivory, but old boars are wary, and the days slipped by.
We were near the end when we walked into a pan in late afternoon. Several pigs were feeding near some islands of cover. One boar looked good. The stalk was perfect, the wind strong and steady. When we got there the boar was gone, and then he strolled out of a tiny patch of cover and resumed feeding. I was shooting an old double in .303 British, with pop-up tang receiver sight, so needed to get close. We got the shot at about fifty yards, perfect. He wasn't a Rowland Ward warthog, just a really good boar. But I know there are bigger tuskers around, whether the record books reflect it or not!