The Magnifico Set of Five combines technology and tradition.
Most very high-end, stunningly engraved shotguns have one thing in common: They're doubles. When Benelli set out recently to create a set of shotguns that would be sold to benefit conservation, they hit upon a new idea: simultaneously showcasing the very highest-end Italian artistry and craftsmanship with the top-shelf technology of their inertia-driven semiauto shotguns. The result was the Magnifico Set of Five—five semiautomatic shotguns, two in 12-gauge, two in 20-gauge, and one in 28-gauge—that exhibit both twenty-first century technology and the Old World artistic prowess of Italy's leading firearms designers and engravers.
This set, which will be sold with $200,000 of the proceeds donated to benefit Safari Club International's wildlife conservation and humanitarian service efforts, is based on Benelli's premium semiauto shotgun platform. Stockwork was done by the Piotti brothers, a premier custom house overseen by master gun craftsmen in the northern Italy province of Brescia. The brothers selected the finest walnut billets, hand-fashioning the raw wood and seamlessly integrating the metalwork. Hand-rubbed oil finish and buffalo-horn buttplates give these shotguns an even more luxurious look.
The engraving was done under the direction of Giovanni Steduto and Valerio Peli, master engravers from Creative Art Laboratorio Incisioni. Steduto and Peli hand-engraved each of the Set of Five receivers with inspirational scrollwork and modern interpretations of classical hunting scenes inspired by aristocratic hunting traditions.
The 12-gauge, 20-gauge, and 28-gauge models each have unique engravings, with scenes aligned with each individual gun's theme. Scenes of waterfowl in wetland settings grace the 12-gauge shotguns, with different portrayals on both sides of the receivers. The 20-gauge models celebrate the upland hunt with bird dogs and flushing pheasants. The 28-gauge etchings of pointers and quail exemplify the pastoral tradition. Framing the hunting scenes are delicate oak leaf and acorn motifs. The presentation is further accentuated with embossed rose gold on the acorns and sky elements.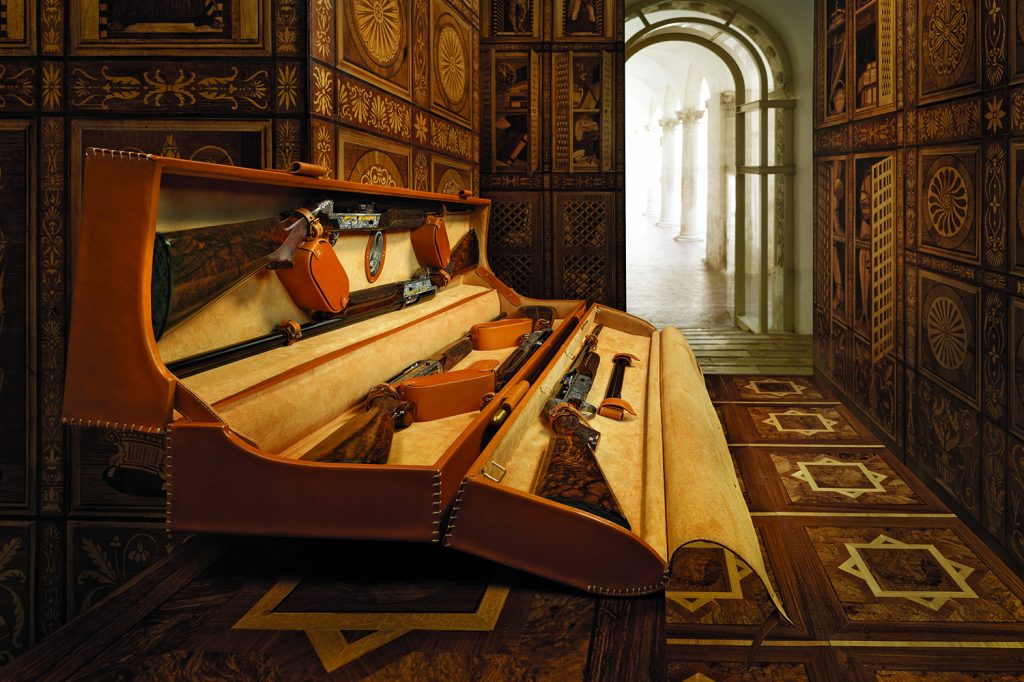 Naturally, the set comes in a handcrafted leather case. Oscar Maschera designed the case in a style reminiscent of the triptych form of Renaissance art. The trifold case is constructed of a wooden frame wrapped in premium vegetable-tanned full-grain leather with expert hand-stitching and hardware composed of brass and brass-plated steel. The entire Set of Five fits securely in the case with gauge-specific care sets containing a polished, chrome-plated steel oil bottle, snap cap, and barrel cleaning kit. Integrated into the case lid is an engraving of Lady with an Ermine by Leonardo da Vinci—the personification of Renaissance expression. To join Italian artistry across the centuries, the unpublished novella Among Forests and Fields by Umberto Piersanti, 2005 Nobel Prize for Literature nominee, is included in a hand-stitched leather-bound cover.
While these certainly aren't shotguns that most of us will be taking out to our duck blinds any time soon, the Magnifico Set of Five is a stunning, one-of-a-kind combination of modern technology and classical art.