Boddington noticed some interesting shifts in the equipment hunters chose to use on safaris in Africa in 2022.
In June 2022, I shared campfires in South Africa with a dozen-plus first-time African hunters. Being in camp with African newbies is fantastic, because I know no other way to almost recapture the wonder and magic of a first sojourn in Africa.
Initially, I joined a half-dozen friends at Carl van Zyl's John X Safaris, then two groups of SCI auction hunt winners at the Burchell family's Frontier Safaris. Both operations are in the Eastern Cape, but the areas have very different topographies. All of the hunters were on plains game safaris.
"Plains game" is a bit of a misnomer because not all African game lives on open plains. Many species prefer thick bush, others mountains. Most are antelopes, but don't forget warthogs, bushpigs, and zebras. Variety is Africa's greatest treasure and, in Southern Africa, the somewhat misnamed "plains game safari" is the best deal in the hunting world!
The first group of hunters consisted of experienced Midwest whitetail hunters; the second camp was mostly folks from the Rocky Mountain West, experienced elk hunters. Everybody wanted a kudu, and had other recognizable species like impala and warthog on their agendas, but most kept their options open. My first safari was long ago, but I guess I was obsessed by Africa before I got there; my early safari "wish lists" were detailed. These hunters probably approached it correctly: See it, get a taste, decide what looks interesting. As in: "Oh, so that's a hartebeest, cool!"

Beau Hammon was the lone bowhunter and the only guy who started with a sable on his wish list. At John X, Beau got his archery sable, a gorgeous bull. In fact, he did wonderfully with his bow by stalking, only using a rifle for his kudu. At Frontier, engineering professor Hamid Saadatmanesh, SCI auction hunt winner, hadn't considered hunting a sable. I was with him when we glassed a fine bull; he hesitated about five seconds, and a stalk was on.
I did little hunting for myself, usually tagging along with one party or another. Thing is, there's not much I need in Southern Africa, but it's still a delight to enjoy the wildlife and share the excitement. And, I'm a gun guy. I like to see what's being used, and what works.
Among these hunters, I observed two trends that, perhaps, reflect a shift in thinking on rifles and cartridges for African plains game. First, in both camps, the majority of the hunters opted to use camp rifles. This was usually because traveling with firearms adds to the hassle. As far as cost, it is kind of a wash. Rifles and ammo are costly in Africa, so expect a rental fee. On the other hand, airlines now charge extra for firearms, and all charge for excess baggage. There may be gun permit or clearance fees and, with a big, heavy gun case, you'll incur some extra tips. For me, these are costs of doing business; I prefer to bring guns I can write about. This doesn't apply to most hunters, so a sensible decision can be made whether to bring or borrow.
Because more hunters prefer not to travel with firearms, outfitters are stepping up and investing in better guns. Just always be sure to check to find out what's available. In Southern Africa, it's a piece of cake: Almost all outfitters have suitable guns. So it's your choice: Enjoy the satisfaction of using your favorites, or save the hassle and probably some cost, and use camp guns.
Some of the hunters did bring their own firearms, of course. At John X Safaris, Steve Molter brought a pristine, vintage Belgian Browning, Mauser bolt-action, in .30-06. His old-fashioned .30-06 served him well (just like I've always said it would) both on big animals like kudu and zebra and on smaller, nervous animals like springbok and impala. He and I could find agreement on his near-perfect choice. Similarly, at Frontier, a father-son team rented a .308 Winchester. Okay, I'm more of a .30-06 guy, but the .308 is a good and traditional choice.
But those were exceptions, and that's the second trend I noticed: At least among these hunters, faster cartridges in modern platforms were "in," bringing greater range capability than I'm used to seeing. Historically, long-range shooting has been uncommon in Africa, probably because of a combination of good stalking and the traditional African rule that one drop of blood spilled equals a license filled.
I usually prefer traditional calibers, but for this hunt I went off the reservation, making non-traditional (and thus uncharacteristic) choices. Wanting to spend time afield with new stuff, I took a new Gunwerks Nexus in .300 PRC and a LAW M704 in 6.8 Western. I thought the guys would laugh at me, but my choices fit right in!
Hamid had a Gunwerks 7mm Remington Magnum, so did John Macones (also an auction hunt winner). My buddy John Stucker had his Christensen in 6.5 PRC. And at John X, outfitter Carl van Zyl had several Gunwerks rifles on hand (pretty fancy camp rifles). These were chambered to 7mm Long Range Magnum (LRM), a proprietary based on the shortened Remington Ultra Magnum case, so similar to the PRCs and Nosler cartridges, good velocity, fast twists for heavy-for-caliber bullets.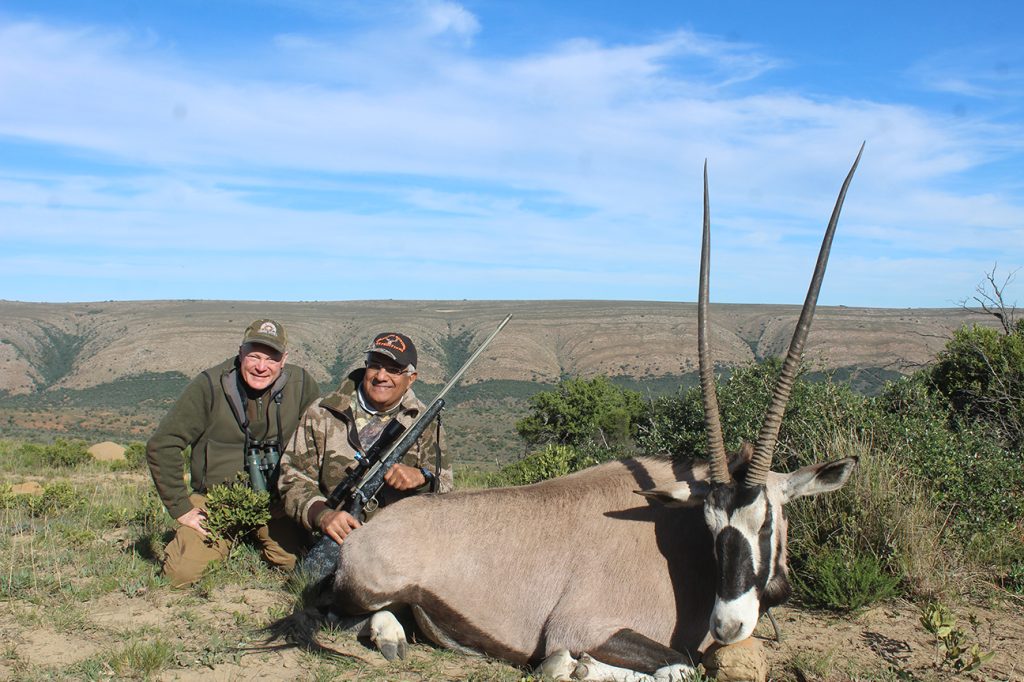 At Frontier, except for that .308 (which performed just fine), the camp rifles were .300 Winchester Magnums, plus a .300 Jarrett. Rifles in the faster, flatter-shooting cartridges (including mine), mostly wore bigger scopes than I have typically used in Africa, up to 3-18X and 5-25X. Almost all were dialed in for longer-range shooting.
Traditional African shooting rarely exceeds 300 yards. With good equipment and preparation, I saw this expanded to well beyond 400 yards, with some exceptional shooting. I made the two longest shots I have attempted in Africa, not "extreme," but to 500 yards. I made a spectacular miss when, mysteriously overnight, my .300 PRC shifted enough that I missed an entire eland. Stuff happens, you just re-zero and go back to work. The rifle must have taken a tremendous knock; who knows how.
Most mess-ups were standard and predictable. On their first safari together, PH Harry Selby soothed Robert Ruark's by saying, "Everybody misses at first; it's the light." No, it's first-safari jitters; my first safari also started with bad shooting. Let's not name names, but the majority of hunters in both camps missed their first opportunities. Expect this. Deal with it and try again!
Since the modern "long range rig" was predominant, a lot of hunters brought bipods, intending to rely on them. Much of the Eastern Cape is open enough for shooting prone-with-bipod, and there are also lots of rocks where bipods might be employed. However, there's also a lot of thick, thorny brush, where flopping down isn't the best idea. Traditional African shooting sticks thus remain useful. I was disappointed that some hunters complained about initial misses because of unfamiliarity with sticks. It made me feel like I've been talking to an empty room for forty years! I'm guessing this is a product of American long-range courses, which stress bipods. They offer great stability, but it's foolish to end up in Africa with no "stickology" practice. Surely I've written about this before?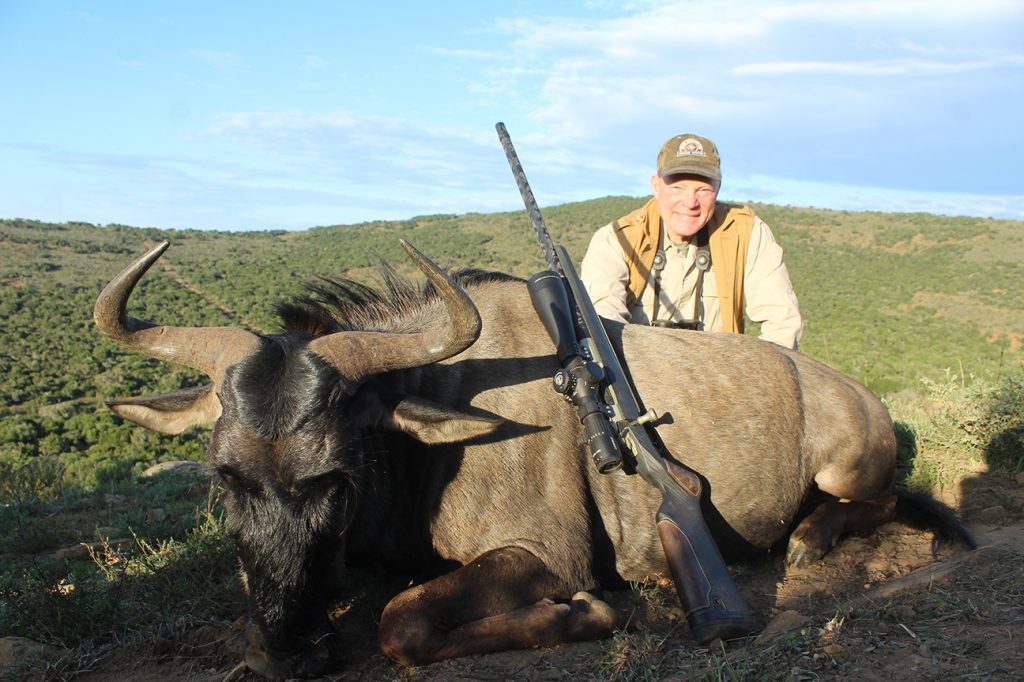 Interestingly, rather than traditional three-legged African shooting sticks, most PHs in both camps had switched to modern sticks that stabilize both the butt and fore-end, notably the French-designed "4 Stable Sticks." Like all else, using these takes practice, but stabilizing both butt and fore-end increases stability and thus range, making them very effective in areas (like Eastern Cape), where average shooting distances are farther than in thick thornbush.
I was a bit disturbed by the frequent use of match or "long-range" bullets, rather than hunting bullets designed to provide penetration on a wide variety of game. Despite my concerns, things worked well. After a day or so (and some embarrassment), all hunters got their sea legs and finished with good bags. Wounded animals were few, unrecovered animals were almost nil. However, as animal size and distance increased, we had some lively discussions about bullets, calibers, cartridges, hitting power, and shot placement.
There were two more sub-trends worth noting. Virtually all of the "camp rifles" were fitted with suppressors. Easily accessible to South African hunters, they made my role as "observer" painless. On my unsuppressed rifles, one with a muzzle brake, I needed to remember earmuffs and remind my team to plug their ears when I prepared to shoot. Also, spotting scopes. Once rare in Africa, good scopes were carried by most PHs, and employed constantly.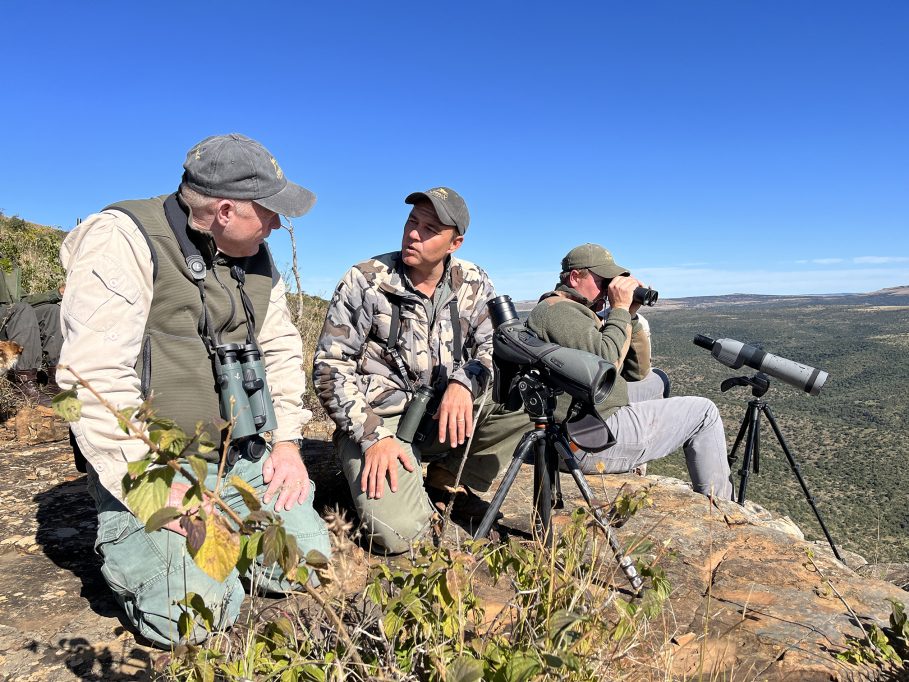 Another lesson was just for me: It's no secret my taste in rifles run toward walnut and blue. Out with Steve Molter one day, Carl and I glassed from a valley while Steve and his PH stalked an impala on a steep ridge above us. It was late morning and the sun was bright; I was horrified by the glint and glare coming off Steve's Browning, a gorgeous, but with high-gloss stock and bright blue metal. I doubt my preferences will change, but there's something to be said for Cerakote, matte, and carbon fiber!