A magnificent big-game cast-and-blast adventure in Mozambique.
It had been a wonderful safari. That's redundant, of course; being in Africa is always wonderful. This had been a special trip shared with good friends. The real magic of Africa: There's no predicting what you might see in a day on safari. No matter how many safaris are behind you, any given day is likely to reveal something you've never seen before.
I've been hunting coastal Mozambique almost annually for nearly twenty years, mostly with Mark Haldane's Zambeze Delta Safaris. I keep going back because the area just keeps getting better, a rare thing in wild Africa. It was good twenty years ago, and it's even better now. In my time there, I've seen all the species present increase and, one by one, some have exploded. Also, I've gotten older, I'm not as driven to seek new horizons. I'm more content to be comfortable in a familiar place, and Mungari Camp in Coutada 11 is familiar enough that it's almost like home.
In 2022 we decided to go in November. Hot weather is the risk, the trade-off that game movement should be excellent. The swamps are as dry as they get. In the forest, ground water is scarce, so game concentrates around remaining pools. And Haldane made me an offer I couldn't resist: Hunt for a week, then go the coast at Vilankulo and try to catch a black marlin. I'm not a serious angler, with little deep-sea experience. But who doesn't have a marlin somewhere on the bucket list? I was in! First, we headed to Mungari Camp for buffalo and plains game.
In coastal Mozambique, I've hunted all the animals, so there was no grand quest, no pressure. Go with the flow and see what Africa brings. She is bound to bring surprises, and this safari brought a surprising number of firsts. One was anticipated: At the midpoint, we celebrated my seventieth birthday. It didn't hurt as much as I expected it to.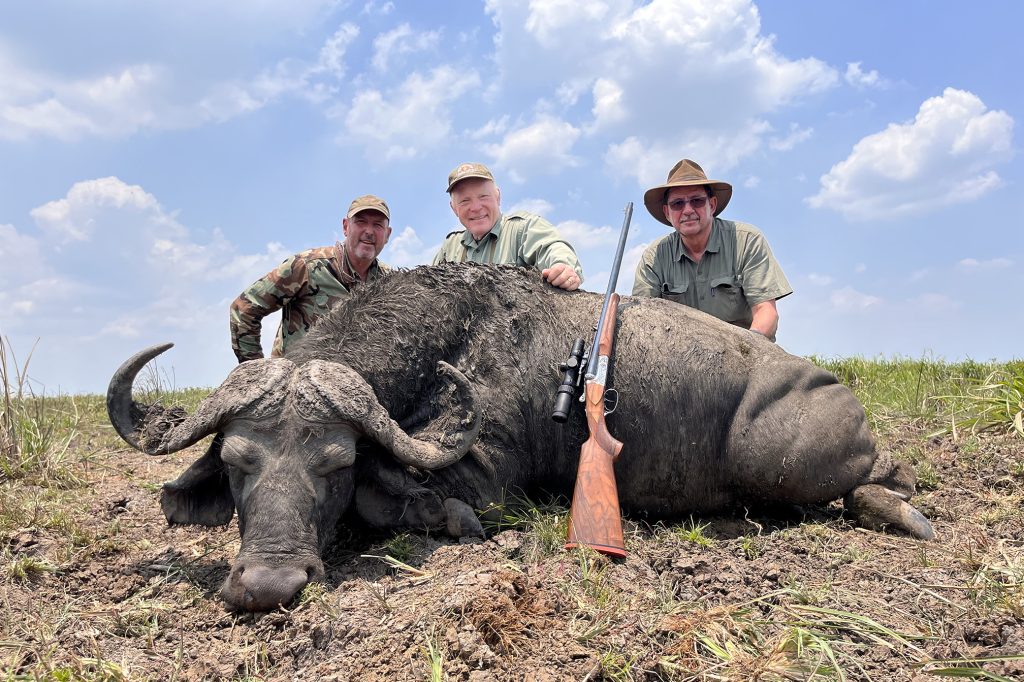 Not all firsts were mine, although they were great fun to share. My friend and business partner Conrad Evarts was there. We've shared many hunts, but Conrad had never taken a Cape buffalo. I stayed back, out of the way, while his team crawled into three feeding bulls, expecting a shot any second. Then the buffaloes bedded right in front of them, the hunters hunkered behind the only bush for miles. This standoff endured for a long time, as the sun sank lower.
Finally, with the sun on the horizon, the bulls stood up. Surely the sticks are going up, but Conrad and PH Bredger started to crawl some more–they hadn't been as close as they looked. The buffaloes' calm demeanor at sunset allowed them to gain a few dozen yards. As the sun dropped below the horizon, Conrad shot a fine bull.
Kansas City hunting buddy Mike Hagen and his wife, Susan, were in camp. Hagen has hunted extensively, and his African experience includes bongo and giant eland. Unusually, he'd never taken a Cape buffalo. The hunt was two-thirds past before he got a chance. Then, also nearing sunset, we caught five old dagga bulls, feeding on the edge of a big floodplain.
It was wide-open country and we were in the huge and noisy tracked swamp vehicles, so Haldane and our team watched the stalk from our elevated perch, even better than television. It was touch and go they could get close enough, but Mike got his first buffalo down at sunset.
The successful re-introduction of lions in this area has been widely publicized. From the original two dozen, the lions have increased to nearly a hundred. The known presence of lions changes the game when we step away from the vehicle to stalk a warthog.
Several of our group saw lions, and some of us saw cheetahs. Eleven cheetahs were introduced to the area in 2021. The first known cubs were seen on Christmas day 2022.
Donna and I both took nice buffaloes with no drama, and I took a fine nyala. On both my stalks Haldane and I were joined by old friend and great Namibian PH Dirk de Bod. Dirk and his wife, Rina, joined us for the birthday celebration, and went on with us to Vilankulo. Over the course of thirty years, Dirk and I have hunted most Namibian game together, but never buffalo nor nyala. (Thankfully, Haldane and I had Dirk's adult supervision, so everything went fine.)
With a dozen friends in camp, Donna and I didn't do a lot of hunting, but I did have an important first. In this area, the colorful nyala is my favorite antelope. I've hunted them before, can't resist, and the bull I shot was gorgeous. However, combining thick brush, low light, and distance, I've tried for a decade to get decent nyala photos. Late season, with nyalas most active and visible, I got some dandies, the best on the last evening.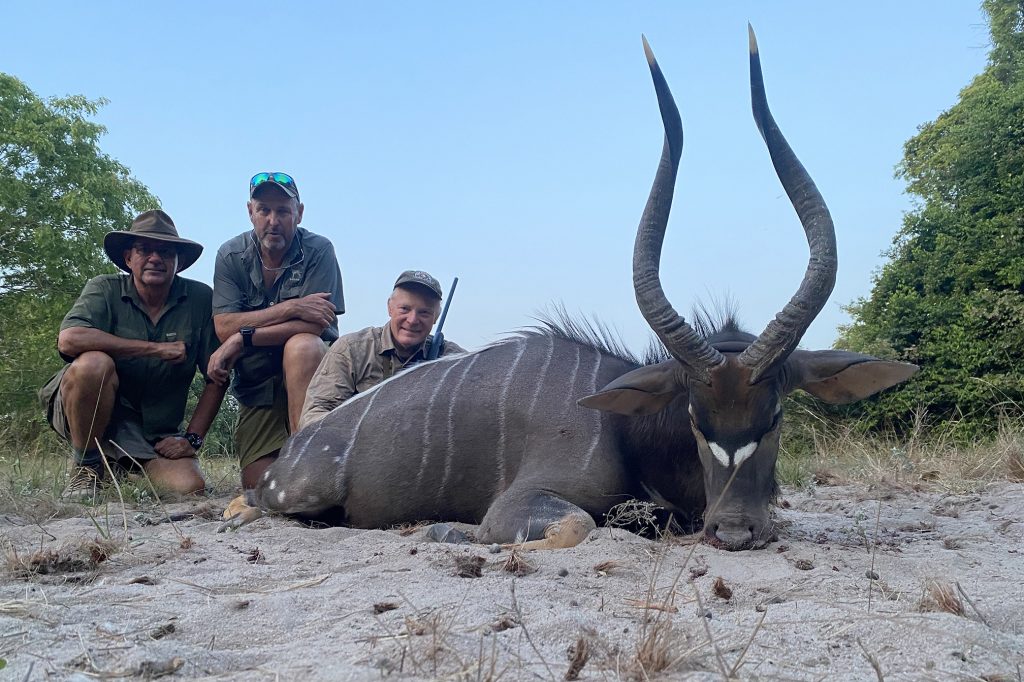 Hunting Marlin
Then it was time to move on. I'm the world's worst tourist. Going onward to the coat wasn't my idea, but we'd long heard the Indian Ocean coast at the small Vilankulo archipelago was gorgeous, and the Mozambique Channel is a world-renowned fishery.
Safari completed, most of our group headed home. Donna and I, Woody and Teresa Wilhite, and Dirk and Rina de Bod headed down for a few days at the beach with Mark and Laurette Haldane. Vilankulo is a famous tourist area, known for white sand beaches, great snorkeling, and shopping. Just relaxing on the beach was of greatest interest to most of us, but Dirk and I did a two-day charter with Morgan O'Kennedy's Big Blue Vilankulo.
Morgan and his team picked us up on the beach just as the sun started to come up over the Indian Ocean, and we headed out into the Channel against mild chop. Dirk's an experienced deep-sea angler, but for me this was a whole new experience. First up was to catch a couple of bonitos for bait, caught on light tackle after finding schools skipping over the surface. Within an hour we had what we needed, the heavy rods were baited, and we headed deeper in the Channel to begin the hunt for marlin.
No, you don't really fish for marlin; you hunt for them. You watch for schools of bait fish, often revealed by birds on the surface. And you watch for other hunters. In these waters, lots of dolphins, coming near, and then skimming by as if we were standing still.
The hunt is for big black marlin, but it's not an exclusive pursuit; blue and striped marlin are present, and some sailfish. A couple hours into the first day we hooked a big wahoo, a fast, streamlined fish, great eating and a strong fighter. It was a good practice run for me, first time I've ever been in a fighting chair, arms quickly numb from the strain. We had it grilled for dinner that night, fantastic.
Everyone hopes for a Papa Hemingway-size marlin. Maybe it doesn't matter so much today, because there won't be pictures of giant fish hanging on the pier. All billfish are catch-and-release only, with photos taken fleetingly alongside the boat, then the fish is released. So, I don't really know how big my black marlin was. For sure, no giant. Wish he had been, but maybe it doesn't matter. He wore me out, and did his classic tail-walk. He looked plenty big broaching the surface just behind the boat. (Note: Big marlins are usually females, part of why the catch-and-release ethic is nearly worldwide today.)
The water was calm and reasonably clear in the Channel that day, a good day with other boats catching marlins. We came into harbor flying the Black Marlin Flag for all to see. The next morning, Dirk boated a marlin a bit smaller than mine, so we could hoist the coveted flag again. A fine few days for our Captain Morgan, especially exciting for me. Might have to try that again!
It could have been even better. About noon one of the big rods bent almost double. I handed it off to Dirk and he made it to the chair…barely. Good Lord, he fought that fish for an hour. It never jumped properly, likely indicating a fouled leader. We saw the monster clearly. A giant fish, an Old Man and the Sea marlin. Dirk knew what he was doing, taking the strain on back and legs—no chance with arms and shoulders. He was red-faced, sweating profusely, gaining line, losing when the fish ran, gaining a bit more on the turn. He was winning–and then the great fish was gone. Definitely the one that got away.