Until recently, caribou hunts were widely available and inexpensive. That has changed.
Photo above: Packing out a fine Quebec-Labrador caribou bull, back when this variety of caribou was still huntable.
A big caribou bull with heavy beams, big shovels, and lots of points is magnificent in all ways. If you get just a bit of luck with the weather, early autumn is a marvelous time to be out on the tundra, offering some of the world's most brilliant fall colors. With more luck, you might catch a migration just right. Then, a caribou hunt will treat you to one of Nature's greatest spectacles.
Until recently, a caribou hunt has been a grand Northern adventure, inexpensive and available, with multiple options continent-wide. You could even say that caribou hunting has been a growth industry for most of my life. I was young, but I remember when the Boone and Crockett Club decided that the caribou of northern Quebec and Labrador were too big to be the same as woodland caribou below treeline and on Newfoundland.
Thus they came to be called Quebec-Labrador caribou, and an entire outfitting industry sprang up to hunt the huge George River and Leaf River herds. Some camps were DIY or semi-guided, others fully guided, all affordable and usually successful. For decades, northern Quebec was a standard place to hunt caribou. I went three times, once guided and twice not, taking several nice bulls.

Caribou hunting on the barrens of Northwest Territories was a similar story. The Courageous Lake herd was opened to outsiders in 1980. I was one of the first to go, hunting with some local First Nation folks after winter meat. Initially we saw few caribou, suffering through an all-day and all-night rain, lots of leaks through old canvas. Dawn brought clear skies, and caribou: echelons and phalanxes marching over the horizon, headed right to us.
At the time, we considered these barren ground caribou, same as the ones in Alaska. Only later, again because of size, were they anointed as Central Canada barren ground caribou. Another caribou-based mini-industry arose, and for many years central NWT was an affordable and successful caribou destination.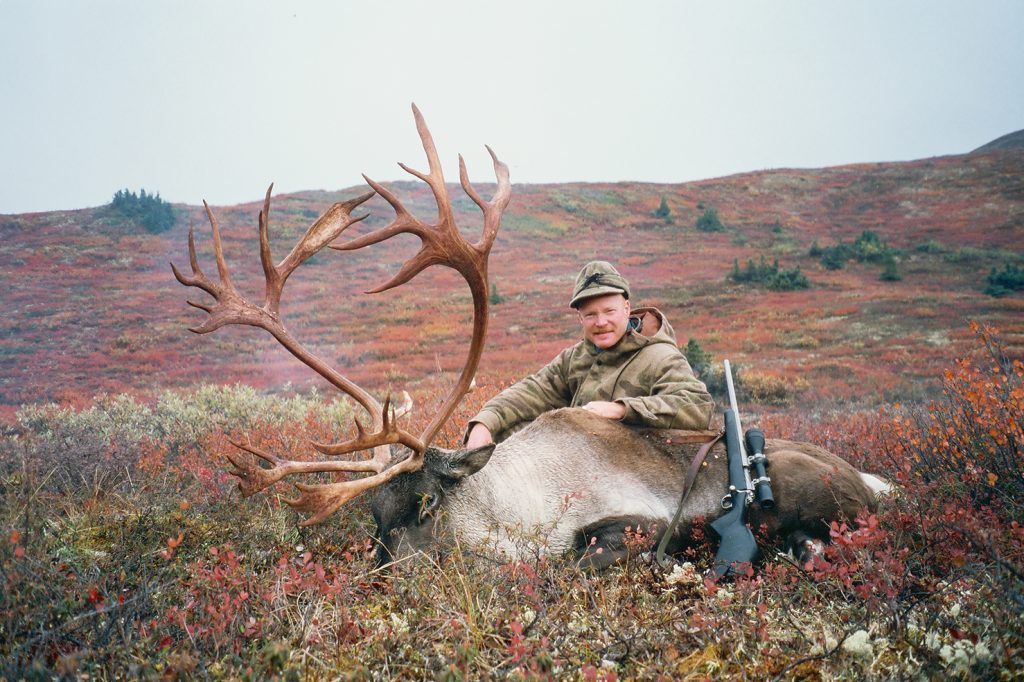 Sadly, much of this is history. The herds crashed, and both northern Quebec and the NWT's barrens are now closed to nonresident sport hunting. At this writing, the Quebec-Labrador caribou isn't available at all. The Central Canada barren ground caribou is hunted only on the mainland of Nunavut, which is also home to the small, almost-white Arctic Island caribou, primarily on massive Victoria Island. These are good hunts, and successful, although logistically more challenging, and thus more expensive.
As I understand it, early Nunavut hunts are conducted from boats. Late fall hunts are done after freezeup, with snow machines and sleds for mobility. I did an Arctic Island caribou hunt in early November. My hunting partner, John Plaster, hunted muskox while I hunted caribou. It was very much an Arctic hunt, brutally cold.
The island province of Newfoundland has always been "the place" to hunt woodland caribou, largest-bodied but smallest-antlered of our caribou. Still is, although this, too, has changed. Whether for caribou only, or in combination with moose, woodland caribou were long readily available, and the hunts were inexpensive. The Newfie caribou herd also took a nosedive, as happened in Quebec. Newfoundland dealt with it rationally, sharply curtailing hunting permits rather than instituting a knee-jerk shutdown. Numbers are increasing, so the woodland caribou remains available. However, we all know what happens when supply decreases, yet demand remains the same: Prices go up. This is actually good for the caribou, and certainly good for Newfoundland's outfitters, but a woodland caribou is no longer an inexpensive addition to a moose hunt.
The mountain variety is the caribou of northern BC, southern Yukon, and NWT's McKenzie Mountains. Sadly, they are also part of our caribou crisis. My first caribou was a mountain caribou, taken in northern British Columbia in 1973. Although a double-shovel bull, it was no giant. Over the years, it has been one of the few animals that I seriously wanted to "improve" upon. I tried twice in the teens, north of Smithers on the edge of Spatsizi Plateau. Saw caribou, but never a decent bull.
Mountain caribou are still on license in northern BC, but their herd has been in decline for many years. The annual harvest is small. Due to the stringent top-point minimum, it takes a helluva bull to be a legal caribou in BC, and few guide territories offer reasonable odds. Numbers are better in southern Yukon and southwest NWT but, again, a mountain caribou has become a specialized animal and thus a costly hunt.
With the Quebec-Labrador caribou currently impossible, it is now an unrealistic goal to dream of taking all the varieties of caribou. I regret this for hunters coming up, but I can't say this was ever a truly sensible goal. Our several caribou have regional characteristics in antler size and conformation. The best Alaskan bulls have heavy "C"-shaped beams. Mountain caribou have strong tops, and Quebec-Labrador caribou tend toward strong bez formations. However, if one were fortunate to take nice bulls of all the varieties and put them side-by-side on a big wall, few hunters could accurately determine which was which. I've hunted them all, and I could only do so with luck. The Arctic Island caribou would be noticeable as small, and perhaps the blocky woodland caribou would stand out, but no bets on the rest.
Now, to take one really nice caribou–that's a sound goal. Alaska was always a great place to hunt caribou, but now it's the most sensible option. Oddly, an Alaskan barren ground bull was my last caribou…and just might remain so.
Starting clear back in 1975, I held several Alaskan caribou tags, hunting guided, unguided and, too often, incidental to other game. I never punched a tag, but I did have a barren ground caribou…just not one from Alaska.
The Porcupine caribou herd, currently numbering over 200,000, migrates between northeastern Alaska and northwestern Yukon. On either side of the border, they are barren ground, while the caribou of southern Yukon are mountain caribou. Twenty-five years ago, I hunted Dall sheep in the Yukon's Bonnet Plume range. After I took my ram, we heard a rumor of caribou moving, so we rode out, caught a group of bulls, and I shot a very nice caribou.
With strong multi-tined tops, it looks like a typical mountain caribou, but is not. The Bonnet Plumes are north of the Yukon River so, by all record books, it is a barren ground caribou, probably of the Porcupine Herd, and at that moment it was carrying a Canadian passport.
Eventually, and with the caribou crisis in full swing, I figured I'd better go after a real Alaskan bull. Alaska categorizes and manages its 750,000 caribou in 32 regional herds, many small and some huge. Alaska is not free of the caribou crisis, but it is a big place, with some herds in decline, others increasing. The largest herds and greatest numbers are in the Arctic. A big caribou is where you find it, but caribou in southern Alaska tend to grow larger in body and antler than Arctic animals.
Alaska is the only place where DIY caribou hunting is possible. In August 2019 I was in Bettles, in the Brooks Range. The local air service was doing a major business ferrying caribou hunters over the top to the North Slope; I saw some really nice racks come into the strip.
You must do your homework, and know what you're doing, but dozens of villages across Alaska offer jumping-off points. Old and lazy, I didn't do it that way. I did a guided hunt with my old friend Dave Leonard's Mountain Monarchs of Alaska, down near the tip of the Alaskan Peninsula. I hunted just for caribou, which is the way to hunt caribou (or most anything). Compared to what a caribou hunt used to cost, it was expensive, but I enjoy hunting with Dave's team and I wanted to do it right.  Numbers down there are small, but the area produces big bulls.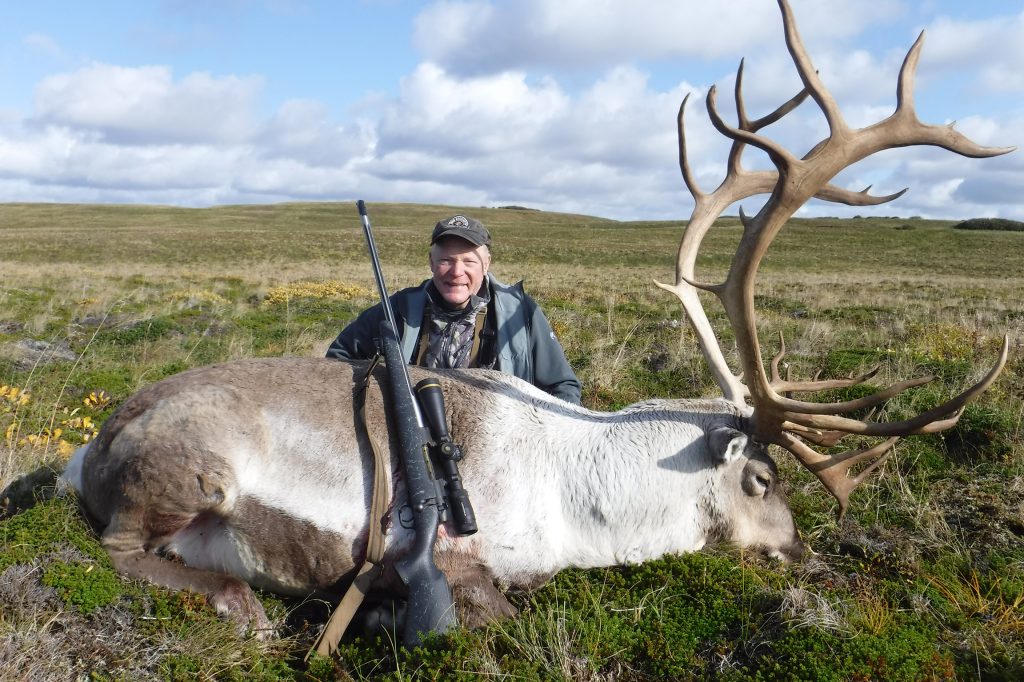 On the second day, in a rain squall, I passed a lovely bull with good beams and great tops, just a bit weak on shovels and bezes. At the moment, I had time. Days later, Jordan Wallace and I glassed a herd feeding in a little valley. We spotted a nice bull, still not a giant, but the weather forecast was awful, and time was no longer on our side. As we got closer, we realized it was the same bull I had passed earlier in the hunt!
So, I made the decision to take it and it was a good one–a great bull but no giant. In any camp, not everybody can have a monster. Three other hunters in our camp took magnificent Boone and Crockett caribou. That's as good as it gets. Perhaps I'll try again, or maybe I'll make one more stab at a better mountain caribou. Or maybe not. I've plenty of great memories of hunting caribou across the continent, in times when our caribou weren't in crisis.