California's Central Coast has some of the earliest deer seasons in the country.
For most of us, August is for fishing or baseball, with deer season weeks (or months) away. Here in Central California, however, our coastal rifle season starts the second Saturday in August. Around here, rifle deer hunters are getting ready. Bowhunters are already in the woods; the 2023 archery season opened on July 8th.
I tell folks this and they look at me like I have three heads. Deer hunting in August? This has been our "A-Zone" season for decades. I know it goes back fifty years, probably much farther. Since it's traditional, I can't explain the management rationale. Seems to me that most rifle deer seasons across the country are either purposefully pre-rut or post-rut. Those of us who get to hunt the rut are fortunate.
In our case August is obviously pre-rut, but not by as much as you might think. Our winters are mild and usually catch most of whatever rain we get. There is no winter stress, but summers are long, dry, and brutally hot. Our deer probably didn't ask when the season should be set, but they have their own unique schedule. Typically, they are in full rut by late September, essential so the does can drop fawns in early spring, when conditions are still soft and green with plenty of water.
Our early season isn't as bad as it sounds for rifle hunters. This year it opens August 12 and runs until September 24. September will see pre-rut activity, and the bucks should be chasing hard by the last weekend of the season.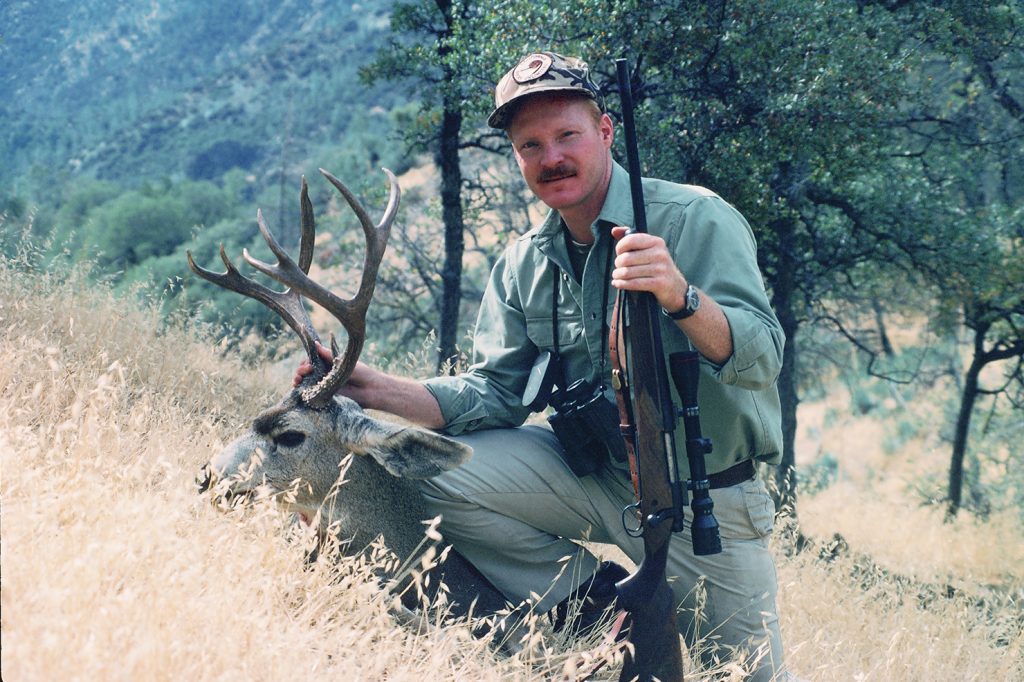 Personally, I'm not crazy about taking antlered game in velvet; antlers are more difficult to judge, and development may not be complete. Because few seasons are held this early, a lot of hunters are attracted to bucks in velvet as "something different." This I can't guarantee. During our July bow season bucks are in heavy velvet. However, they start to rub by early August, so it's a grab bag in rifle season.
Just before Covid, Donna shot a magnificent 4×4 on opening day. That's a big buck in our part of the world, fully developed and in full velvet. Whether in early August or on through September, most of my coast zone bucks have been in hard antler.
Some discussion is needed as to what our deer are. Obviously, they're a mule deer subspecies, but which one? Local hunters call them "Pacific bucks," a nonexistent subspecies. I live in San Luis Obispo County and have done most of my coastal deer hunting in Monterey County just to the north. The Boone and Crockett line for Columbian blacktail deer starts just north of Monterey Country, so, our deer are not Columbian blacktails by B&C standards.
Technically, our deer are mostly blacktail, with black-striped tails and small ears. To the south and west there is potential for California mule deer influence, and that's B&C's position. SCI takes a more liberal stance, including our deer as Columbian blacktails in their record book.
Our deer are small-bodied and, because of summer stress and poorly managed genetics, antlers are small. A buck that meets B&C standards for Columbian blacktail is highly unlikely in our neighborhood. I have never taken a clean 4×4 in the Coast Zone; my best local deer was an awesome 4×3, taken in September up near King City, 50 miles north. At full maturity, many of our better deer are 3x3s, and many bucks never get past two points per side. Doesn't matter, these are our deer, and this is our deer season.
Ours is not the only August deer season. South Carolina's "low country" whitetail season also opens in August, long traditional with no limit on bucks. Obviously, whitetails are plentiful (and overpopulated), but with a limit like that quality is generally not good, and buck-to-doe ratios are poor. I hunted there just once, took a nice 8-point just stripping his velvet. Naturally, it was warm and humid, but not miserable, stand hunting like most whitetail hunting. What I remember most vividly is looking down and realizing I was sharing the stand with a copperhead. Not my best moment, but probably the most benign of South Carolina's venomous serpents. Early season in South Carolina is probably the place to take a whitetail buck in velvet.
Alaska opens its Sitka blacktail season in August, but that's different: August isn't early in Alaska, with caribou and sheep also open. Sitka blacktails are absolutely in hard antler in August; these deer drop their antlers before Thanksgiving. Cover is thick and green and the deer are higher up, but August is a mild, early fall month up there.
I don't have much experience in South Carolina and haven't hunted Sitka blacktails that early, but I have plenty of experience with our coast zone August hunting. It is not mild. Usually, it's blazing hot, with midday temps often exceeding 100 degrees Fahrenheit. Sounds miserable, but wait. California's Central Coast has one of the largest average "midnight to noon" temperature swings in the continental United States. A 50-degree change is normal, 60 degrees not unusual.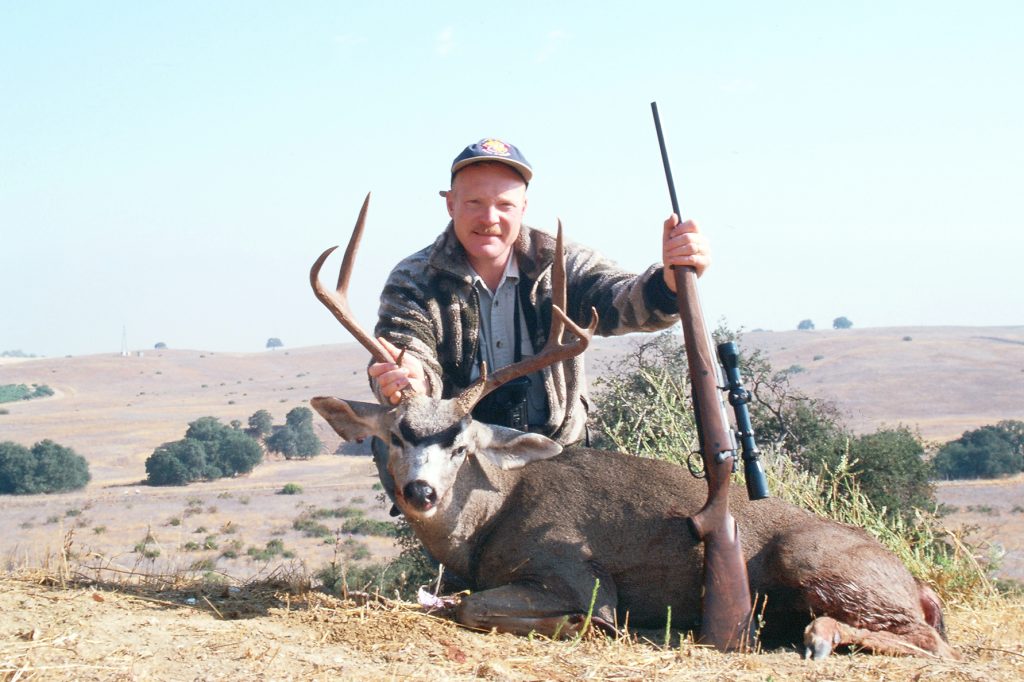 In large part, that's what makes our coastal deer hunting enjoyable. You start at dawn needing a good jacket, peeling layers as the day heats up. There is a caution. For many years, my coastal deer hunting was DIY, either on public land or private ground where I had permission. Better have a good plan. Get a deer down late in the morning and it's a foot race to the cooler. At noon, when the mercury pushes toward 110, it's dangerous to be packing deer. You can say "it's a dry heat," all you want, but it's still plenty hot.
Years ago, Payton Miller and I were hunting with the late Durwood Hollis on a piece of property he had adjoining Fort Hunter Liggett. Payton and I were back in camp, Durwood missing, couple hours after dark when he stumbled in with a nice buck on his pack frame. Long out of water, he was in bad shape.
Typically, we get in a good morning hunt, then it's a long, leisurely day and a short evening hunt. Usually, the temperature doesn't drop noticeably until the sun gets low, so it's pretty much the last hour before deer start to move. It's also a short night. Dark comes late, dawn comes early.
Despite the heat, there is a surprising amount of midday movement. These deer live in the summer heat. They aren't going to stay bedded from dawn to dusk and will often drink at midday. Tom Willoughby and I were sitting in the shade one blistering afternoon, watching some water. I thought he was nuts but, sure enough, about half past one three bucks appeared out of nowhere, one a very nice 3×3.
There are good outfitters in our local area, in part because we are the epicenter of California's wild hog hunting. Hogs are their big business, but most have blacktails available. Those I know include Clay Avila's Frontera Hunting, Chad Wiebe's Oak Stone Outfitters, Don Anderson, and Tom Willoughby. Most famous right now is the deer hunting on Steinbeck Vineyard, managed by my friend Ryan Newkirk, well-known because several gun writers have been there and written about it.
Since I moved up here our Central Coast has become a major wine country. The local wine is awesome, the vineyards pretty and green. Sadly, most are game-fenced, blocking movement corridors and access to browse and water, and deer are generally not tolerated. I believe the wine industry has hurt our deer herd terribly. Steinbeck is unusual in that it is low-fenced, accepting crop losses from deer, and offering some deer hunting in return.
Hunting venison among the vines was a marvelous experience. Under careful management, Steinbeck's well-fed bucks are larger in body than most of our local deer, and grow bigger antlers. They are also pre-marinated from eating grapes. That's where Donna took her big 4×4.
I really enjoyed that hunt, but it was much different than the average deer hunt on our Central Coast. We have good deer—for what they are—but decent bucks are few and far between. We usually hunt hard to find them, lots of patient glassing. Usually, there's some sweating as the day heats up, and a whole more if you must pack a buck out of a canyon.