Searching for a great hunt? You've come to the right place. The outfitters listed here are the best of the best and are true supporters of conservation and the fair-chase ethic. Have a great hunt with an outfitter who upholds the highest standards of excellence.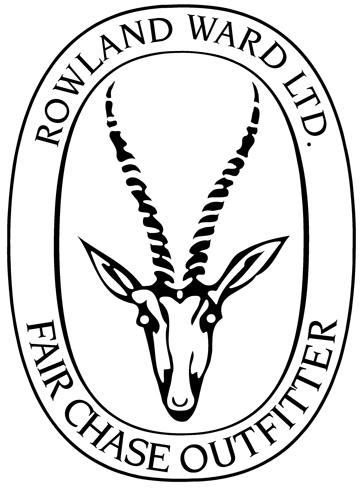 Rowland Ward Fair Chase Outfitters
Only outfitters with impeccable reputations are eligible to become Rowland Ward Fair-Chase Outfitters. Currently the program features the finest outfitters in Africa; later the program will be expanded to outfitters on other continents.
Rowland Ward Ltd. is very serious in its commitment to its Fair Chase Outfitters program. Rowland Ward Ltd. Fair Chase Outfitters are recognized by clients as outfitters and guides who espouse the highest ethical standards. A Rowland Ward Ltd. Fair Chase Outfitter must believe in and stand behind the concept of fair-chase hunting, be ethical at all times, obey the game laws of the country he/she outfits/hunts in, and be actively involved with local communities in the support of conservation and wildlife management. In order for a safari company to qualify, it must have a spotless record with IPHA and or its local outfitter organization such as PHASA, NAPHA, etc. Such an outfitter must not have been banned from any of the major international hunting organizations for inappropriate conduct and, where applicable, must be fully licensed with the local authorities. Thus, when a customer sees the Rowland Ward Ltd. emblem on an outfitter's brochure, website, or business card, he will immediately know that he is dealing with a company that is serious about the conservation of wildlife and habitat and one that will really go the extra mile to involve local, indigenous people wherever possible in the battle to preserve local wildlife and habitat.
Participants in the program will strictly offer fair-chase hunting as defined by the Guiding Principles of Rowland Ward Ltd. Outfitters who participate are committed to these ideals and professional in their behavior. They have gone through a serious application and vetting process. Once an outfitter has been vetted by Rowland Ward Ltd., it will serve the hunting community in several ways. First of all, it will say to someone who is looking to book a hunt that a Rowland Ward Endorsed Outfitter is one who supports the Guiding Principles of Rowland Ward Ltd.; is actively involved with local communities to show that ethical sport hunting with a sustainable off-take is a financial benefit to those who share their environment with wildlife; and is an ethical outfitter. Thus, for people booking hunts, they will intuitively know that they can trust in the good judgment and ethical behavior of a Rowland Ward Fair Chase Outfitter.
Learn more about the Rowland Ward Fair Chase Outfitter program by clicking here.
The following outfitters are part of the Rowland Ward Fair Chase Outfitter program–take a look at the great hunts they have to offer!
ARU Game Lodges: Join us for an enthralling and unforgettable Namibian adventure! Hunt dangerous game in northeastern Namibia or plains game in scenic central Namibia.
Since 2001, Aru Game Lodges has been operating as a successful fair-chase outfitter in Namibia. We are proudly affiliated with the Namibia Professional Hunting Association (NAPHA), and the Operators and Professional Hunting Associations of Africa (OPHAA). For the international hunting clientele, one of the main attractions of hunting with us in Namibia is the high standard of ethics we adhere to. As a hunting outfitter, we aim to promote legal and ethical fair-chase, sustainable hunting through communication, unity, community support, and cooperation between hunters by means of a code of conduct. We hunt strictly in accordance with the ethical principles as stipulated in NAPHA's and OPHAA's hunting code.
At Aru we pride ourselves on conservation and sustainable hunting methods. We guide you through unspoiled terrain to find the unique species of your choice in its natural habitat. We'll walk and we'll stalk until we find what we're looking for—in one of the most pristine locations in the world. It's way more than just a hunt. It's a meaningful experience that takes you back to the roots of where man evolved from. We work hard, we sweat it out, and we pass on animals that are not yet mature. We educate all of our guests on the principle of fair chase.
Aru Game Lodges prioritizes education on ethical hunting so that conservation efforts can be maintained in Namibia. Hunters are taught to follow a rigid code of practices in order to promote present and future conservation programs. Our team values every hunt and every animal taken. That is essential. We do not endorse canned hunting. In canned shoots, the animal lacks the fair chance to escape, virtually assuring the hunter of a kill.
www.arugamelodges.com


Makadi Safaris: Classic hunting safaris in Namibia. Outstanding selection of plains game and fantastic hunting with a long-established, family-run outfitter. Comfortable accommodations and beautiful scenery in one of Africa's top hunting countries.
We are dedicated to ensuring not only that the hunter will have a pleasant and memorable hunt with a trophy that he or she can be proud of, but also that the game will be taken under fair-chase hunting conditions. Our conduct affects the attitude of the neutral person toward trophy hunting and that, in turn, greatly influences the future of hunting. We live up to the notion that hunting is applied conservation.
These concepts underlie the philosophy of Makadi Safaris and its thoughts on fair-chase hunting. The common denominator is the HUNT. We pride ourselves on being a Fair Chase Outfitter. In practice, a vehicle is used only to get into the hunting area. Hunting areas are large so as to ensure the game has a fair chance of hiding or escaping. Once in the hunting area, we either find a vantage point from which to spot game or we walk through the bush until we find game. Once a trophy animal is spotted, a proper stalk will be initiated to get within shooting range. It is the responsibility of the professional hunter to judge whether an animal qualifies as a trophy and to indicate which animal to shoot. A trophy animal is a mature animal that has lived past its prime. Game is respected at all times, and our behavior toward it is without reproach.

Marromeu Safaris: Mozambique's Coutada 10 is a hunter's paradise! The area incorporates the great Zambezi river floodplains, grasslands, forests, and swamps, all of which are the habitat of huge wild herds of Cape buffalo, as well as sable, leopard, elephant, hippo, crocodile, and much more.
Our fair-chase philosophy can best be described as the ethical, sportsmanlike, and lawful pursuit of free-ranging wild game animals in a manner that does not give the hunter an improper or unfair advantage over the animal. That means there is no assurance of certainty as to the success of your safari when success is measured in terms of the number or species of animals taken.
Unpredictable factors that play on success are many; they include, but are not limited to, the time of the season, the ability and fitness of the hunter, the availability of food and water, climatic changes, migratory patterns, human influences such as poaching and bush fires, drought conditions, and old-fashioned luck.
We believe it is important that our clients subscribe to this same fair-chase philosophy. We are proud of the way in which we conduct our hunts, and we measure the success of any safari by the quality and thrill of the chase, the unique atmosphere of the African bush, and the experience you will gain through your introduction to the people, animals, sights, smells, and sounds of our hunting environment.
We ask that our clients be reasonably fit and willing to walk in order to seek the intended trophy. On our part, the professional hunters of Marromeu Safaris will endeavor to provide you with the opportunity to shoot top-quality trophies in a fair manner. We at Marromeu Safaris ask that you accept the judgment of your professional hunter when it comes to trophy quality.
We at Marromeu Safaris have the maximum respect for the natural resources entrusted to us, and we urge our clients and friends to share the full responsibility of being the custodians of nature's gift to mankind. All people involved or participating in a hunt must collectively share the responsibility to promote the ethics of sport hunting and the laws of Mozambique.
Marromeu is fully committed to distribute the meat taken from trophy animals to our neighbor communities; consequently, we strive to promote the minimum waste of meat when shooting a trophy animal.


Michel Mantheakis Safaris Ltd: Michel Mantheakis Safaris Ltd. (MMS) is a family-owned company established in 2010 and operated by my wife, Nicole, and myself.
After previously having been involved in the hectic day-to-day running of Miombo Safaris and its sister company Kilombero North Safaris, the hunting company that I founded, owned, and operated for 17 years, we had plenty of time to reflect and analyze the successes and failures from the past 20 years of outfitting in setting up MMS. This put us in a unique position to focus and channel our efforts into creating another top-quality trophy hunting company with a strong conservation conscience, offering services on an even higher level.
In order to present our clients with the best possible trophy opportunities and maximum luxury safari experience, we will continue to field the minimum number of safaris in our areas per season. This will enable us to pursue our signature approach of maximum anti-poaching and conservation effort to ensure optimum results for our clients. We have proven time and again that this strategy is very successful. Not only does it improve the wildlife population and its habitat in our concessions, but also the quality of the trophy hunting.
By promoting ethical hunting together with conservation, we aim at marketing our safaris to the discerning hunters. Those who care about conservation and prefer to hunt with an outfitter who not only works tirelessly to get best quality trophies, but who also truly believes in and practices conservation rather than just claiming to. The combination of my academic background in zoology and wildlife science, a passion for hunting and conservation, and 28-years of reputable hunting experience in Tanzania that is backed by an efficient administration has maintained our position at the forefront of Tanzania's hunting industry.
Anybody can offer you a trophy hunt, but only a few will offer you a great trophy hunt. Few are the outfitters who will give you that memorable safari experience, one that gives you the satisfaction of knowing that you spent your money wisely and earned you the heartwarming pride that you also invested in conservation and, thus, the survival of the sport you so cherish―hunting.–Michel Mantheakis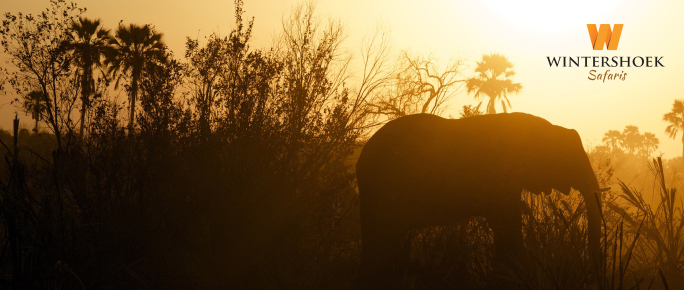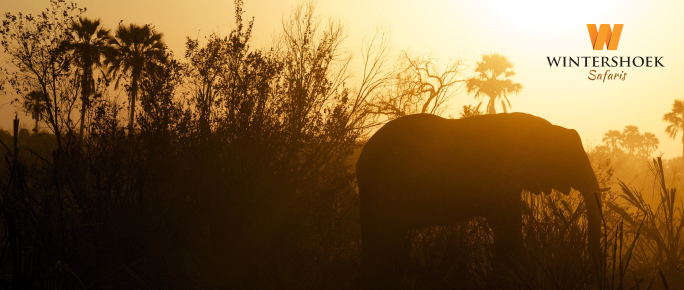 Wintershoek Safaris: As a well-established hunting company since 1982, Wintershoek Safaris understands the crucial role ethical and fair-chase hunting plays in conservation. We are very proud to have been part of the South African conservation success story for more than thirty years.
Wintershoek owns and operates four hunting areas, all with luxury lodges, in the beautiful Northern Cape Province of South Africa. These areas have a span of more than 246,000 acres of prime hunting land, yet each area is unique. We can offer our clients thirty-five species, including two of the Big Five, from these four areas—a virtual hunting paradise for both the first-time hunter and the seasoned professional. In addition to these marvelous game fields, Wintershoek Safaris also has access to some of the very best Big Seven and Dangerous Game areas in the rest of southern Africa.
Our professional hunters are some of the most experienced in the business, having collectively garnered more than 12,000 hunting days afield. This means they have the experience and knowledge necessary to get you the trophies you want. Our team is dedicated to providing you with a top-notch experience predicated on fair-chase and responsible hunting in our expansive areas. Our more than 5,000 happy hunting clients can attest to the fact that you will love hunting with us.
Wintershoek Safaris is also very proud to be part of various community and conservation projects. These include the Wild Hearts Rehabilitation/Education Centre as well as various white rhino and black rhino breeding projects.
.
More Great African Outfitters
Blaauwkrantz Safaris: Spiral-horn specialists! 92,000-acre family-owned ranch in South Africa's Eastern Cape. www.blaauwkrantz.com
Harloo Safaris: Plains game and dangerous game hunts in Zululand. Best priced South African Cape buffalo; also rhino, elephant, sable, nyala, and roan. Great bowhunting.
www.harloosafaris.co.za
Asia, South America, South Pacific
Caza Pampa Hunting Ranch: Red stag, Pere David deer, puma, water buffalo, blackbuck, wild boar, and more in Northern Patagonia, Argentina.
www.cazapampa.com
Manuka Point Lodge: Outstanding hunts for red stag, Himalayan tahr, chamois, fallow buck, Arapawa ram, and more in New Zealand's South Island.
www.manukapoint.com
Wild Hunting Turkey: Experience the best of Turkey with Ekenler Brothers! Hunt the largest ibex in the world.
www.wildhuntingagency.com
North America
Bull Creek Outfitters: World-class trophy mountain lions! We harvest more trophy mountain lions than any guide service in Nevada.
www.bullcreeklionhunts.com
Canyon Rim Outfitters: It's the most enjoyable, exciting, and fun hunt you'll ever experience, hunting with hounds. Canyon Rim Outfitters offers the best in Colorado mountain lion hunts. Our hunts run from mid-November to the end of March. A typical day starts very early in the morning looking for tracks. When the hounds are released on the track, the hunt is on! We will go through rugged terrain, following the hounds to where they have the lion treed or bayed up. This hunt is a rush! Contact Scott Summers: 970-876-5522
www.canyonrimoutfitters.com
Flying B Ranch: Wilderness hunts for elk, deer, mountain lions, and upland birds in Idaho.
www.flyingbranch.com
Ruggs Ranch: Premium pheasant, quail, chukar, and Hungarian partridge hunting September through March. 8,000 acres of exceptional upland bird hunting. Mule deer and elk hunts booked by March 31st are guaranteed tag draw. Contact 541-676-5390
www.huntruggs.com
Southwest Trophy Hunts: Free range, fair chase Barbary bighorns in the mountains of West Texas.
www.swhunts.com