Sports Afield is America's oldest sporting magazine, founded in 1887 by Claude King. Not only that, it is one of the world's oldest continuously published magazines. The Sports Afield name and logo inspire instant recognition with millions of people in North America and beyond. For more than 120 years, Sports Afield magazine has been an advocate of sustainable use of our natural resources and responsible hunting. Today the magazine features articles, columns, and photography by the most knowledgeable hunting and firearms experts in the business, and covers the hunting world with a depth and breadth of information and inspiration unmatched by any other publication.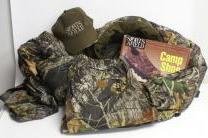 Building on its long history, Sports Afield has established itself as the premier hunting adventure magazine in America. Quality in writing, design, and photography are paramount with Sports Afield; it has twice won a National Magazine Award, the "Oscar" of magazine publishing. Since 2002, Sports Afield has been published in Huntington Beach, California, and is owned by Field Sports Publishing Inc.
History of Licensing
Go onto eBay any day of the week and type in Sports Afield, and you will see anywhere from several hundred to a thousand items carrying its name. Old Sports Afield magazines sell for large sums; in fact, recent issues of Sports Afield from the 1920s were auctioned of for $200 to $300 each!
Sports Afield was recently listed as the second most collectible magazine in the world: Click here to see the article.
Sports Afield was recently named among the top 150 licensing companies in the world for the second year in a row. Click here to read the article.
Here is the article about our top 150 ranking in 2016: Click here to read the article.
The World of Sports Afield (Television)
The World of Sports Afield TV show airs weekly on the Sportsman Channel during the third and fourth quarters of each year. The show features big-game hunting in North America and Africa, further enhancing the Sports Afield name and continuing to reinforce the brand into the 21st century.
Licensing Program
Sports Afield is looking to form partnerships with a select few manufacturers to license the Sports Afield name for clothing, luggage, knives and multi-tools, shoes, leather goods, sporting glasses, ammunition, guns, gun covers etc. In exchange for a fair royalty, the Sports Afield name and logo may be used to promote the manufacturer's products. Sports Afield can provide promotions in its magazine, web site, TV show, and insert programs to support the licensee, if appropriate sales levels can be attained. The famous vintage covers of Sports Afield from the 1920s to the 1960s can be used for licensing purposes as well.
Currently Sports Afield is a partner with the following in licensed products:
Safari Classics Productions, Dallas, TX, has the TV license.
Mahco, of Bentonville, AR, has a selected clothing license.
Safari Press of Huntington Beach, CA, has a license for Sports Afield Classic Calendars.
Click HERE to see the Sports Afield Brand Book.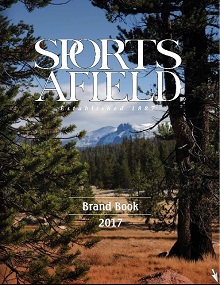 Click HERE to see the Sports Afield Logo Style Guide.
Click HERE to see a few of our featured products.
Contact
If you are interested in the licensing program, please contact:

James Reed, Director of Sales & Licensing
15621 Chemical Lane
Huntington Beach, CA 92649
Phone: 714-373-4674
Fax: 714-894-4949
Email:
jreed@sportsafield.com